Remove all the screws securing the bottom cover. It is worth noting that the one screw on the right is covered with MSI's fragile sticker, which means that if you remove the back cover yourself, your laptop will lose the warranty. The bottom cover of the MSI GE66 can be easily removed. After removing the bottom cover, you can upgrade your notebook's memory, SSD, and wireless network card. The most conspicuous thing inside the fuselage is the cooling system with dual fans, 6 copper tubes, and 4 air outlets.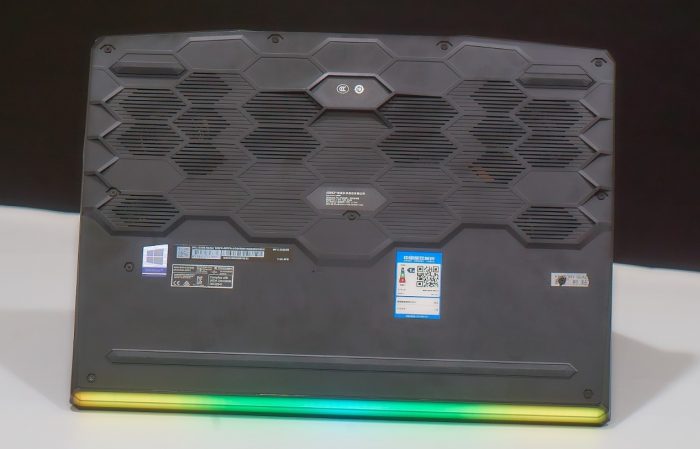 The cooling system is called Cooler Boost 5. Each fan has 53 blades with a thickness of 0.25mm. The GPU part has 3 8mm heat pipes covering the core part, and a 6mm heat pipe is responsible for conducting heat to the power supply system. The CPU part has 1 8mm + 1 6mm heat pipe for heat conduction. In terms of heat dissipation, the GPU is slightly focused. After all, the power consumption of the RTX 2070 Super is as high as 115 watts, while the continuous power consumption of the i9-10980HK is only 70W.
The laptop also has two M.2 2280 slots, of which Western Digital SN730 1TB SSD has been inserted (this is a Western Digital product exclusively for the OEM market. The same model in the retail market is SN750, which is regarded as Western Digital's high-end SSD product.), another one The M.2 slot is not occupied. If necessary, you can install an SSD of the same model or another model of SSD.
There are also two SO-DIMM slots on the motherboard, with two Samsung DDR4 3200MHz 8GB memory inserted, with a total capacity of 16GB. Users can also upgrade to higher frequency memory.
Also Read: MSI Titan GT77 Review (12-UHS, i9-12900H, RTX 3080Ti)
This laptop comes with a Killer AX1650 Wi-Fi 6 wireless network card. In fact, its chip is similar to the Intel Wi-Fi 6 AX200, but the driver and software support better games and have lower latency when playing games.
The battery capacity is surprising. It actually has a lithium polymer battery with a capacity of up to 99.9Wh. It is rare to see such a high-capacity lithium battery in a laptop.