Dell stands as a distinguished leader in the laptop and computer market, renowned for its unwavering commitment to delivering quality products. What sets Dell apart is its remarkable ability to cater to a broad spectrum of consumers, regardless of their budget or specific requirements. Whether you're a budget-conscious user seeking an affordable yet reliable notebook or a high-end enthusiast in pursuit of cutting-edge performance, Dell offers a comprehensive range of solutions to meet your needs. The brand's meticulous craftsmanship, utilization of premium materials, and emphasis on reliability ensure that every Dell notebook is built to last.
Dell's prominence extends beyond inclusivity in budget considerations. The company excels in offering tailored solutions for distinct consumer segments. For those in need of a productivity-focused notebook for office usage, Dell's range of business laptops comes equipped with security features and manageability options. On the other hand, gaming enthusiasts can indulge in Dell's gaming notebooks, often marketed under the Alienware brand, which are celebrated for their powerful hardware configurations and immersive gaming experiences. Dell's commitment to innovation and customer satisfaction, coupled with its diverse product offerings, makes it a go-to choice for anyone in search of a quality notebook, firmly establishing its place as a leader in the industry.
In today's review, we direct our focus towards the Dell G16 7630, a distinguished member of the esteemed Dell G series, where the 'G' designation signifies its dedication to the realm of gaming. The nomenclature of this laptop derives from its noteworthy 16-inch display, a dimension that aptly caters to the discerning needs of gaming enthusiasts. The larger screen not only provides an immersive gaming experience but also affords an expansive canvas for efficient multitasking. Distinguished for their gaming prowess, Dell's G series laptops, including the G16 7630, stand as a compelling choice for gamers seeking a harmonious blend of potent performance and a generous display size.
Upon meticulous examination of the notebook's specifications, it unequivocally emerges as a distinguished entrant in the high-end flagship category. Anchored by the Core i9-13900HX processor and the RTX 4070 GPU, it embodies a level of performance commensurate with flagship distinction. This potency is further augmented by the inclusion of 16GB of DDR5 RAM and a capacious 1TB PCIe 4.0 SSD, emblematic of the cutting-edge advancements characterizing the contemporary notebook industry. Moreover, the device's 16-inch display commands attention with its remarkable 2.5K resolution and an impressive 240Hz refresh rate. This synergy of a Quad-HD display and the commanding RTX 4070 GPU heralds a superlative graphics experience, portending an exceptional performance benchmark for the Dell G16 model. All the aspects of the notebook are discussed below in the specs table.
Dell G16 7630: Specifications
Screen
16″ QHD+ (2560 x 1600) 240Hz, 3ms, DCI-P3 100%, ComfortViewPlus, NVIDIA G-SYNC+DDS Display
Processor
13th Gen Intel® Core™ i9-13900HX (36 MB cache, 24 cores, 32 threads, up to 5.40 GHz Turbo)
Wireless Connection
Intel Wi-Fi 6 AX201, 2×2, 802.11ax, Bluetooth wireless card
Graphics card
NVIDIA GeForce RTX 4070, 8 GB GDDR6
Memory
16 GB: 2 x 8 GB, DDR5, 4800 MT/s
Storage
1 TB, M.2, PCIe NVMe, SSD
Camera
720p at 30 fps HD RGB camera, dual-array microphones
Ports
1x headset (headphone and microphone combo) port
1x RJ45 Ethernet port
3x USB Type-A 3.2 Gen 1 ports
1 HDMI 2.1 port
1 Thunderbolt 4 port with DisplayPort
Battery
6-Cell, 86WHr, integrated battery with 330W AC Adapter
OS
Windows 11 Home, Windows 11 Pro
Weight
6.3 lb (2.87 kg)
Dell G16 7630: Body Design and Appearance
At the outset, the notebook exhibits an impression akin to that of a svelte briefcase. Its design language harmonizes with the prevailing aesthetics typical of gaming notebooks. The display enclosure is characterized by two sharply delineated vertical lines adorning both the left and right perimeters, while at its epicenter resides the Dell insignia. It is worth highlighting the innovative utilization of iridescent laser processing for the Dell emblem, rendering it capable of reflecting a spectrum of hues when exposed to ambient light. Notably, the surface construction is executed with anodized aluminum, affording the notebook both resilience and an air of sophistication.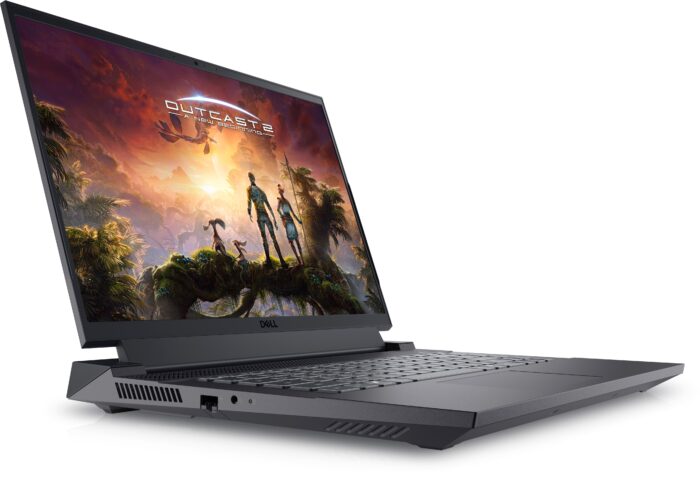 Located on the left side of the notebook, a distinctive G logo serves as an emblem of its affiliation with Dell's G-series. Upon opening the notebook, users are presented with a generous 16-inch display framed by plastic bezels. Notably, the left and right bezels maintain a slim profile, while the upper and lower borders exhibit a slightly thicker dimension.
Regarding the technical specifications, the notebook has dimensions of 357×288.7×25.65mm and a weight of approximately 2.87kg. These dimensions align well with the intended purpose of the notebook, which is primarily geared towards gaming. Given its gaming-oriented focus, these measurements are well-suited, as the emphasis here is on performance rather than the extreme portability typically sought for office-centric use cases.
The Dell G16 7630 offers a choice of two distinct color options: Black (Metallic Nightshade with Black thermal shelf) and White (Quantum White with Metallic Nightshade thermal shelf). The model under review here features the Black color variant. Both color selections are appealing, and the choice between them primarily hinges on the personal preferences of the buyer.
Dell G16 7630: Display
The Dell G16 7630 is furnished with a 16-inch IPS LCD Display, boasting a 16:10 aspect ratio, a Quad-HD 2.5K resolution (2560 x 1600p), an impressive 240Hz refresh rate, and a rapid 3ms response time. This amalgamation of display attributes unequivocally affirms the notebook's capability to deliver a high-end visual experience.

Furthermore, this notebook boasts the certifications of ComfortViewPlus and NVIDIA G-Sync. The ComfortViewPlus certification is a testament to the notebook's hardware-level anti-blue light filtering capability, effectively mitigating harmful blue light without inducing color distortion or yellowing. It further integrates anti-glare technology, ensuring a pleasurable and eye-friendly viewing experience for avid gamers.
One drawback discerned in this display pertains to its relatively modest brightness level, rated at 300 nits. Nevertheless, it's worth noting that gaming notebooks of this nature are predominantly designed for indoor use, where this brightness level is typically sufficient. In brighter environments, though, users may encounter challenges with visibility when employing this notebook.
To assess the display, we conducted comprehensive testing using the Spyder X. The results of our evaluation revealed impressive performance, with the display encompassing the complete 100% of the sRGB color spectrum, 90% of the AdobeRGB gamut, and 99% of the DCI-P3 color gamut, in line with the official claim of complete coverage. Notably, our color gamut testing produced the following noteworthy findings: an average Delta E value of 1.12, with a minimum value of 0.24 and a maximum of 1.87. This expansive color gamut ensures a highly accurate representation of colors for everyday usage, delivering a more immersive visual experience. Furthermore, it aptly caters to the demands of image and video editing, making it a suitable choice for professional graphic designers.
 Dell G16 7630 Screen Test Results

sRGB
100%
Adobe RGB
90%
DCI-P3
99%
Maximum Brightness
300nits
Average Delta E
1.12
Minimum Delta E
0.24
Maximum Delta E
1.87
Lastly, it's noteworthy to highlight that the upper bezel of the display also houses an HD webcam equipped with an RGB camera capable of recording video at a resolution of 720p and a smooth 30 frames per second (fps). Complementing this, dual-array microphones are integrated, collectively ensuring a commendable and seamless experience for video conferencing and online interactions.
Dell G16 7630: Keyboard and TouchPad
The Dell G16 7630 comes with a US English 1-Zone RGB Backlit Keyboard, as officially stated. This full-size keyboard offers remarkably comfortable key spacing and includes full-size directional keys. Upon closer examination, it becomes evident that this keyboard is a Cherry MX mechanical keyboard, a choice consistently favored by Dell for its Dell Alienware and Dell G-series lineup.

Regarding technical specifications, the keyboard features an ample key travel of 1.8mm, with a trigger key travel of 0.8mm, further complemented by full-key rollover support. Upon extended usage, it becomes evident that the typing experience is notably comfortable, and a satisfyingly crisp sound accompanies the keypresses.
The keyboard on the Dell G16 7630 also offers the convenience of single-key RGB dimming backlit functionality. Users have the flexibility to personalize the backlight color using the AWCC Alien Intelligent Energy Technology Platform, enabling the creation of unique and eye-catching lighting effects. Notably, a prominent highlight of the keyboard is the F9 button, which doubles as the Game Shift macro key. When activated, this key propels the fan speeds to their maximum, prompting the CPU to transition into Dynamic Performance Mode seamlessly. This feature ensures the availability of enhanced processing power when facing challenging in-game scenarios or tackling CPU-intensive tasks.
Under the keyboard, the Dell G16 7630 features a generously sized touchpad, enhancing the overall navigation experience. The touchpad's ample dimensions contribute to precise and smooth cursor control, making it a valuable factor for users seeking seamless and efficient interaction with the device. This feature further elevates the user-friendly design and functionality of the notebook.
Dell G16 7630: Ports
Transitioning from the keyboard, a comprehensive examination of the Dell G16 7630 extends to its port array. This notebook impressively accommodates ports on both its right and left sides, as well as at the back. Owing to its non-reliance on slim dimensions, the device is able to offer a commendable array of ports, ensuring a versatile connectivity experience for users.
Commencing from the right side, the notebook features two USB Type-A 3.2 Gen1 ports. Moving to the backside, a USB Type-C Thunderbolt 4 port with DisplayPort support is present, along with an HDMI 2.1 port, an additional USB Type-A 3.2 Gen1 port, and a dedicated charging port. Finally, on the left side, users can access an RJ45 LAN Port for wired network connectivity and a 3.5mm combo jack for audio input and output needs. This diverse assortment of ports ensures compatibility with a wide range of peripherals and enhances the device's versatility.
It's worth noting that the Thunderbolt 4 Type-C port is exclusive to the model powered by the RTX 4070 GPU. In contrast, the models equipped with RTX 4050 and RTX 4060 GPUs feature a USB Type-C 3.2 Gen2 port. With this robust selection of ports at your disposal, there's no need for concern about carrying any additional USB extenders, as the notebook readily accommodates an array of peripheral connections.
Dell G16 7630: Battery and Charging
Within the Dell G16 7630, a substantial 6-cell 86Wh battery is thoughtfully integrated. This battery has the model number 69KF2. It's characterized as a rechargeable lithium battery rated at 11.4V, with a commendable capacity of 7,167mAh. Remarkably, Dell has opted to employ this identical battery in several of its prior gaming notebook models, including the predecessor to the Dell G16 7630 (Dell G16 7620).
According to official specifications, the notebook is capable of providing a battery backup of approximately 5 hours and 40 minutes, considering the exact hardware specifications. This official measurement was attained using the BAPCo MobileMark 2018 battery testing application. In our testing conducted with the PCMark 10 application under the modern office test, we achieved a battery backup of 3 hours and 25 minutes. In typical, everyday usage scenarios, it is reasonable to expect that the battery life would be sufficient for approximately half a day of productivity.
In addition to the larger battery, Dell also includes a hefty 330W AC adapter to cater to the notebook's power demands, whether you're running on battery or plugged in. This potent adapter not only ensures a continuous power supply but also accelerates the charging process, giving you the convenience of faster recharges.
Dell G16 7630: RAM and SSD
Let's delve into the components inside the Dell G16 7630, starting with the RAM. It's essential to note that the model we're reviewing, powered by the Core i9-13900HX CPU, is officially available with 32GB of RAM on the manufacturer's website. However, the unit under review comes equipped with 16GB of RAM. This 16GB RAM is a 4800MHz Dual-Channel DDR5 memory, consisting of two 8GB RAM sticks, manufactured by Samsung.
Upon disassembling the notebook, it's evident that there are two available RAM slots, though the maximum supported RAM capacity remains unspecified. In our RAM testing, conducted using the AIDA64 Cache and Memory benchmark, we achieved impressive results: a Read Speed of 71,247MB/s and a latency rate of 92.4ns.
Moving on to storage, the Dell G16 7630 is equipped with a 1TB PCIe 4.0 SSD manufactured by SK Hynix. This storage capacity should suffice for typical usage, but avid gamers or those with substantial storage needs may find it somewhat limiting. The good news is that the notebook provides an additional slot for SSD upgrades, allowing for increased storage capacity.
In our SSD performance testing using CrystalDiskMark, we obtained the following results: a Sequential Write Speed of 5,039.72 MB/s, a Sequential Read Speed of 4,701.98 MB/s, a Random Write Speed of 588.76 MB/s, and a Random Read Speed of 555.15 MB/s.
The RAM's performance is noteworthy, consistently delivering excellent results. Conversely, the SSD's speed aligns with the standard performance characteristics commonly associated with mid-range PCIe 4.0 SSDs.
Dell G16 7630: CPU and its Benchmark
The all-new Dell G16 7630 is available in two CPU options: the first one is Core i7-13650HX, and the second is Core i9-13900HX. The one powered by the Core i7 CPU costs a lot less, while the model we are reviewing (powered by the Core i9 CPU) is quite expensive. In the specifications aspect, the processor boasts 8 high-performance cores, along with 16 energy-efficient cores, delivering a total of 32 threads for exceptional multi-core performance. Notably, it achieves a turbo frequency of up to 5.4GHz on a single core, rendering impressive single-core performance. Further enhancing its capabilities, it comes equipped with a substantial 36MB level 3 cache. The CPU benchmarks are outlined as follows:
Cinebench R15: 4,529 Multi-Core score
Cinebench R20: 813 pts on Single-Core and 11,135 pts on Multi-Core
Cinebench R23: 2,099 pts on Single-Core and 25,598 pts on Multi-Core
Dell G16 7630 CPU Benchmark

Single-Core
Multi-Core
CineBench R15
null
4,529cb
CineBench R20
813 pts
11,135 pts
CineBench R23
2,099 pts
25,598 pts
Dell G16 7630: GPU and its Benchmark
Alongside the Intel Core i9-13900HX CPU, this notebook also features the RTX 4070 GPU. It's noteworthy to highlight that the Dell G16 series offers alternative GPU choices, namely the RTX 4050 and RTX 4060, which are paired with the Core i7-13650HX CPU and come at a more budget-friendly price point.
In terms of GPU specifications, this GPU is fabricated using an advanced 5nm manufacturing process and is equipped with 8GB of GDDR6 memory featuring a 128-bit bus width. The GPU's operational frequency stands at 1395MHz, with the capability to dynamically boost up to 1695 MHz. The memory operates at 2000 MHz (16 Gbps effective). Further details pertaining to the GPU's performance can be found in the benchmark test results.
3DMark Time Spy: 12,157 GPU Score and 12,231 Total Score
3DMark Fire Strike: 30,007 GPU Score and 25,191 Total Score
RTX 4070 (in Dell G16 7630) vs RTX 4060 Comparison

RTX 4070
RTX 4060
3DMark Time Spy
12,157
12,231
3DMark Fire Strike
30,007
25,191
The remarkable performance of both the CPU and GPU demonstrates their formidable capabilities, delivering robust graphics performance across diverse user segments. Whether you're a student engaged in tasks like 3D modeling or a passionate gamer seeking an exceptional gaming experience, this combination excels in meeting your demands. It also caters effectively to the needs of science, engineering students, and design majors, offering a versatile and high-performance solution.
Dell G16 7630: Gaming Test
Given its gaming-centric nature, conducting gaming tests on the Dell G16 7630 is a crucial evaluation step. For this testing phase, we selected two AAA-class games, providing benchmark results as follows.
League of Legends: At a 2.5K resolution, the Dell G16 7630 demonstrated an impressive average frame rate of 236fps, ensuring a smooth and responsive gaming experience.
The Witcher 3: With Ray Tracing enabled, the notebook maintained an average frame rate of 64fps. Notably, the AI-driven frame generation function, exclusive to RTX 40 series GPUs, elevates performance, allowing frame rates to surge to a remarkable 90fps to 100fps when the DLSS3 feature is activated. This technology enhances gameplay by delivering both visual fidelity and fluidity.
These results underscore the notebook's prowess in handling demanding games and the added benefits of cutting-edge GPU features.
Dell G16 7630: Heat Dissipation and Stress Testing
The Dell G16 7630 employs an advanced thermal design system, drawing inspiration from the Alienware series. This system integrates four heat pipes and enhanced cooling fans with ultra-thin blades, effectively expanding the heat exchange surface area. Furthermore, it features a Vapor Chamber and Element 31 thermal interface material, collectively ensuring efficient heat dissipation, even during intense in-game moments. This robust thermal solution is instrumental in maintaining optimal performance and preventing overheating.
In contrast to traditional heat pipes, the utilization of VC vapor chambers in the thermal design significantly augments the heat exchange area and enhances heat dissipation efficiency. The incorporation of liquid metal further improves heat transfer, which plays a crucial role in reducing core temperatures. This combination contributes to the sustained and stable release of CPU and GPU performance over the long term. Moreover, users can swiftly activate the G mode with a single press of the prominent G key (F9), unleashing heightened performance, as elaborated in the Keyboard section. This feature enhances the notebook's efficiency, particularly during demanding tasks and resource-intensive activities.
In preparation for combined CPU and GPU testing, we conducted measurements of their respective maximum power consumption. The CPU exhibited a peak power consumption of 115W while maintaining a stable operational experience. In contrast, the GPU peaked at 140W during the testing.
Double-Stress Testing: During our double-stress testing, where we engaged the G-mode for optimal performance, we observed a steady power consumption of 195W. It's important to note that the test environment maintained a room temperature of 27.5°C. After nearly 30 minutes of rigorous testing, the mid-section of the notebook recorded a temperature of 46.4°C, with the highest temperature localized around the notebook's air outlets. This outcome underscores the notebook's efficient heat dissipation capabilities, ensuring effective thermal management even under demanding conditions.
Summary
The Dell G16 7630, with its Core i9-13900HX processor and RTX 4070 GPU, is a powerful gaming notebook that caters to a wide range of users. Its 16-inch 2.5K display, comfortable Cherry MX mechanical keyboard, and excellent port selection make it suitable for gamers, students, and professionals. The advanced thermal design system keeps it cool, even during demanding tasks, and its performance, whether in gaming or productivity, is commendable. With a price of $2000, it offers excellent value for its capabilities. While the price may seem high, the Dell G16 7630 offers superb value for the money, especially considering its powerful hardware and feature set. For those on a budget, there's also the option of the Core i7-13650HX variant, which is available at a more affordable price of $1250, providing a compelling choice for those seeking a balance between performance and budget considerations.