These days, upgrading current notebook models (from 2021 to 2022) is in trend from different manufacturers. We also recently reviewed the 2022 model of the HP Omen 16 series. The notebook we will review today is also an upgraded model, i.e., ASUS ROG Zephyrus M16 2022 model, which comes with the new 12th Generation Core i9 CPU and the latest RTX 3000Ti series GPU.
The new 2022 Zephyrus M16 comes with a more high level of gaming but still achieves the same level of body weight, and slimness helps maintain the aesthetics of the ASUS ROG series. The laptop also got the same size 16 inches display but with higher specifications. For a gamer looking for a bigger screen gaming notebook, the 2022 Zephyrus M16 is a fine choice.
The model we got for review comes with the Intel Core i9-12900H CPU and NVIDIA RTX 3070Ti GPU. In terms of storage, it got a 16 Gigs DDR5 RAM and 1TB M2 NVMe PCIe 4.0 SSD (factory installed). The overall notebook package is suitable for both office work and gaming.
All the aspects of the ROG Zephyrus M16 (2022) have been reviewed in detail below the specifications table.
ASUS ROG Zephyrus M16 (2022): Specifications
Screen
16-inch WQXGA (2560 x 1600), 16:10 anti-glare display, DCI-P3:100%, Refresh Rate:165Hz, Response Time:3ms, IPS-level ,Adaptive-Sync, Pantone Validated, MUX Switch + Optimus, Dolby Vision
Processor

12th Gen Intel Core i9-12900H Processor 2.5 GHz (24M Cache, up to 5.0 GHz, 14 cores: 6 P-cores and 8 E-cores)

Wireless Connection

Wi-Fi 6E(802.11ax)+Bluetooth 5.2 (Dual band) 2×2 (BT version may change with OS upgrades.)

Graphics card
NVIDIA GeForce RTX 3070Ti 8GB DDR6 Laptop GPU, ROG Boost: 1085MHz* at 120W (1035MHz Boost Clock+50MHz OC, 100W+20W Dynamic Boost)
Memory
16GB DDR5-4800 SO-DIMM On-Board, 16GB DDR5-4800 SO-DIMM Memory, Max Capacity: 48GB, Support dual-channel memory
Storage
1TB NVMe PCIe 4.0 SSD, Manufactured By Micron (Model number: Micron 3400)
Ports
1x 3.5mm Combo Audio Jack
1x HDMI 2.0b
2x USB 3.2 Gen 2 Type-A
1x USB 3.2 Gen 2 Type-C support DisplayPort™ / power delivery
1x RJ45 LAN port
1x Thunderbolt™ 4 support DisplayPort™ / power delivery
1 x card reader (microSD) (UHS-II)
Battery
90WHrs, 4S1P, 4-cell Li-ion Battery with 240W AC Adaptor (20V/12A)
OS
Windows 11 Home Edition
Weight
2.0 kg (4.41 lbs)
ASUS ROG Zephyrus M16 (2022): Appearance and Design
With a slim and thin body, the new Zephyrus M16 (2022) isn't compromised in body designing as well. Starting from the display side, the display shell is made up of metal, and there is a specific area in which 8279 CNC holes are placed. Moreover, these CNC holes also have a rainbow shade when the light reflects on their surface. There is a mini ROG logo plate at the other area's corner, which also got a mirror effect.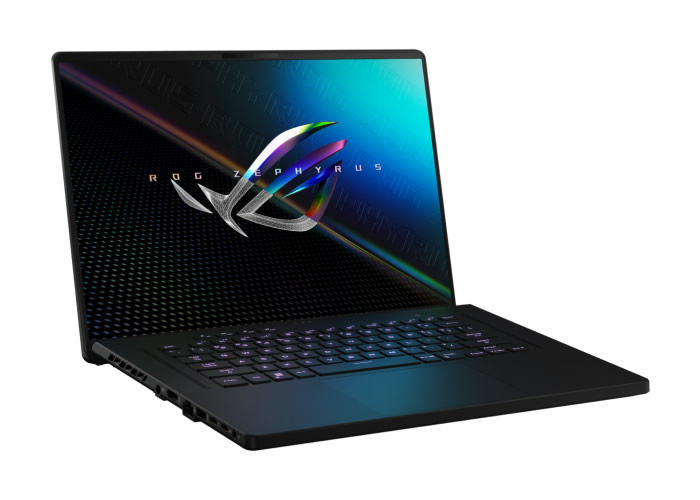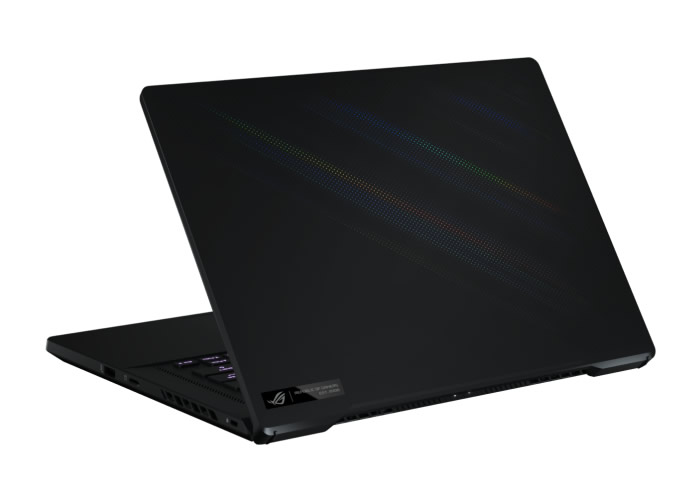 On opening the laptop, we have a 16 inches IPS LCD Display (discussed in the Display section). It is worth mentioning that the Zephyrus M16 (2022) has a maximum 180° opening, which lets the user use it in many scenarios (in which 180° opening is required). In addition, the display also got an extra and curved bezel at the bottom, which allows the laptop's body to have a certain height from the surface, playing an essential role in the laptop's heat dissipation system at the same time.
Overall, the new ROG Zephyrus M16 (2022) adopts an all-in-one black design (covering both business and gaming fields), giving people a relaxed and modest feel.
ASUS ROG Zephyrus M16 (2022): Display
We already mentioned that the new Zephyrus M16 (2022) features a larger 16:10 (aspect ratio) IPS LCD featuring a 2.5K (2560*1600p) resolution and a higher 165Hz refresh rate, which perfectly matches the requirement of the current generation's gamers. It is worth mentioning that ASUS ROG has officially called this display "ROG Nebula Display," presenting a more robust display's specifications package.
The display also got some highlights: 3ms quick response, 100% DCI-P3 Wide Color Gamut, 500nits Peak Brightness, Adaptive-Sync supported, and a higher 94% screen-to-body ratio providing a large viewing area. Moreover, the display is also Pantone certified, ensuring the excellent quality of display colors, a significant positive point for graphic designers to buy this notebook. Also, thanks to 3ms response time which plays an essential role in providing a silky-smooth display graphics experience.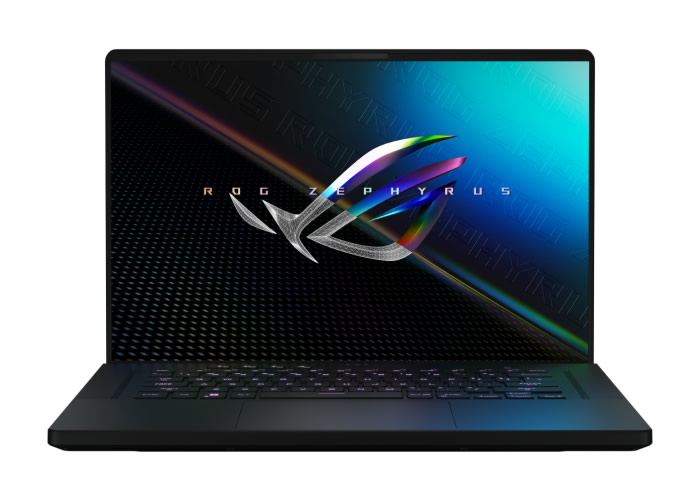 For testing the display's colors, we used the Datacolor Spyder X. Following are the test results:
DCI-P3: 97% Color Gamut Coverage and 105.9% Volume Ratio
Adobe RGB: 80.8% Color Gamut Coverage and 104% Volume Ratio
sRGB: 99.8% Color Gamut Coverage and 149.5% Volume Ratio
For a gaming notebook display, this color gamut is quite decent. The display is also equipped with a High-Tech Infrared Camera and Microphone Voice Recognition Port for Windows Hello Face Recognition, helping in a quicker and secure login to Windows.
ASUS ROG Zephyrus M16 (2022): Keyboard and Touchpad
The new Zephyrus M16 (2022) features the Backlit Chiclet RGB Keyboard (as called by the officials), having a 1.7mm travel distance, giving a good feel of a mechanical keyboard. At the same time, the comfort is also increased, no dispute is observed in keys, and input is also more precise. The RGB Backlight in Keyboard supports single-zone 3-level backlight intensity adjustment. At the right top of the keyboard surface, the power on button is placed.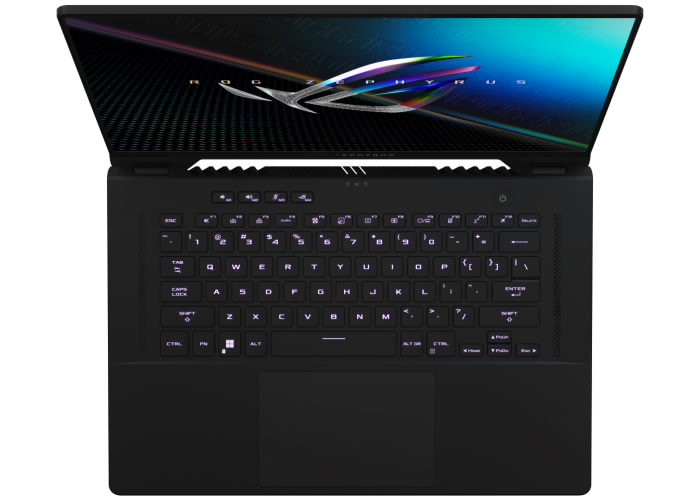 We found a different thing on the keyboard, the new Independent Shortcut Keys at the top left of the keyboard's surface. These keys can do simple operations, including the volume up, volume down, microphone mute. On pressing the fourth key, the new Altron Intelligent Control Center (factory-installed software) will open.
Under the keyboard, we have an integrated touchpad with the following dimensions: 130*85mm (20% larger than the previous model, also increasing the preciseness of navigation). At the left of it, there are brand stickers of Intel Core (12th Gen CPU) and NVIDIA GPU.
ASUS ROG Zephyrus M16 (2022): Ports, RAM and SSD
When it comes to the term "port" or "expansion," the new Zephyrus M16 2022 model is fully enriched with different port types. It also eliminates the use of various docks.
At left, the notebook features the following ports: 1x Charging Port, 1x HDMI 2.0b Port, 1x RJ45 LAN Port, 1x USB 3.2 Gen 2 Type-A Port, 1x Thunderbolt 4 Type-C Port (supports DisplayPort and 100W Power Delivery charging), 1x USB 3.2 Gen 2 Type-C (with same features as in Thunderbolt 4 port) and a 3.5mm Combo Audio Jack. The notebook features a single USB 3.2 Gen2 Type-A Port and a TF Card Reader on the right side.
As mentioned before, the new Zephyrus M16 (2022) is powered by 16 Gigs DDR5 SO-DIMM RAM, clocked @4800MHz. There was an extra slot for another RAM (Dual-Channel Memory) stick; that's why we installed a total of 32 Gigs RAM so the notebook's additional capabilities can be identified. It is worth mentioning that the RAM can be upgraded to 48 Gigs, maximum.
For RAM testing, we used the AIDA64 Memory & Cache benchmark test. Following are the results: Read Speed: 67217MB/s, Write Speed: 64360MB/s, and Copy Speed: 63407MB/s. The latency rate is 88.6 ns. The scores are a bit higher than any 12th Gen Intel Core CPU-powered Gaming Notebook.
In addition to DDR5 RAM, the notebook is also equipped with a 1TB M.2 NVMe PCIe 4.0 SSD, which also has an efficient heat dissipation system. The mighty M2 SSD is integrated with a thermal pad so the heat produced by the SSD can efficiently and quickly be conducted to the bottom cover. On further checking the SSD details (through an application), we found that this SSD is manufactured by Micron, and the model is 3400.
Moreover, the extending scenario in storage is the same as in RAM. The company has given an extra slot for M.2 2280 SSD, which lets the users upgrade the storage capacity. For testing the SSD speed, we used the CrystalDiskMark (application), through which we found the following results: Sequential Read Speed: 6570.90MB/s and Sequential Write Speed: 4996.86MB/s. The benchmark scores are relatively near to high-end PCIe 4.0 SSD scores.
ASUS ROG Zephyrus M16 (2022): Battery and Charging
Inside the new Zephyrus M16 (2022), there is a large-sized 4-cell 90Wh 4S1P Li-ion Battery that lets you do gaming for a long even if you are not on charging. In addition to that, the laptop also comes with a 240W (20V/12A) AC Adaptor for charging. And even if you have lost the AC Adaptor, there is no need to worry. The notebook also supports 100W (20V/5A) fast charging through the Thunderbolt 4 (Type-C) port.
ASUS ROG Zephyrus M16 (2022): CPU and Benchmarks
The new ASUS Zephyrus M16 2022 (GU603) comes with the latest Intel Core i9-12900H CPU, Intel's most powerful mobile processor. The CPU is based on Intel 7 (7nm) EUV Lithography and features the all-new Innovative High-Performance Hybrid Architecture Design (for balancing performance and power consumption). Moreover, it got a total of 14 cores (six performance cores, eight energy-efficient cores), 20 threads, and 24M Cache Memory. It is worth mentioning that the Performance cores have a turbo frequency up to 5.0GHz while the energy-efficient cores' max frequency is 3.8GHz (base frequency of both: 2.5GHz).
We also did a short benchmark test of CPU with famous applications CPU-Z and Geekbench 5. Following are the results:
CPU-Z: 812.5 Points on Single-Core and 8475.5 Points on Multi-Cores
Geekbench 5: 1946 Single-Core Score and 14288 Multi-Core Score
Compared with the last generation CPU's score (Core i9-11900H), a big difference has been observed between scores and speed.
ASUS ROG Zephyrus M16 (2022): GPU and Benchmarks
In addition to a high-end CPU, the laptop is also not compromised in terms of GPU. The new Zephyrus M16 (2022) is equipped with RTX 3070Ti 8GB DDR6 Mobile GPU. The GPU is based on a GA104 display core and got 5888 CUDA cores, 96 raster units, and 184 texture units in addition to 256bit bus width.
In terms of frequency, the GPU has a 510MHz default frequency, 1035MHz boost frequency, and 1500MHz memory frequency (≈ 12000MHz). The GPU can get overclocked automatically after turning on the Enhanced Mode (from Armoury Crate). At this moment, the GPU's frequency was 560MHz, Boost Frequency was 1085MHz, while the memory frequency was 1525MHz (≈ 12200MHz).
As revealed by the NVIDIA's official, the NVIDIA Ampere Architecture (in RTX 3070Ti) has now been upgraded and comes with the following changes:
Second Generation RT Core: The new Second Generation RT (Ray Tracing) Core doubles the output of ray and triangle intersection calculations and significantly improves motion blur performance.
Third Generation Tensor Core: The newly upgraded Tensor Cores now have optimized sparse network performance and better AI Computing Performance.
SM Multi-Unit Stream Processor: This processor has also been upgraded and now runs faster and more efficiently, doubling the output of FP32 in SM.
We can say that the Architecture of this generation has an extensive performance gap (in terms of improvement) if compared with the last generation's GPU. We also did benchmark and rendering test of GPU for checking its capabilities, mentioned below:
Adobe Premiere Pro: For testing, we exported a 480p resolution video with 60fps and a length of 11 mints and 15 seconds. It took only three and a half minutes with GPU's Hardware Acceleration turned on, a lot quicker than when only CPU was used (i.e., 14 minutes). This also denotes how vital the role the RTX 30 series GPU can play in the rendering field.
3DMark: In the following benchmark scores, we mentioned the performance in both Independent Display Mode and Mixed Mode.
Fire Strike: 27,199 in Mixed Mode and 27,568 in Independent Display Mode
Fire Strike Extreme: 13,377 in Mixed Mode and 13,369 in Independent Display Mode
Fire Strike Ultra: 6,741 in Mixed Mode and 6,826 in Independent Display Mode
Time Spy: 10,385 in Mixed Mode and 10,565 in Independent Display Mode
Time Spy Extreme: 5,082 in Mixed Mode and 5,136 in Independent Display Mode
Port Royal: 6,512 in Mixed Mode and 6,524 in Independent Display Mode
It can be seen that there is a significant performance difference between both Mixed and Independent Display Mode.
Gaming Test
Being a gaming notebook, the gaming test on Zephyrus M16 2022 is something must. We did a short gaming test on two of the famous games, which are mentioned below along with their gaming benchmarks:
Cyberpunk 2077: One of the most trending games these days. For testing the game, we turned on the Ray Tracing and set it to Ultra while the DLSS was also set to Ultra. On following settings, we got 68fps on 2K+ (2560*1600p) resolution and 88fps on Full-HD+ (1920*1200p) resolution.
God of War 4: Another famous game developed by Sony. We did the following settings for testing this game: Picture Quality was set to Ultra, and DLSS was set to normal quality. On 2K+ (2560*1600p) resolution, we got 63fps and on Full-HD+ resolution (1920*1200p), we got 74fps.
Thanks to the all-new DLSS Technology, the ASUS ROG Zephyrus M16 (2022) runs all the games at a higher 2K+ resolution with superb picture quality and extreme smoothness.
Heat Dissipation and Stress Testing
The new ROG Zephyrus M16 (2022) features the Glacier Cooling Architecture 2.0 for maintaining a proper heat dissipation environment during high-end gaming. The cooling system features 2x 84-blade Arc Flow Dust-Free fans (for generating a good airflow with little noise) the all-new Thermal Grizzly Liquid Metal Thermal Compound on CPU for keeping the temperature minimum. Moreover, there are six flat heat pipes and four air outlets. The overall heat dissipation system is quite stunning.
We did a single stress test in which we put the stress on both CPU and GPU. For this, we used the AIDA64 Dual-Stress Test. After 10 minutes of testing, the total power output reached 140W. The CPU's temperature was at 80°C; the frequency was stable at 2.4GHz, and the temperature was 40°C. While the GPU's temperature was at 74°C and the power consumption was at 100W.
Overall Testing
This was the last test we did in which we tested out all the primary and basic functions of the notebook. For this test, the PCMark 10 has been used, and the results are following:
11,288 Points in Common Basic Functions including Web Browsing, Video Calling, and Application Startup
11,397 Points in Productivity Project Test
12,286 Points in Digital Content Creation including Video, Photo Editing, Graphics Rendering, and related stuff
20,835 Points in Gaming Test
The results clearly show that the laptop has performed well as an all-rounder notebook.
Final Evaluation
After reviewing thoroughly, we can say that the new ROG Zephyrus M16 is equipped with high-end hardware, providing a fast, smooth, and excellent gaming experience. If you are looking for a bigger screen notebook (whether for gaming or office use), the ROG Zephyrus M16 (2022) is the best option.