The all-new Dell XPS 13 Plus (XPS 9320) comes with the best technology equipment you can get in a business segment notebook. Moreover, this lineup also consists of only Premium and Flagship Level notebooks, so having the latest and high-quality types of equipment is a must. The laptop is among the first business segment notebooks featuring DDR5 Memory. On the teardown of the laptop, various aspects of the laptop (including Battery, Cooling System, Wi-Fi Card, RAM, and SSD) can be observed.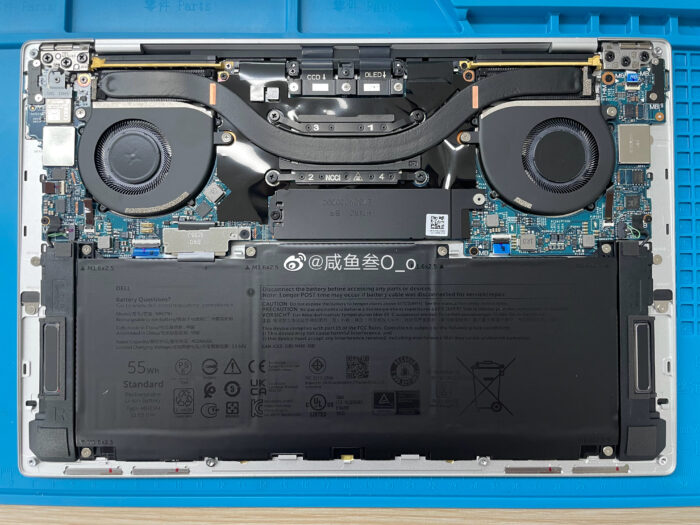 RAM
Starting from the RAM, the notebook is equipped with a 16GB Dual Channel LPDDR5 RAM Module, soldered on the motherboard (32 Gigs option also available). So if you are looking to buy this laptop, you must be careful in selecting the suitable RAM capacity as per your needs. After purchasing it, you wouldn't be able to upgrade the RAM capacity. However, with Dual Channel Memory, the multi-tasking experience on XPS 13 9320 will be excellent. It is worth mentioning that the LPDDR5 RAM (clocked @5200MHz) is the best option you can get in the business segment laptop.

Storage
In terms of storage, the laptop comes with a 512GB M.2 PCIe 4.0 NVMe SSD, placed in the middle of the motherboard (between the battery and cooling fan). On going through some testing, we learned that the SSD is manufactured by Western Digital, carrying model number: SN810. Once again, this is the latest generation SSD you can get in the Business Segment laptop. However, if you are looking for greater storage, you can also upgrade it by yourself. All you need to do is remove the bottom panel, undo the screws around the SSD and safely remove it, then plug the new SSD and repeat the process from the opposite direction.
Battery
Inside the new XPS 13 Plus (XPS 9320), there is a large-sized battery which is the most prominent thing you can see on teardown. The battery is a 55Wh Li-ion battery with a capacity of 4524mAh, which seems fine as it is a business segment notebook powered by the Intel Core i7-1260P CPU (28W Power Consumption). If you want to remove the battery, the process is not as complex as it seems. Remove the bottom panel, disconnect the battery connector from the motherboard, undo all the screws, and safely remove the battery.
Also Read: Dell XPS 13 Plus 9320 Review (Core i7-1260P, Iris Xe)
Cooling Fan
The Cooling System can be seen at the top of the motherboard, covering a large area. In total, the Cooling System consists of two fans and a single pipe. Generally, the manufacturers didn't focus much on the Cooling System of business segment notebooks. But still, with this Cooling System, we can ensure that there would be no problem in terms of heat dissipation. Check out Dell XPS 13 Plus (XPS 9320) full review.