A few days back, we reviewed Dell's recently launched laptop, Dell Inspiron 16 Plus. The laptop is one of the best laptops in the gaming segment if you like a thin, lightweight laptop and super performance simultaneously.
The laptop we bring for today's review is from the same brand (Dell) but belongs to a different segment, i.e., the business category. Due to growing competition in this segment, Dell is continuing to introduce new notebooks to stay in the competition. The notebook is named Dell XPS 13 Plus 9320, the latest 2022 model addition to Dell's flagship series. Before going into further details, it is worth mentioning that XPS (eXtreme Performance System) lineup is famous for its consumer-oriented high-end flagship-level notebooks and desktop computers manufactured by Dell.
The model we are reviewing is powered by Intel's latest 12th Generation Core i7 P-Series CPU, which has more consumption (compared with Intel's U-Series CPU) in addition to more robust performance. The CPU also comes with an integrated Intel Iris Xe GPU. Further, the notebook also supports the latest DDR5 Memory Modules and the PCIe 4.0 SSD protocols.
Suppose we make a rough comparison with its competitor, ThinkPad X1 Carbon Gen 10 (previously reviewed on our site), from Lenovo. In that case, we can say that this notebook is a clear winner only due to its more eye-catching appearance. If we take every aspect (we discussed) aside, there is still another breakthrough of the laptop: its 3.5K OLED display. Undoubtedly, the OLED Display isn't recommended in business segment notebooks, but its bright and accurate color will still attract even business notebook consumers.
Every aspect of the laptop is discussed below the specifications table.
Dell XPS 13 Plus 9320: Specifications
| | |
| --- | --- |
| Screen | 13.4″, 3.5K 3456×2160, 60Hz, OLED, Touch, Anti-Reflect, 400 nit, InfinityEdge |
| Processor | 12th Generation Intel Core i7-1260P (18MB Cache, up to 4.7 GHz, 12 cores) |
| Wireless Connection | Intel Killer Wi-Fi 6 1675 (AX211) 2×2 + Bluetooth 5.2 Wireless Card |
| Graphics card | Intel Iris Xe Graphics |
| Memory | 32 GB, 2 x 16 GB, LPDDR5-5200 MHz, Dual-Channel (Soldered on Motherboard) |
| Storage | 2TB PCIe 4.0 M.2 NVMe SSD, manufactured by SK Hynix |
| Ports | 2x USB Type-C Ports (Thunderbolt 4.0 port with DisplayPort and Power Delivery) |
| Battery | 3 Cell, 55Wh Li-ion Built-in Battery with 60W AC Adapter |
| OS | Windows 11 (Home Edition) |
| Weight | 2.77 lbs. (1.26 kg) |
Dell XPS 13 Plus 9320: Body Design and Appearance
Starting from the technical specifications (as disclosed by officials), the XPS 13 Plus has the following dimensions: 295.30*199.04*15.28mm (15.28mm thickness) and weighs around 1.25kg. Both factors (thickness and weight) don't have any breakthrough but still holding the body gives a very lightweight and flagship laptop feel, so we can say that notebook is relatively excellent in terms of portability.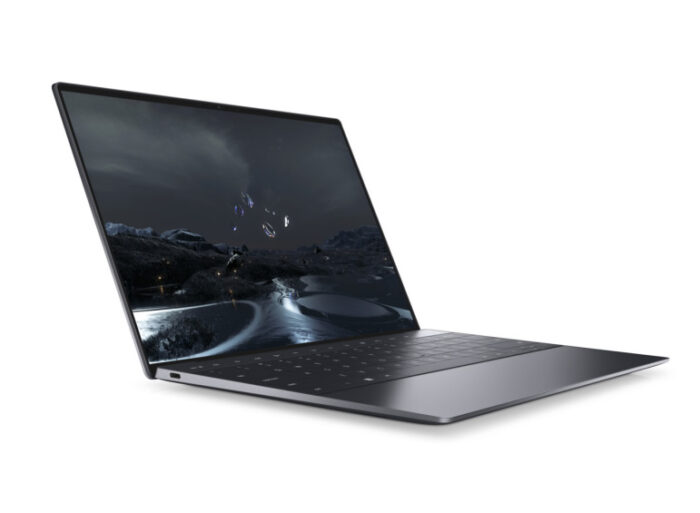 The model we selected for review has Platinum Color (a kind of silver color) as stated by officials. Overall, there are two color options in this model (Platinum and Graphite), and both represent the simplicity of design in a unique way. The entire body is made of Aluminum in addition to CNC Precision Milling, which ensures that the notebook's surface and edges have a more delicate and eye-catching appearance.
The display shell has the traditional Dell signature logo in the middle. In order to design a slim body, the manufacturer has also compromised the Ports of the notebook, which is further discussed in the ports section. It is also worth mentioning that Dell XPS 13 Plus is the first notebook in the XPS lineup to be manufactured using hydro-renewable energy. It also reduces the carbon footprint of aluminum fabrication and includes new packaging made from 100% sustainably sourced or renewable materials.
Display
The new XPS 13 Plus features a 13.4 inches OLED Display with Touch Support, covering a 91.9% of screen-to-body ratio. The screen size is undoubtedly relatively compact, but the display doesn't feel like a small-sized screen due to its narrow bezels. Compared with the older model, the entire visual experience is more precise, and the display area is extensive.
In terms of technical specifications, the OLED display in XPS 13 Plus has a 3.5K (3456*2160p) resolution, 16:10 aspect ratio, 60Hz refresh rate, 400nit peak brightness, and some following characteristics: Anti-Reflect and InfinityEdge. As per the official introduction, the notebook also supports a 100% DCI-P3 (Film Level) wide color gamut, covering more green and red colors (R and G in RGB colors) and providing a reliable and accurate screen viewing experience. Not only that, but the display also comes with hardware-level anti-blue light, allowing an average office user to view the screen for a long time and also avoiding eye strain or headache.
In the display calibration test (aka Color Gamut test), we found the following results: 100% sRGB, 96% Adobe RGB, 100% DCI-P3, and 94% NTSC Color Gamut. In terms of display color, the colors are now more vivid and bright, and the black display effect is super improved, now darker and more realistic than a regular LCD. In the color accuracy test, the minimum value of △E (Delta E) was 0.18; the highest was 2.20, and the average was around 0.80). The color testing also denotes that the notebook can be used for advanced-level graphics designing.

As can be seen, the XPS 13 Plus display has narrow bezels on all four sides. However, the manufacturer didn't compromise the webcam feature and put a camera module and dual-array microphone on the display's upper bezel. It is worth mentioning that the webcam module supports HD (720p) video recording at 30fps for fine video quality during the video conference. Also, the webcam comes with Windows Hello feature for a faster and seamless login experience.
Keyboard and TouchPad
After opening the laptop, the most eye-catching thing is its keyboard design. The Dell XPS 13 Plus features a Platinum Backlit English keyboard integrated with a Fingerprint sensor. The keyboard comes with a grid-free design which reduces the key spacing in the keyboard, further letting it achieve the complete width of the notebook's C-Side. After using it for a while, it was observed that the fingers could quickly get used to typing on this keyboard without feeling crowded.
It was also expected that the keyboard's key travel would be very short as the notebook's thickness was very low. However, things exceeded our expectations as the key travel feels sufficient for typing further; the keycaps also have an arc of 0.3mm, which fits the fingertips very well. Moreover, the keyboard also supports White colored LED backlit.
Another major highlight of the keyboard is its function keys which are covered with glass, have a built-in display, support touch, and the functions (on it) can be changed through the Fn button. These keys maybe look similar to MacBook Pro's Touch Bar, but still, there is a big difference between both. However, there is no doubt that the Function Keys' design improves the keyboard's overall appearance.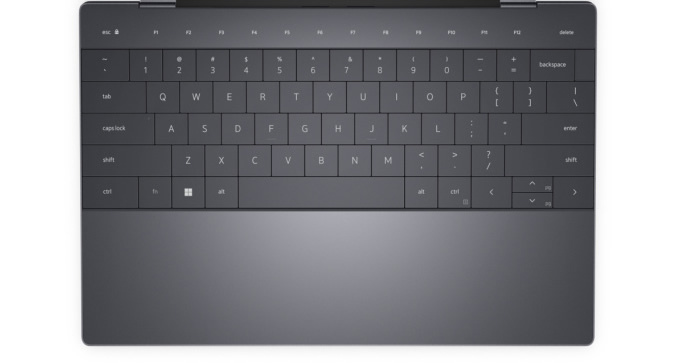 Under the keyboard, you might be wondering if there is no TouchPad. It is worth mentioning that the entire surface under the keyboard (including the palm rest area) is of TouchPad. Calling it a touchpad may be wrong as it uses an all-new technology named "ForcePad" (glass panel), which provides borderless tactile feedback on tapping/clicking it, and the left and right menus can easily be accessed. It is worth mentioning that this TouchPad is built using piezoelectric technology under the glass, using a series of small drive motors to provide more precise and responsive feedback.
Undoubtedly, the entire Keyboard area of XPS 13 Plus is the most exciting and innovative part of it. The seamless glass TouchPad (ForcePad), the Function keys with Capacitive Touch Function (replacing the Physical Function Keys), and the large-size grid-free keyboard play a significant role in maintaining the notebook's visual and technological aesthetics.
Ports
In terms of ports, the XPS 13 Plus features 2x USB Type-C Thunderbolt 4 ports on both sides (one port on each side). In order to design a thin body, the manufacturer has to compromise the ports of the notebook. As the notebook lies in the business segment, having different ports is necessary. However, the manufacturer has done a little compensation for this by providing a USB-C to USB-A 3.0 adapter and a USB-C to 3.5mm headphone dock in the retail packaging box of the notebook.
Further, the support for Thunderbolt 4 eliminates the need for separate charging and HDMI ports as the user can use both port's functions. In addition, the Type-C port can easily meets the daily needs of office applications and usage.
It is worth noting that the previously launched Inspiron 16 Plus 7620 from the same manufacturer is also a very thin notebook (16.95mm thickness) packing a Mobile GPU but still managing to feature different kinds of ports.
Battery and Charging
When buying a business segment laptop, the battery is one of the significant characteristics a buyer must look for before buying it. Good battery life matters a lot in office usage. In XPS 13 Plus, the notebook was expected to feature a small or a medium-sized battery due to its thin and lightweight body.
As officials stated, the XPS 13 Plus features a built-in 3-cell 55Wh battery which seems a bit lower with an OLED Screen and Intel P-Series equipped notebook. On the teardown of the notebook, more details of the battery can be observed. The battery has a model number: MN79H and is an 11.5V Li-ion battery carrying a capacity of 4524mAh.
For testing battery life, we used the PCMark 10 Modern Office Mode. Before starting the test, the battery was at 99%, and the following settings were set: Energy Efficiency mode was turned on, brightness level was at 40%, keyboard backlit, Bluetooth was turned off, and the Wi-Fi was turned on. On following settings, we got a battery life of 7 hours and 41 minutes, and still, 10% of the battery was remaining. The battery life was quite different from our expectations, and in normal office usage, the user can easily spend its office hours (8 hours is average) with a single charge.
In addition to the 55Wh battery, the laptop also comes with a 60W Power Adaptor, specially designed for fast charging, and can quickly charge 80% of the battery in just a single hour. If the users have to do more heavy usage, they can quickly charge a sufficient amount of battery during their lunch break or tea time for more extended battery timing.
RAM and SSD
This factor also plays a significant role in the performance of any notebook. In terms of RAM, the XPS 13 Plus features 32 Gigs of dual-channel LPDDR5 memory (clocked @5200MHz) and is soldered on a motherboard, which doesn't allow the users to upgrade RAM by themselves. Using the latest DDR5 Memory modules ensures that the laptop adopts the newest technology and will not cause a problem in terms of speed for the next 2-3 years. Further, the 32 Gigs of RAM is also more than enough if the user purchases a notebook for office work.
For testing the RAM capabilities, we used the AIDA64 Memory Test, on which we found the following results: 61,475MB/s Read Speed, 63,106MB/s Write Speed, and 70,289MB/s Copy Speed, while the latency rate was 110ns. Compared with its competitor ThinkPad Carbon X1 (2022), the scores are slightly lower as the competitor model has better frequency DDR5 RAM. But still, if we take the XPS 13 Plus as an individual, the performance is entirely satisfactory as per office usage.
Next, we have a 2TB NVMe M2 SSD, which supports the PCIe 4.0 Gen Protocols and is manufactured by SK Hynix (carrying the following model number: PC801). The notebook is also available in other storage options: 512GB and 1TB. Further, there is only a single SSD slot, so if you are looking for higher storage, you need to replace your current SSD.
For testing the SSD performance, we used the CrystalDiskMark application and found the following results: 7,041.66MB/s Sequential Read Speed, 6,212.45MB/s Sequential Write Speed, 332.60MB/s 4K Random Read Speed, and 475.86MB/s 4K Random Write Speed. Compared with its competitors, the SSD Performance of the XPS 13 Plus is relatively extraordinary, ensuring fast copying, saving, and writing operations during office usage.
For replacing these components, check out the Dell XPS 13 Plus teardown post.
CPU Benchmarks
In the past, we have seen that usually thin and lightweight notebook has weak specs, and the primary purpose of using these notebooks was also fundamental, like browsing web pages and processing office document. However, with time development, the requirements changed. In today's slim notebook, operations like using PhotoShop, Video Editing software, Rendering Movies app, and many other related tasks have become necessary.
However, in the case of XPS 13 Plus, there is no need to worry as the notebook features Intel's latest P-Series CPU, which has a bit higher power consumption and excellent performance. It is worth mentioning that the P-Series (of Intel's CPU) lies between H-Series and U-Series in terms of performance and power consumption. This CPU lineup usually targets notebook segments having a slim body and powerful performance.
The laptop we are reviewing is powered by Intel's 12th Generation Core i7-1260P CPU, based on a new generation Hybrid Architecture that offers an innovative combo of performance and energy-efficient cores, providing an all-rounder performance and covering every scenario. The CPU has 12 cores (including four performance and eight energy-efficient cores) and 16 threads, integrated with Intel Iris Xe GPU and an 18MB L3 cache. It is worth mentioning that performance cores have a maximum 4.7GHz frequency while the energy-efficient cores' max frequency is 3.4GHz. Also, the CPU's base power consumption is 28W, while the highest is 60W (turbo mode). We also did some benchmark tests of CPU, which are mentioned below:
Cinebench: In Cinebench R20, the CPU scored 661cb on single-core while on multi-core, it scored 4192cb. Then on Cinebench R23, it scored 1686 points on single-core and 10,791 points on multi-core.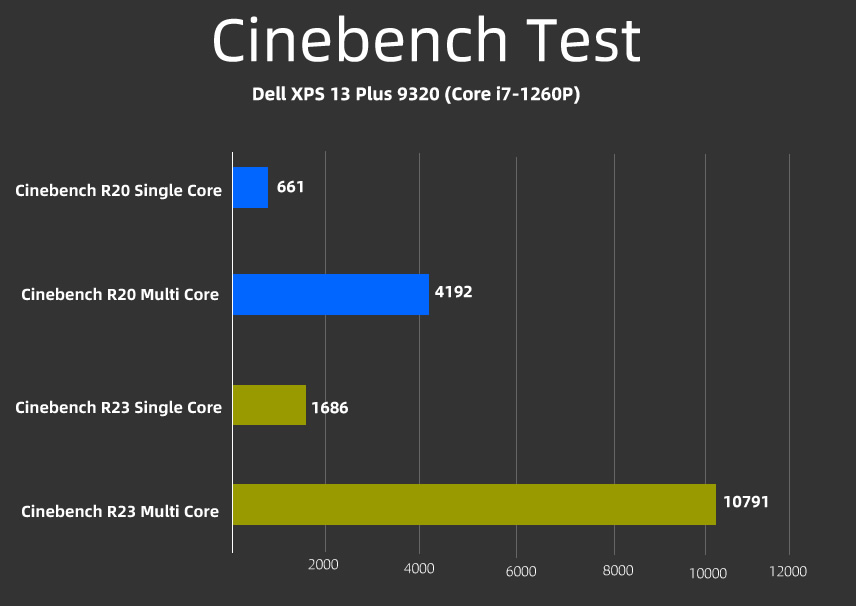 CrossMark: In this test, many things, including Productivity, Content Creation abilities, and Responsiveness of notebook, can be tested. The notebook scored a total of 1,731 points (including 1,653 points in Productivity, 1,875 points in Creativity, and 1,559 points in Responsiveness).
X264 FHD Benchmark: In this testing, the laptop took 45 seconds to encode 2500 frames, while the frame rate was 56fps. Thanks to the hybrid architecture of Core i7-1260P, the benchmark results were quite good.
GPU Benchmark
As mentioned before, the Core i7-1260P CPU also comes with an integrated Intel Iris Xe GPU based on 10nm Alder Lake architecture. With the 12th Generation Intel's chipset, the GPU is now more robust in terms of performance, battery life, response, and all the related operations of GPU. It is worth mentioning that the GPU's dynamic frequency is 1.4GHz and has 96 execution units. We also did some benchmark tests of GPU using the 3DMark Benchmark application:
3DMark Time Spy: 1,499 GPU's Score and 1,682 Overall Score
3DMark Fire Strike: 4,273 GPU's Score and 4235 Overall Score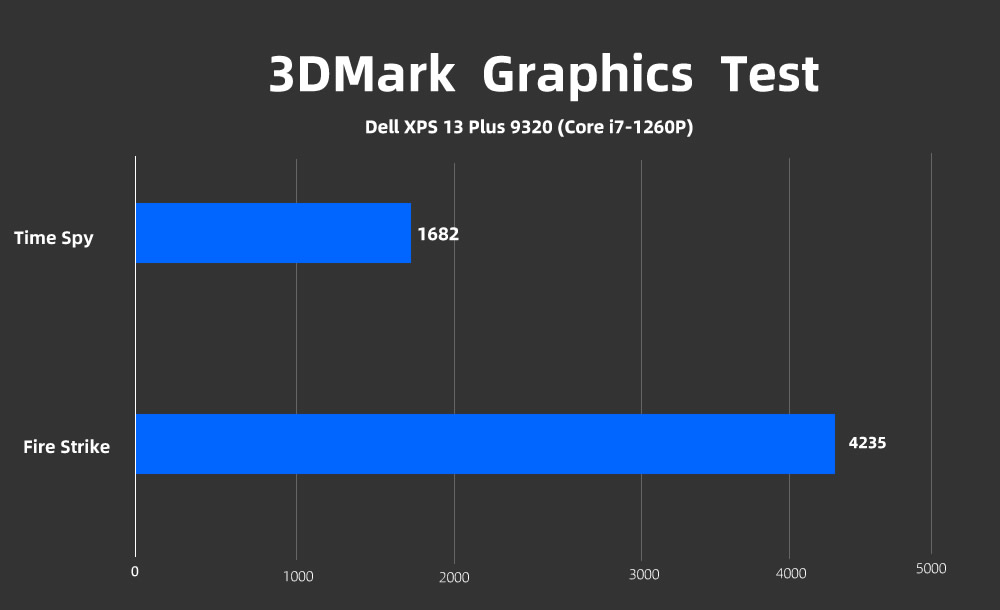 Heat Dissipation and Stress Test
For a smooth and faster performance, having an exemplary heat dissipation system is also essential in a notebook. In the case of XPS 13 Plus, the entire body is quite slim, but the manufacturer still managed to make the heat dissipation relatively excellent and efficient. The notebook comes with a cooling system consisting of two fans and a single cooling copper pipe. Further, the manufacturer also put some air outlets at the bottom of the notebook and under the display. Although there are no large ventilation grills, there are still three slender openings on both sides at the bottom, which increases heat dissipation efficiency by 55%.
For stress testing the laptop, we used the AIDA64 Extreme test. After running the test for around 25 minutes, the Ambient Temperature was 25°C, CPU's core temperature was 91°C, and the Power Consumption was stable at 35W (7W higher than the basic power consumption).
The testing results were quite good, but it was also observed that the produced heat was mainly concentrated at the cooling vents and bottom side of the notebook; that's why using the laptop on your lap, or any other carpeted surface is strongly not recommended.
Also Read: Dell XPS 13 Plus (XPS 9320) Disassembly, RAM and SSD Upgrade Options
Summary
At the end of the review, we would like to mention some main characteristics of this laptop. The design and body is the main thing of the notebook, making it look like a notebook from Dell's flagship XPS lineup. The notebook's body is very thin and lightweight, which increases the portability of the laptop.
Further, the OLED screen with high resolution, bright and realistic image quality, and narrow bezels makes the notebook display's side superior. And then, its glass panel, traceless trackpad, a large-sized grid-designed keyboard, and a switchable touch-sensitive function bar take the notebook's working to another level. In terms of configuration, the notebook's CPU (Core i7-1260P) comes with a hybrid architecture and lets the laptop handle every scenario very efficiently, even if you are creating content or using it in the office.
The notebook we reviewed has a price tag of $2,299. However, if you are low on budget, you can also go for other storage options, lower screen resolution, or lower specs CPU (i.e., Core i5-1240P). The lowest-end variant is available at an affordable price tag of $1,299. The most high-end laptop variant (with Core i7-1280P) is available at $2,399.