Inside the all-new MSI Raider GE77, the manufacturer has put all the latest machinery equipment, including the latest DDR5 memory support. On removing the bottom panel, the different components can be observed like battery, cooling system, Wi-Fi card, RAM Module, and SSDs.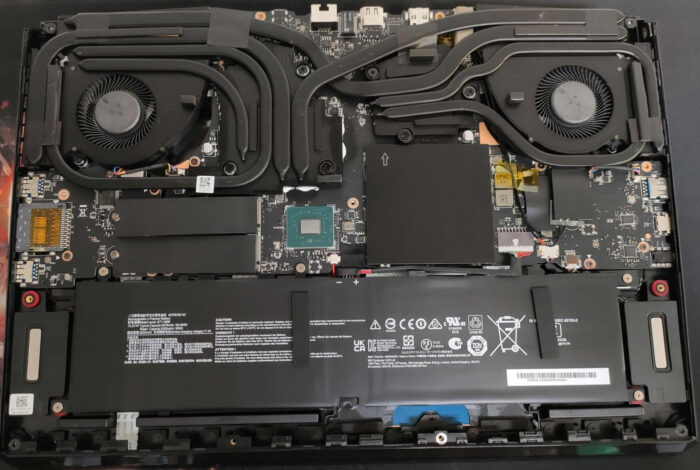 RAM
The main topic for today's discussion is the SSD and RAM of MSI Raider GE77. In terms of technical specifications, the notebook supports DDR5 RAM modules only. In total, there are two RAM slots (in between the battery and cooling system, at the left of the Wi-Fi module). With two slots, you can achieve a Dual Memory connection for faster multi-tasking. For upgrading the RAM capacity, remove the black cover on it and plug the new RAM modules in the unused slots. It is worth mentioning that the maximum RAM capacity support is 64 Gigs which is more than enough as the primary purpose of this notebook is gaming.

SSD
Next, we have the SSD; the all-new MSI Raider GE77 supports the latest generation PCIe 4.0 SSDs. There are two SSD slots on the motherboard and both of them supports PCIe 4.0 protocols. With an additional slot, you can easily upgrade the storage. So if you want many games or want to store heavy storage-consuming projects in your notebook, there is no need to worry.
Battery
Inside the all-new Raider GE77, the MSI has put a large-sized Li-Polymer 99.99Wh battery module, carrying a capacity of 6578mAh. With this large capacity battery, there is no need to worry about power supply during gaming in long term usage. For dismantling the battery, all you need to do is remove the bottom cover, unplug its connector from the motherboard and then undo all the five screws. To connect the battery again, follow the same process in the opposite direction.
Cooling system
On the teardown of the notebook, two things may seem highlighted to you. One is the battery, and the other is the cooling system of MSI Raider GE77. This vast Cooling System consists of 2 Fans (covering both CPU and GPU), 7 Pipes, which helps in maximizing the CPU and GPU's performance efficiency and ensuring that there would be no trouble during advanced level gaming.
Wi-Fi Card
The notebook is equipped with Intel's latest Killer AX Wi-Fi 6E card, which comes with an exclusive 6GHz band for ensuring lightning-fast networking speed with smoothness and stability so there would be no lag during gaming (when the internet is required). In addition to Wi-Fi 6E, the notebook also supports Bluetooth v5.2.