In the last month of 2021, Mediatek introduced its two new chipsets: Dimensity 9000 (flagship category chipset) and Dimensity 8000 (sub-flagship or premium mid-range category). Until the launch, there was no info regarding these chipset's performance levels (benchmark score).
However, one of these long mysteries has been solved as the famous Chinese blogger @DigitalChatStation revealed the AnTuTu benchmark scores of Dimensity 8000 chipset. As can be seen in the mentioned image, the chipset has scored a total of 820,230 points.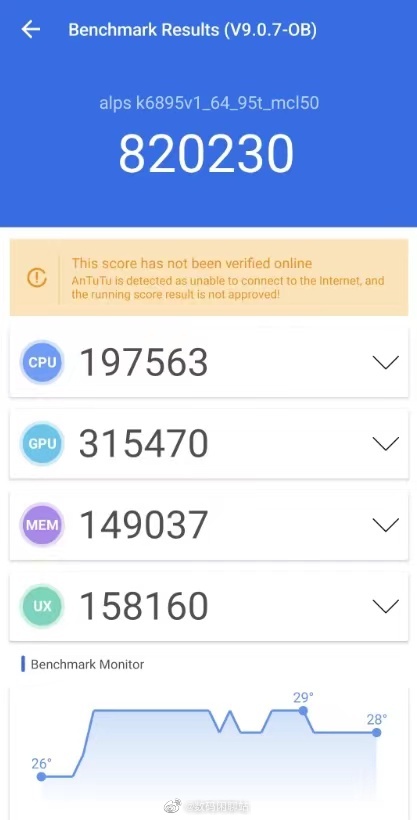 This score includes the total of the following component's scores: 197,563 CPU Score, 315,470 GPU Score, 149,037 MEM Score, and 158,160 UX Score. It is worth mentioning that the chipset's score has surpassed the Snapdragon 888 benchmark score by a bit of difference; that's why a more powerful performance is expected.
It is also observed that the temperature of Dimensity 8000 was a lot stable (in between 26°C – 28°C) during the benchmark testing. Maybe this would be the best reason people will prefer Dimensity 8000 powered smartphones as the other sub-flagships like Snapdragon 870 and Snapdragon 888 still have overheating issues.
Regarding the Dimensity 9000 benchmark score, the blogger has mentioned that its scores will be unveiled soon. The chipset has focused on low power consumption and higher energy efficiency since its release; that's why there would be no exception in Dimensity 8000 as well.
Before that, there was only a competition between Snapdragon 8 Gen1 and Dimensity 9000 chipsets, but now Mediatek's upcoming Dimensity 8000 chipset is making the scenario for competition with Qualcomm's sub-flagship chipsets like Snapdragon 870 and Snapdragon 888 chipset.
As per agreements, many smartphone manufacturers, including the OPPO, vivo, Xiaomi, and Honor, will manufacture Dimensity 9000 powered smartphones this year. It is also expected that Dimensity 8000 would also be the main highlight in smartphones this year, but we have to wait to see that.