Yesterday, we discussed in our Vivo X100 post that the upcoming flagship chipset from MediaTek would be a game changer in the Android smartphone industry. It would be a lot more potent than its upcoming competitor chipset (Snapdragon 8 Gen3).
However, it seems that the company is still testing the chipset. Recently, a new benchmark has been revealed in which it can be seen that a new device – OPPO Find X7, powered by MediaTek Dimensity 9300, surfaced on the Geekbench 6.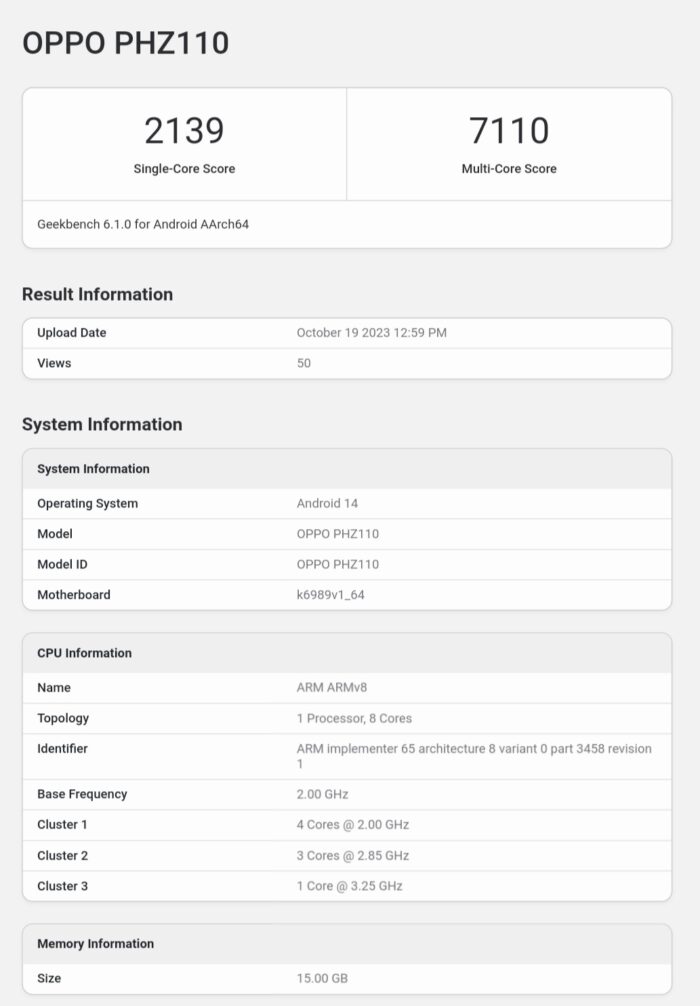 As per the benchmark, the Dimensity 9300 will have the following specifications: 1x Ultra-Core @3.25GHz (Cortex-X4 High Frequency), 3x Performance Cores @2.85GHz (Cortex-X4 Lower Frequency) and 4x E-Cores @2.0GHz (Cortex-A720 Cores). The chipset has scored 2139 on Single-Core and 7110 on Multi-Core.
If we compare scores with other Android smartphones, a significant performance gap can be observed. At the moment, it is not known which device the OPPO PHZ110 is. However, from its specifications (including 16 GB RAM and Dimensity 9300), it seems to be the OPPO's upcoming OPPO Find X7.
It is worth mentioning that Vivo's upcoming flagship series models, including Vivo X100 and Vivo X100 Pro, are also expected to be powered by this chipset.
Also Read: iQOO 12 and 12 Pro Certified, Battery Specs Leaked
If we do a little comparison of both the Snapdragon 8 Gen3 and Dimensity 9300, the Snapdragon 8 Gen3 seems to be a lot far in terms of performance because it only uses 1 Cortex-X4 Core. In contrast, the Mediatek Dimensity 9300 uses four of them.