Acer has various laptop lineups, which include both affordable and flagship-level notebooks. However, some of Acer's affordable notebooks may not have the glitz and glamour of some premium brands, but they get the job done without breaking the bank. Their designs are functional, if not particularly eye-catching, and they provide decent performance for everyday tasks. Acer's commitment to offering value for money is evident, making it a practical choice for both budget-conscious and luxury-minded consumers.
The subject of our review today is the Acer Swift Edge 16, a recent addition to Acer's Swift series, targeting the business segment, and consists of the model number SFE16-43-R2Y6. This laptop boasts the cutting-edge AMD Ryzen 7 7840U CPU, complemented by the integrated Radeon 780M GPU. The CPU represents AMD's most advanced offering, delivering high-performance capabilities. Furthermore, the inclusion of AI support unlocks a host of novel functionalities within the realm of notebook computing.
Moreover, the Acer Swift Edge 16 comes with a retail price of $1299.99, positioning it within the mid-range notebook market. Nevertheless, it encompasses a comprehensive array of flagship features, notably an exquisite High-Resolution OLED Display, 16GB of LPDDR5 RAM, and a 512GB PCIe 4.0 NVMe SSD. Aesthetically, the notebook retains a distinguished appearance in line with the standards expected in the business segment. All the aspects of the notebook are discussed below in detail.
Acer Swift Edge 16 Specifications
Screen
16″ 3.2K (3200 x 2000), OLED Display, 120Hz Refresh Rate, 400 nits, 100% sRGB
Processor
AMD Ryzen 7 7840U (up to 5.1 GHz max boost clock, 16 MB L3 cache, 8 cores, 16 threads)
Wireless Connection
Wi-Fi 6E and Bluetooth 5.1
Graphics card
Integrated AMD Radeon 780M
Memory
16 GB Dual-Channel LPDDR5 RAM, Soldered on Motherboard
Storage
512TB NVMe PCIe Gen4 SSD (manufactured by SK Hynix)
Camera
QHD Camera, Noise Reduction also supported
Ports
2x USB 4 Type-C Ports (Supports PD and DisplayPort)
2x USB 3.2 Gen1 Type-A Ports
1x HDMI 2.1
1x 3.5mm headphone jack
1x MicroSD card slot
Battery
54WHr Li-ion Battery with 65W AC adapter
OS
Windows 11 Home
Weight
1.22 kg (2.71lbs)
Acer Swift Edge 16: Body Design and Appearance
The recent introduction of the Acer Swift Edge 16 to the Swift series continues the tradition of a minimalist design aesthetic, closely resembling its predecessor in this regard. The display shell features a matte finish, bearing a modest Acer logo at the upper center. The laptop's construction showcases a robust magnesium-aluminum alloy composition. At the same time, it provides a 20% reduction in weight compared to standard aluminum while offering twice the durability of conventional materials.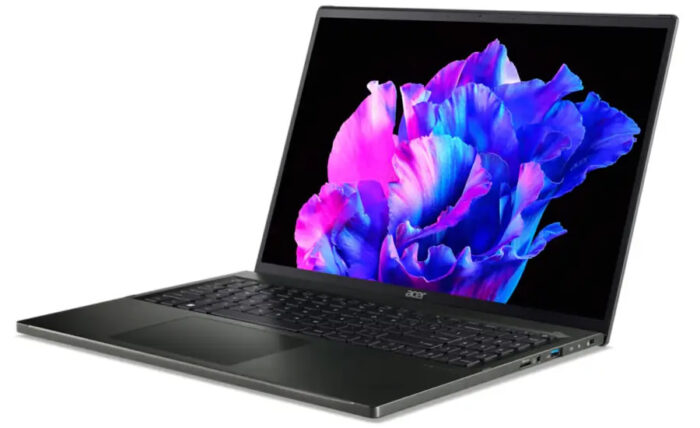 The Acer Swift Edge 16 is available exclusively in a sleek black color scheme. Its design incorporates right-angle flat edges on all four sides, a feature that significantly contributes to the notebook's overall aesthetic appeal. According to official specifications, this notebook weighs in at approximately 1.23 kilograms and boasts the following dimensions: 358.1*246.4*12.9mm (width, depth, height). Remarkably, with a mere thickness of 12.9mm, the laptop stands as an exemplar of lightweight portability, making it an ideal companion for business travel without imposing any undue weight or bulk.
Acer Swift Edge 16: Display
Come to the display, the Acer Swift Edge 16 boasts a 16-inch OLED screen, distinguished by its remarkably slender profile. Furthermore, the display incorporates an impressively narrow bezel design, resulting in an elevated screen-to-body ratio of 90.5%, thereby affording a more expansive field of view.
Delving into the realm of technical specifications, the Acer Swift Edge 16 stands out with a 3.2K resolution (3200×2000 pixels), ensuring a top-tier high-definition visual experience within its expansive 16-inch display. Notably, this notebook excels in other aspects as well, offering support for a heightened 120Hz refresh rate, facilitating exceptionally smooth video playback and general usage. Furthermore, it boasts a peak brightness of 400 nits. It holds the prestigious certification of VESA Display HDR 500 True Black, rendering the screen not only vivid but also easily visible even in well-lit environments.

It's imperative to highlight that the OLED display's vibrant color rendition surpasses that of traditional LCD screens, particularly in terms of the contrast between light and dark elements. Notably, the black tones are remarkably pure and devoid of any impurities. Furthermore, given the maturity of OLED technology, concerns such as screen burn-in, which were once a subject of apprehension among consumers, have now largely dissipated. After all, OLED displays have attained a prominent position in the realm of display technology.
In our comprehensive display assessment, we conducted color gamut testing utilizing the Spyder X, revealing noteworthy results. The Acer Swift Edge 16 impressively covers 100% of the sRGB color gamut, 100% of the Adobe RGB color gamut, 97% of the DCI-P3 color gamut, and 96% of the NTSC color gamut. In addition, when evaluating color accuracy, the average Delta-E value stands at a mere 0.75, with the highest recorded at 1.51 and the lowest registering at an exceptional 0.18.
 Acer Swift Edge 16 Screen Test Results

sRGB
100%
Adobe RGB
100%
DCI-P3
97%
NTSC
96%
Average Delta E
0.75
Minimum Delta E
0.18
Maximum Delta E
1.51
The overall quality not only meets but, in fact, surpasses the standards set by numerous professional-grade monitors.
Acer Swift Edge 16: Keyboard, TouchPad, and Ports
Under the display, the keyboard area boasts a full-size layout, accentuated by a generous key pitch design and the inclusion of a numeric keypad, a valuable thing for everyday office-oriented tasks. Following a period of long use, it becomes evident that the keyboard offers substantial key travel, yielding a crisp rebound and an appreciable tactile response. These characteristics collectively empower swift and accurate typing without the burden of errors.

Furthermore, the keyboard is equipped with white backlighting, and what's noteworthy is the flexibility it offers in terms of adjusting the illumination to align with individual preferences. The keyboard's other prominent feature, apart from its backlit, is the power button, which cleverly incorporates a built-in fingerprint sensor for enhanced security and convenience.
Beneath the keyboard, a generously proportioned touchpad graces the laptop, distinguished by its smooth glass surface and precise tracking capabilities. Following a thorough period of usage, it is fair to conclude that the touchpad offers a commendable level of comfort. However, we still believe that there remains some room for further refinement and improvement.
When it comes to the ports, the Acer Swift Edge 16 is undoubtedly equipped with the latest technological advancements, though the number of ports remains relatively minimal. Starting from the left side, the notebook showcases 2 USB 4.0 Type-C ports, tailored to facilitate high-speed data transmission, in addition to an HDMI 2.1 port and a single USB 3.2 Type-A Gen1 port, which also supports the convenience of shutdown charging.

Transitioning to the right side, we find a MicroSD card slot, a 3.5mm headphone jack, and another USB 3.2 Type-A Gen1 port. This site further encompasses a security lock hole, a charging indicator, and a status indicator light.
Evidently, Acer's decision to limit the number of ports was geared toward achieving a slimmer form factor for the notebook. Nevertheless, the available ports aptly fulfill essential requirements for office use. Should the need for additional connectivity arise, the practical solution of employing a USB dock remains readily accessible.
Acer Swift Edge 16: RAM and SSD
Regarding its memory configuration, the Acer Swift Edge 16 is endowed with 16 GB of Dual-Channel LPDDR5 RAM, a significant component. Notably, this memory is soldered onto the motherboard, rendering any potential RAM upgrades practically unfeasible. However, it is pertinent to note that the laptop can support a maximum of 32 GB of RAM. Nonetheless, the approach of upgrading via soldering entails the forfeiture of warranty coverage, a course of action that is not advisable.
For testing the RAM, we used the AIDA64 cache and memory benchmark software. After testing, we got the following results: 50,364 MB/s Read Speed, 91,792 MB/s Write Speed, 68,611 MB/s Copy Speed, and the latency rate was 113.9ns. When compared with our previously reviewed notebooks, the write and copy speed seems to be fine, but the read speed is relatively lower.
Turning our attention to the SSD configuration, the device is equipped with a 512GB NVMe PCIe 4.0 SSD, skillfully manufactured by SK Hynix and bearing the model number PC801. Notably, this laptop is endowed with two SSD slots, allowing for convenient storage expansion, with support for a maximum of 2TB.
In our SSD speed evaluation, we used the CrystalDiskMark, yielding the following results: 7142.19 MB/s Sequential Read Speed, 5018.12 MB/s Sequential Write Speed, 75.14 MB/s 4K Random Read Speed, and 269.13 MB/s 4K Random Write Speed.
In certain aspects, it is evident that the SSD performance falls slightly below par, especially when compared to our previously reviewed notebooks. However, it's crucial to underscore that this SSD, categorized within the mid-range spectrum, still delivers a satisfactory level of performance. Moreover, the notebook's affordability, in contrast to other notebooks featuring the Ryzen 7840U processor, justifies a reasonable compromise in the SSD's performance.
Acer Swift Edge 16: Battery
Concerning the battery, the Acer Swift Edge 16 houses a 54Wh battery, a capacity that might initially appear modest. However, this is offset by the energy-efficient attributes of the AMD Ryzen 7840U CPU, which ensures commendable battery life even when paired with a demanding 16-inch OLED screen. Additionally, the laptop package includes a 65W USB Type-C charger, an invaluable accessory that supports fast charging for added convenience.
In our battery life evaluation, we used the PCMark 10 software in office mode. Prior to the test, the battery was fully charged to 100%, and we maintained the screen brightness at 60%. The battery consumption was set to the best energy efficiency mode, AMD software was configured in power-saving mode, and both Wi-Fi and Bluetooth remained active. Under these specific conditions, we achieved a commendable battery backup of 8 hours and 49 minutes, a result that can be deemed entirely satisfactory.
Acer Swift Edge 16: CPU and GPU
The Acer Swift Edge 16 features the AMD Ryzen 7840U CPU, codenamed "Phoenix," tailored for thin and light laptops. It adopts a cutting-edge 4nm manufacturing process and integrates the latest Zen4 architecture. In alignment with its predecessor, the Ryzen 7 6800U, it upholds an 8-core, 16-thread design. While the base frequency receives a boost of 0.6GHz, and the maximum clock frequency sees an increase of 0.4GHz, the third-level cache remains constant at 16MB. Operating at a power-efficient 15W, this CPU delivers impressive performance.
The integrated graphics have seen an impressive upgrade, now featuring the Radeon 780M GPU with the RDNA3 architecture. It boasts 12 GPU cores and a peak acceleration frequency of 2.7GHz, marking a 0.5GHz improvement over the previous 680M graphics card. It currently stands as the most potent integrated graphics solution on the market. We also did some benchmark tests of the CPU, which are mentioned below:
3DMark CPU Test: Total 5,823 points on Multi-Thread (Maximum) and 982 points on Single Thread.
Cinebench R23: 1,749 pts on Single-Core and 12,682 pts on Multi-Core
Geekbench 6: 2,442 Single-Core score and 10,595 Multi-Core score
Acer Swift Edge 16 CPU Benchmark

Single-Core
Multi-Core
3DMark
982 points
5,823
CineBench R23
1,755pts
12,711pts
Geekbench 6
2,431
10,486
Reiterating, the Ryzen 7840U CPU incorporates the Radeon 780M GPU, a noteworthy addition. Its performance doesn't merely rank as the most potent integrated graphics solution available but also competes favorably with entry-level dedicated graphics cards. This robust GPU ensures smooth gameplay across popular online games such as League of Legends and Counter-Strike: Global Offensive. Moreover, even resource-intensive 3A games like Tomb Raider can be comfortably handled with appropriately adjusted settings, showcasing its versatility and competence. Following are the benchmark tests of GPU:
3DMark Time Spy: 2,281 GPU Score and 2,523 Total Score
3DMark Fire Strike: 6,718 GPU Score and 6,283 Total Score
 Acer Swift Edge 16 GPU Benchmark

3DMark Time Spy
2,281 Score
3DMark Fire Strike
6,718 Score
Acer Swift Edge 16: Heat Dissipation and Stress Testing
The heat dissipation system inside the Acer Swift Edge 16 includes two compact fans, a single heat pipe, a heat sink, and a heat spreader. These elements work in harmony to manage the laptop's temperature effectively. Additionally, the system offers a range of cooling modes, including Silent, Normal, and Performance Mode, allowing users to tailor the cooling performance to their specific needs.
In a stress test conducted with the AIDA64 FPU software, we observed the CPU's power consumption peaking at 18W, with the temperature stabilizing at 57°C. Notably, the Ryzen 7 7840U processor can be configured for a power consumption range of 15-30W, affording the potential for even more excellent performance. However, it's worth highlighting that the remarkable energy efficiency enhancements in the Ryzen 7 7840U processor render it more than capable of handling the everyday demands of office tasks without any noticeable strain.
Summary
The Acer Swift Edge 16, the latest addition to Acer's Swift series, positions itself as an appealing mid-range notebook, showcasing cutting-edge hardware that combines the advanced AMD Ryzen 7 7840U CPU and the powerful Radeon 780M GPU with RDNA3 architecture. Its standout feature is the 16-inch OLED display, boasting a 3.2K resolution, 120Hz refresh rate, and VESA Display HDR 500 True Black certification, delivering a truly exceptional visual experience. With over 8 hours of battery life under office usage conditions, it exemplifies efficiency. Moreover, its premium build, effective heat dissipation system, and versatile connectivity options make the Acer Swift Edge 16 a stylish and practical choice for business professionals and consumers alike.
The Acer Swift Edge 16 comes at a retail price of $1299.99, making it an enticing mid-range offering in the market. This pricing, coupled with its impressive array of flagship features, including a high-resolution OLED display, 16GB LPDDR5 RAM, and a 512GB PCIe 4.0 NVMe SSD, positions it as a compelling choice for those seeking a blend of affordability and performance in a notebook.