It is expected that Samsung will also release a successor of its Galaxy Z Flip in 2021. Some reports suggest that it may be launched in a different event, which would happen after Galaxy S21's launch.
Today, the famous Samsung's leakster @Ice Universe has revealed another thing regarding the upcoming foldable phone. As per blogger, the successor model of Galaxy Z Flip would feature an AMOLED Display with a 120Hz refresh rate.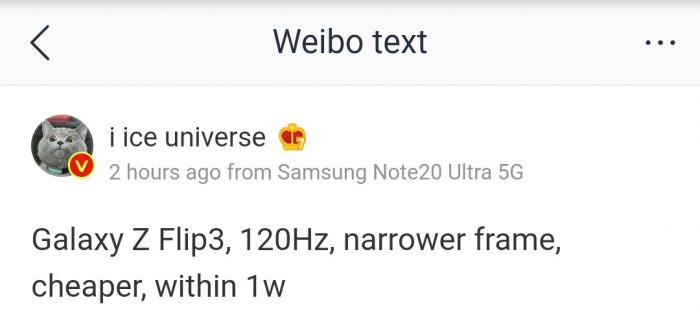 He also mentioned that this model of Galaxy Z Flip would also feature a narrower frame design, which helps the display to have too much little bezels. In the end, he also revealed the price of this model. According to him, the new Galaxy Z Flip will cost around 10000 Yuan (Equivalent to 1520 USD). It seems to be 100$ cheaper than the previous model.
If we talk about what more expected in the new model of Galaxy Z Flip, so a new chipset (maybe Qualcomm's Snapdragon 875) is expected to be featured in the phone. A better and more prominent display with less bezel (if compared with the previous model) is also expected.
Previously, some reports claimed that Samsung might also launch a Lite version of its Galaxy Z Flip, but not in 2021, in 2022.
As we mentioned above, the launch of Galaxy Z Flip's successor is expected to happen after Galaxy S21 series launch.