It is known that Apple launches its iPhone lineup in the 4th Quarter of every year. As the expected time of the new series (iPhone 13 series) is coming near, the leaks are getting revealed by the bloggers on Social Media apps.
Recently, the blogger @EverythingApplePro has revealed the dimensions of the iPhone 13 Pro Max. After comparing, both the upcoming model and the latest model, it is found that the body thickness of the iPhone 13 Pro Max is increased, and the degree of protrusion of the camera module is also higher.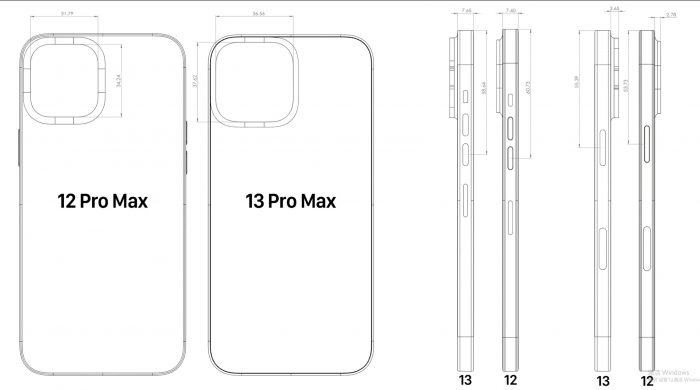 A more noticeable change is that the "footprint" of the new machine's camera has also increased. It is also known that Apple has strict control and extreme pursuit of the iPhone's industrial design. The thicker and larger situation will slightly affect the feel, but it can also be guessed that Apple may sacrifice the feel to ensure more powerful imaging capabilities.
As per the analyst Ming-chi Kuo, the iPhone will continue to upgrade its pixels and "bottoms" in the future, driving more high-end Android phones to adopt large-area/large-bottom CIS. And these changes will undoubtedly be reflected in the external form of the camera.
If we talk more about the new iPhone 13 lineup, a better display with 120Hz ProMotion support and a more powerful Apple A15 chipset is also expected.
Previously, it was reported that Apple would stick with the exact sizes as in the iPhone 12 series. Moreover, the camera module is expected to have a change in terms of lens placement. The renders of the iPhone 13 mini are also live on our site; you can check on the following link.