After the spring event of Apple, it is known that the next event would be the Autumn one which is expected to happen in September (most probably), and Apple would introduce the next generation iPhone series. As per previous news, Apple was reported arranging a foundry for trial production of the all-new iPhone 14 series last month. Even specific info about new models was also revealed.
This morning, the blogger @beans sprouted (on Weibo) revealed the iPhone 14 Pro model's design and dimensions' measures. It has been observed that every part of the body measures similar to iPhone 13 Pro except the thickness, i.e., 7.85mm in iPhone 14 Pro (and 7.65mm in iPhone 13 Pro).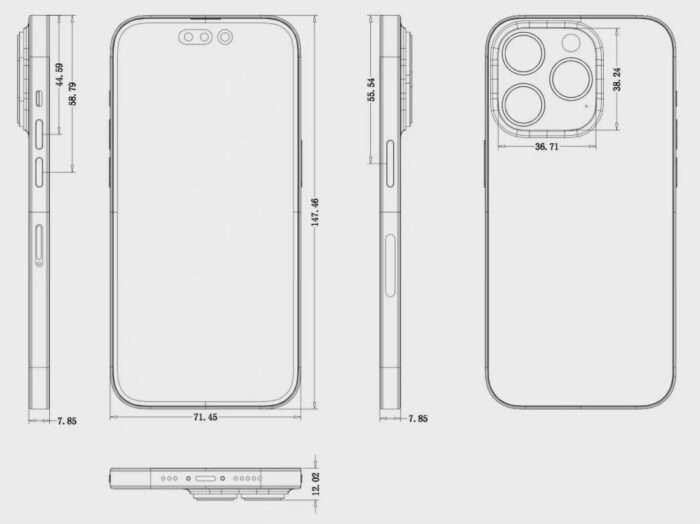 It is worth mentioning that the latest iPhone models are also thicker when compared to their predecessor (iPhone 12 series with flat edges). Apple must need to take care of its smartphones' thickness to maintain the premium handling experience.
We observed another significant change, the new hole-digging method for placing the front camera and Face ID sensors. For the first time, Apple will completely abandon its notch design and adopt the new punch-hole/hole-digging method, which shows that Apple is looking forward to adopting the latest screen designs.
It will also help increase the screen ratio and make a more advanced Face ID with an exclamatory mark shape. However, the dimension measures show that these holes occupy a large area. In fact, it wouldn't be a lot different from the small bangs of the iPhone 13 Pro, and the final model doesn't seem to be that good (unsatisfactory) and not as innovative as people are thinking (currently).
It is worth mentioning that the earpiece part in the new series would be similar to iPhone 13 series with a micro-slit design close to the upper frame.
It must also be clear that the hole-digging display would be limited to the Pro models only, while the standard iPhone 14 models would continue to feature the small notch display and the LTPO Adaptive refresh rate screen. This will help Apple make the Pro model's exclusive configuration.