Lenovo ThinkPad T14 has been released for a long time. There is no guide on how to upgrade memory and SSD on the internet. Today, I will show you how to upgrade memory, M.2 SSD, and 4G, 5g module for your ThinkPad T14. This guide is applicable to all T14 models, including the Intel version and AMD version.
In order to upgrade memory and SSD, you must remove the back cover of T14. Use a screwdriver to loosen the six screws on the back cover. Note that the screws are attached to the back cover and can not be removed. After the screw is loosened, the back cover can be separated from the LCD hinge with a plastic pick or an old credit card.
When the back cover is completely separated, you can remove the back cover. It should be noted that the back cover on the USB port and RJ45 jack is fixed with buckle. You need to release the buckle from the laptop body.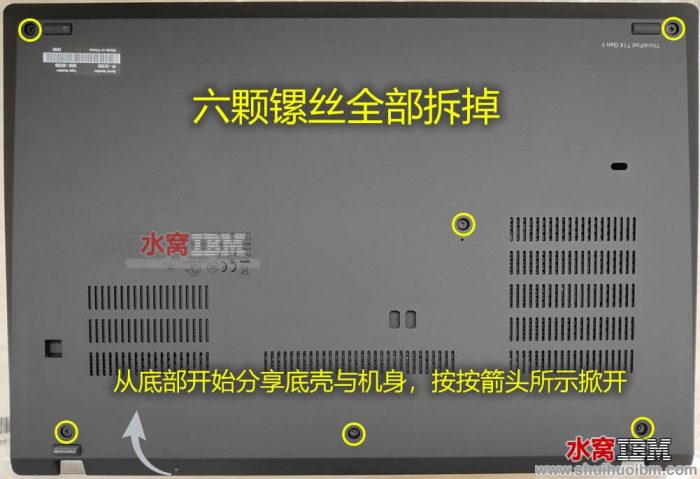 When the back cover is removed, you can access most of the components of the T14, including ram, SSD, fan, heat sink, battery, wireless card, CMOS battery, USB board, and motherboard.


After lifting the electrostatic protective film, we can see that T14 still has a spare memory slot, and the other memory is welded on the motherboard.
Also Read: Lenovo ThinkPad T14 Gen 2 Review (2021 Model, AMD Ryzen 7 Pro 5850U)
When inserting the memory, align it to the slot, insert it at an angle of 30 degrees, and then press it vertically. After pressing in place, it will be stuck by the metal shrapnel on both sides of the memory.

The following photo shows the location of the SSD and the 4G module. If you want to replace the M.2 SSD, you need to screw down the screw on the left and pull out the SSD to the left (the same method is used to insert and tighten the screws for the 4G module). However, I don't know whether this 4G slot is compatible with M.2 2242 SSD. If you know, please leave a message and let us know.

Related Parts:
Genuine Backlight keyboard for Lenovo ThinkPad T14 Gen 1 2, P14s Gen 1 2
Genuine SWG CPU Fan for Lenovo ThinkPad T14 Gen 1 – 5H40W36698 5H40W36699 5H40W36700
Genuine UMA CPU Fan for Lenovo ThinkPad T14 Gen 1 – 5H40W36701 5H40W36702 5H40W36703
Genuine FHD UHD Screen for Lenovo ThinkPad T14 Gen 1 2