Lenovo has multiple series of laptops that are doing quite well in the market. One of the attractive laptop series of Lenovo is the ThinkPad series. The ThinkPad T series has always been positioned as Lenovo's mid-to-high-end business notebook. The most recent ThinkPad series are becoming thinner and lighter, however, it still retains its positioning as a ThinkPad series. This series is not a gaming series thus it does not come with a tough look. Its appearance has always been sleek, attractive, and premium. Although the Lenovo ThinkPad T14 is sleek and attractive, we can safely say that it also looks sturdy with a lot of durable professional tools. These tools are specifically developed to suit the needs of business and corporate users. We have reviewed ThinkPad X13 Gen 2 and ThinkPad X1 Yoga Gen 6 not long ago, if you are interested, please click on the link to view them.
Academics (mostly post-graduate or undergraduate students) that use high-demanding applications and software can also seamlessly make use of this device. There are multiple models of this laptop but we are currently reviewing the Lenovo ThinkPad T14 Gen 2 Ryzen Edition. As of now, all eyes are looking forward to the performance of this notebook because it uses the AMD Ryzen PRO 5000 series mobile processor that AMD has just released a few months ago. Well, you dint have to look anymore, we already have the detailed review here for you.
Specifications
Screen
14.0″ FHD (1920 x 1080) IPS, anti-glare, low power, 400 nits, NE140FHM-N61
Processor
AMD Ryzen™ 7 Pro 5850U Processor (1.90 GHz, up to 4.4 GHz Max Boost, 8 Cores, 16 Threads, 16 MB Cache)
Wireless Connection
WiFi 6 802.11 AX (2 x 2), Bluetooth 5.2, Optional WWAN: 4G LTE, CAT12
Graphics card
Integrated AMD Radeon™ Graphics
Memory
16 GB DDR4 3200MHz (Soldered)
Storage
512 GB PCIe SSD
Camera
HD 720p
Ports
2 x USB-A 3.2 Gen 1 (1 always on)
2 x USB-C 3.2 Gen 2
HDMI 2.0
Headphone / mic combo
Optional: Smart card reader
MicroSD card reader
Optional: SIM card slot
RJ45
Battery
50Wh (MM18) with fast charge technology
OS
Windows 10 Pro
Weight
 1.47 kg
Lenovo ThinkPad T14 Gen 2 Design and Appearance
The ThinkPad T14 Gen 2 Ryzen Edition uses the same mold as the previous generation, and the appearance is still simple and elegant. Apart from the iconic "ThinkPad" logo on the upper left side of the back cover, there are no other fancy decorations. The "ThinkPad" is written in white color while the rest of the back cover is black. The feel of the back cover is rough, more like a matte surface. Those who are used to smooth designs may find this device too rough to handle for the first few weeks.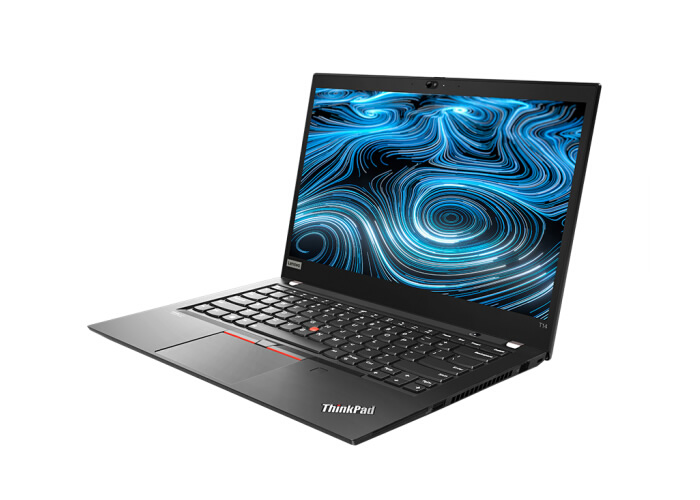 Lenovo ThinkPad T14 Gen 2 Display
The laptop comes with a 14-inch LCD screen with a resolution of 1920 x 1080 and a display ratio of 16:9. The model of this LCD screen is NE140FHM-N61, it comes from BOE, this screen is also used in T14 Gen 1. Well, it appears that the 16:10 display ratio which the company recently introduced on the Legion series (Lenovo Legion 5 Pro) won't be coming to the ThinkPad series, at least not yet. The display on this device is not new to Lenovo, this is an LG low-power LCD screen that the company has been using for a couple of ThinkPad generations.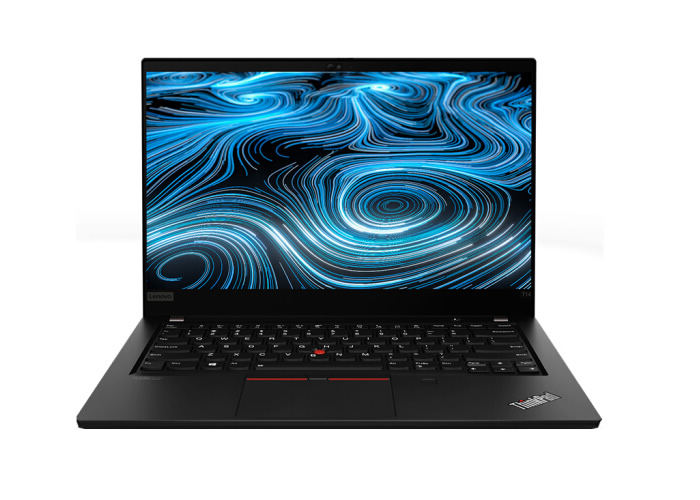 On the display end, there are not many changes on this laptop compared to the previous generation, Lenovo ThinkPad T14 Gen 1. However, the company expunged the TN HD option (1366 x 768) from this display.
Nevertheless, this device records a high contrast of 1500:1 and an excellent color reproduction which is quite commendable for an LCD laptop. This device also supports an sRGB of 93% which is good enough for simple image editing. Of course, this is a business and academic laptop thus it should suffice.
On the top bezel, we have an infrared camera with a physical switch. When the camera is not in use, users can protect their personal privacy on a physical level because they can swipe to cover the camera. Furthermore, since these are infrared cameras, users can also log in by swiping their faces just like using a mobile phone. This eliminates the need for a password or a fingerprint sensor.
Lenovo ThinkPad T14 Gen 2 Keyboard
The Keyboard of this laptop is a very straightforward ThinkPad style. The iconic Little Red nob replaces most of the mouse operations. This allows users to easily achieve positioning, selection, and other control functions without leaving the keyboard area. The 1.8mm keystroke of the keyboard makes rebounding more comfortable, and the percussion is more rhythmic.

The keycap design comes with a special arc design that perfectly fits the fingertips. The design of this keyboard makes it easier to type with this device and also significantly reduces typing fatigue. The keyboard supports  backlight and it is also splash resistant. This means that if you mistakenly splash water or a cup of coffee on this keyboard, quick removal of the fluid would just be enough to keep the keyboard intact. From a practical point of view, this increases or broadens the usage of this device. It makes users more at ease especially those that love to work and drink. The Lenovo ThinkPad T14 Gen 2 is also resistant to humidity, high temperature, low temperature, dust, and vibration.
Ports
The interface divisions of ThinkPad T14 Gen 2 Ryzen Edition are on the left, right, and rear. However, most of the ports are on the left side. On the left, we have two USB-C 3.2 Gen 2 ports, one USB-A 3.2 Gen 1 port, an HDMI port, a headphone/microphone combo port, and a MicroSD card reader.
On the left side, we have the RJ45 network cable interface, the USB-A 3.2 Gen 1 (always on), an optional smart card reader, and a Kensington lock slot. Most of the right side goes for vent which aids heat dissipation. On the rear, there is a single port which is an optional SIM card slot.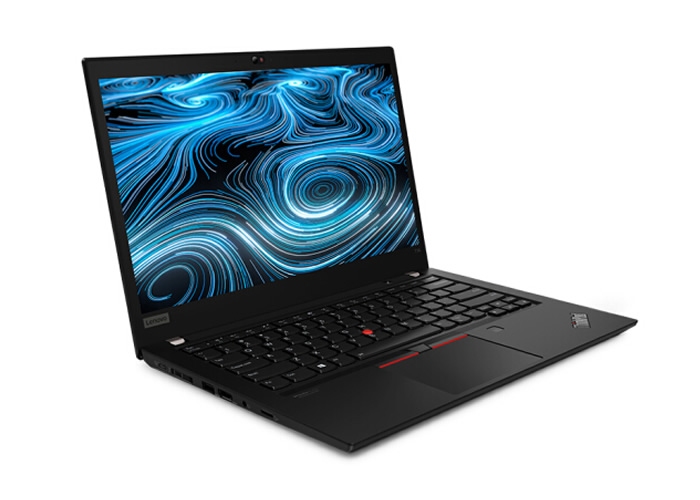 Lenovo ThinkPad T14 Gen 2 Hardware and Performance
Can the AMD Ryzen 7 PRO 5850U meet our business desires? Let us find out with the tests below.
Before we officially start the test, let's sort out the main configuration of this ThinkPad T14 Gen 2 Ryzen Edition. This laptop comes with an AMD Ryzen 7 PRO 5850U processor as well as an AMD Radeon Graphics GPU. It also uses 16GB DDR4 3200MHz RAM and a 1TB Samsung solid-state hard drive. The AMD Ryzen 7 PRO 5850U processor is designed with 8 cores and 16 threads, built with a 7nm process, and has a main frequency of 2.0GHzbut its maximum acceleration frequency hit 4.4GHz. This chip also supports a three-level cache of 12MB. Since the thermal design power consumption is only 10-25W, it is very suitable for notebook use.
In terms of overall performance, we also used the PCMark 10 Extended mode for testing and got an average total score of 4482 points. Furthermore, we got 9645 points for common basic operations, 7650 points for productivity, 5336 points for digital content creation, and 2785 points for games. This score distribution is in line with expectations. In terms of common basic functions, productivity, and digital content creation, the ThinkPad T14 Gen 2 Ryzen Edition has the performance of a high-performance notebook. In terms of games, its performance is average. Of course, this is what we expect because it is not a gaming laptop.
Using CPU-Z's benchmark test, this AMD Ryzen 7 PRO 5850U processor has a single-core score of 568 and a multi-core score of 3898. Comparing the single-core 593 and multi-core 2795 of notebooks equipped with Intel's 11th-generation Core i7-1165G7 processor, it can be seen that it suffers a little loss on single-core, but it leads by 39.5% on multi-core.

On the Cinebench R15 test, this laptop hit a single-core score of 232 and a multi-core score of 1257. The Cinebench R20 test result was a single-core score of 550 and a multi-core score of 2907. As for the Cinebench R23 test, the result is a single-core score of 1408 and a multi-core score of 7399.
We compared the Cinebench R20 results of the Lenovo ThinkPad T14 Gen 2 with notebooks that have Intel's 11th Gen Core i7-1165G7 chip. Notebooks with Intel's 11th generation Core i7-1165G7 processor has a single-core 563 and a multi-core of 2150. The single-core score of the T14 Gen 2 is 2.5% behind, but the multi-core is 35% ahead. As we expected, it still achieves a strong lead on multi-core tests.

In the 7-Zip benchmark test, AMD Ryzen 7 PRO 5850U scored 5845 MIPS in the single thread and 53381 MIPS in multi-thread.
Using the X264 FHD benchmark, this device got a score of 36.95fps while the X265 HD Benchmark gives a score of 23.75fps.
GPU and SSD Performance
This AMD Radeon Graphics core display is also built with a 7nm process, equipped with 512 stream processors, 512MB DDR4 video memory, 128bit video memory width, and 42.7GB/s total video memory bandwidth. The GPU test results are not exactly on par with many options in the market, nevertheless, it is just enough for users who need this laptop for business or academic works.
In 3DMark tests, the Time Spy score is 1336, the Fire Strike score is 3219, the physical scores of the ThinkPad T14 Gen 2 Ryzen Edition are 5955 and 16519 respectively. Although the overall score is not worth looking at because there is no independent display, in terms of physical scores, the performance of the T14 Gen 2 Ryzen Edition is remarkable.

We also used AS SSD Benchmark for actual testing of the 512GB Samsung SSD on this laptop. In order not to affect the disk read and write test results, we conducted the test with the remaining space of the hard disk as large as possible. The test result shows that the continuous reading speed is around 2966.78MB/s, the writing speed is around 1718.36MB/s, the 4K reading speed is 51.76MB/s, and the writing speed is 135.23MB/s. This speed can be said to be pretty good, and it can guarantee that when running various tasks, it will not be stretched due to the read and write speed of the SSD.
Temperature and heat dissipation
We all know that for business notebooks, it is not really important to review the heat dissipation as it is for gaming notebooks. However, no one needs a notebook that will be scaringly hot at the slightest operations. This is why we also look at the heat dissipation of this notebook and the heat dissipation capacity is still worthy of attention.
The processor is thin and compact and under intense pressure, it consumes about 20W while the GPU claims about 25W of power. With this power consumption, there should be some baking around this device.
We used two software's, AIDA64 and FurMark to ascertain the performance of this notebook with respect to heat dissipation. The test also used a thermal imager to detect the surface temperature of the notebook. At a room temperature of 26°C, using this device for 30 minutes, the average CPU temperature stabilized at 65.2°C, and the GPU temperature stabilized at about 64°C.
At this level, the keyboard and palm rest remained cool and the surface temperature is maintained at 40 ℃ around. This means that in very extreme cases, the surface temperature is only a little higher than our body temperature, which is almost imperceptible and will not cause discomfort.
The temperature control is still good and we can see that the ThinkPad T14 Gen 2 Ryzen Edition stabilizes at a power consumption of 23W under an extreme high-usage environment. Such low power consumption also provides a guarantee for its battery life.
Interestingly, the Lenovo ThinkPad T14 is designed to uniquely dissipate the temperature of the laptop. Looking at the images taken with the thermal imager, the heat is mainly concentrated near the air outlet on the right side of the T14 Gen 2 Ryzen version. This is a very good design because when using this laptop, the left palm is at the extreme of the left side but the right palm is just close to the middle of the keyboard. This means that there is a considerable distance between the palm and the area of the highest heat concentration. This ensures that the users do not experience any discomfort from the heat dissipation.
Lenovo ThinkPad T14 Gen 2 Battery life
In terms of battery life, the PCMark 8 test gave us a result of 7 hours and 20 minutes, which is not the "best", but it is a result that most notebooks can hardly reach. In practice, its actual battery life is much longer than the test results. In some tests, the battery life gets as high as 13 hours. Nevertheless, I don't know if it can last for two working days, but a whole working day is not a problem. Because of the USB-C interface power supply, we actually only take the ThinkPad T14 Gen 2 Ryzen Edition charger with us when we go out to meet the needs of charging the computer and it also works with our smartphones. This means that we bring one charger for both the laptop and the smartphone which is very convenient.
The battery capacity remains at 50Wh like the previous generation but the new processor sees that this new generation consumes more power. Many thanks to the fast charge technology, this laptop achieves a full charge in 2 hours 20 minutes.
Also Read: Lenovo ThinkPad T14 Disassembly (RAM, M.2 SSD, 4G, 5G upgrade options)
Conclusion
The Lenovo ThinkPad T14 Gen 2 Ryzen Edition is still a "tank" in the office notebook segment. However, we will not want to compare this notebook with other gaming and high-power laptops, it has a long way to go.  With the addition of the AMD Ryzen 7 PRO 5850U with only 15W power consumption, it has a powerful computing power close to that of a standard pressure processor while ensuring a strong endurance. This means that we can leave work earlier, fix bugs earlier and show our value at work with ease. If what you need is an office tool rather than an entertainment tool, then it is very worth starting. Lastly, the Lenovo ThinkPad T14 comes with a small improvement relative to the previous generation. The company certainly has a lot of improvements to do in the next generation.