According to the official Weibo of Lenovo YOGA, the YOGA 5G thin and light flip laptop will be released soon.
Lenovo's YOGA official Weibo stated that the YOGA 5G laptop will be equipped with Qualcomm's Snapdragon 8cx Gen 2 5G chip, the weight is 1.35Kg, equipped with a 60Wh battery, and 5G free traffic package as a gift. Before that, Lenovo also said that this laptop will use fanless cooling.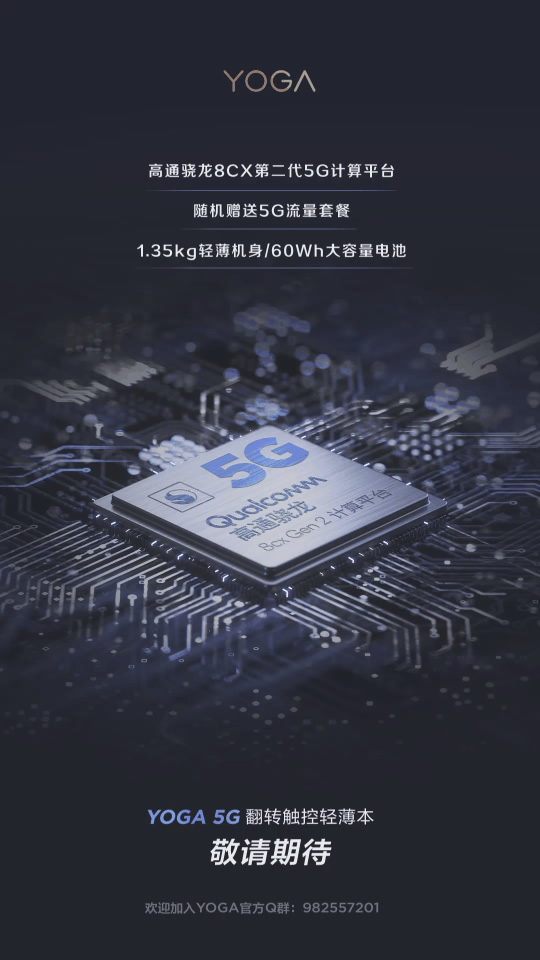 In September last year, Qualcomm released its Snapdragon 8cx Gen 2 5G for PCs, which provides better performance and battery life, supports 5G connections, supports enterprise-level security and AI acceleration, and advanced camera and audio technologies.
The product uses the same 7nm process as its predecessor, Snapdragon 8cx, is equipped with a Snapdragon X55 5G modem, and adds Wi-Fi 6 support. The Snapdragon 8cx Gen 2 5G has the same 8 Kryo 495 cores as the previous generation, supports LPDDR4-2133MHz memory, supports NVMe SSD and UFS 3.0 storage. Qualcomm's official website did not announce processor frequency and GPU information, but the official said that the system-level performance and battery life of the Snapdragon 8cx second-generation 5G computing platform are more than 50% better than competing solutions.