Lenovo is a well-known computer brand that offers a wide range of laptops. Their laptops are famous for being well-built and having innovative features, which makes them a popular choice among laptop buyers. Lenovo has notebooks for everyone segment, whether you're looking for a lightweight laptop or a powerful gaming workstation. The brand is well known for selling laptops that perform well, are dependable, and easy to use. This has made Lenovo a trusted brand among both regular consumers and businesses.
The brand has different laptop lineups including the Lenovo YOGA Slim series that represents a perfect blend of style and substance, offering ultrathin and ultralight laptops that prioritize portability without compromising on performance. These premium devices feature stunning displays with vivid colours and a 360-degree hinge for versatile use, allowing you to switch seamlessly between laptop and tablet modes. Powered by cutting-edge processors, YOGA Slim laptops deliver exceptional speed and efficiency, making them an excellent choice for users seeking both aesthetics and functionality in their devices.
The laptop we are going to review today is the all-new Lenovo YOGA Slim 7 Gen8 (2023 model, Yoga Slim 7 14APU8), the latest model of the lineup with upgraded processors. The laptop lies in business segment notebooks due to its sleek design and robust performance. It features the Ryzen 7 7840S powerful processor, LPDDR5 powerful RAM (with a 6400MHz frequency range), and a range of other features making it a suitable choice for professional use. Additionally, their portable form (due to their lightweight and slim body) factor makes them ideal for business travellers and on-the-go professionals who require reliability and versatility in their work devices. All the aspects of the notebook are discussed below in detail.
Specifications
Screen
14.5″ 3K (2944×1840) 90Hz 16:10 PureSight OLED,400 nits, 100% P3, Dolby Vision, TÜV Low Blue Light Certification, Eyesafe Certification, Glass (Optional Touch)
Processor
AMD Ryzen 7 7840S (Base frequency: 3.2GHz and Max Frequency: 5.1GHz)
Wireless Connection
WiFi 6E and Bluetooth 5.1
Graphics card
Integrated AMD Radeon 780M
Memory
Up to 32GB LPDDR5X, dual channel, 6400 MHz (soldered on motherboard and non-upgradeable)
Storage
1TB NVMe PCIe Gen4 SSD,  4x M.2 SSD slots
Camera
FHD webcam, IR camera + ToF and Electronic Privacy shutter
Ports
2x USB-C 4.0 full function (DisplayPort™ 1.4, Power Delivery 3.0)
1x USB-C 3.2 Gen 2 (DisplayPort™ 1.4, Power Delivery 3.0)
3.5mm Headphone/Mic Combo Jack
Battery
70WHr Battery with 65W adapter
OS
Windows 11 Home
Windows 11 Home Single Language
Windows 11 Pro
Weight
1.35 kg (2.98lbs)
Lenovo YOGA Slim 7 Gen 8 Review: Appearance and Design
The appearance of the Lenovo YOGA Slim 7 Gen8 closely resembles its predecessor, with a noticeable upgrade in the form of an exceptionally narrow bezel design that features a larger 14.5-inch screen. Coupled with its 16:10 screen ratio, this enhancement results in an 11% increase in the display area, offering users a more expansive visual experience.
Lenovo's YOGA series introduces a shiny design style to their notebook lineup for the first time. They've carefully polished the sides of the laptop in ten steps, creating a smooth and shiny edge that not only looks great but also feels nice to the touch. This extra care in design makes the notebook stand out in terms of both its appearance and how it feels when you use it.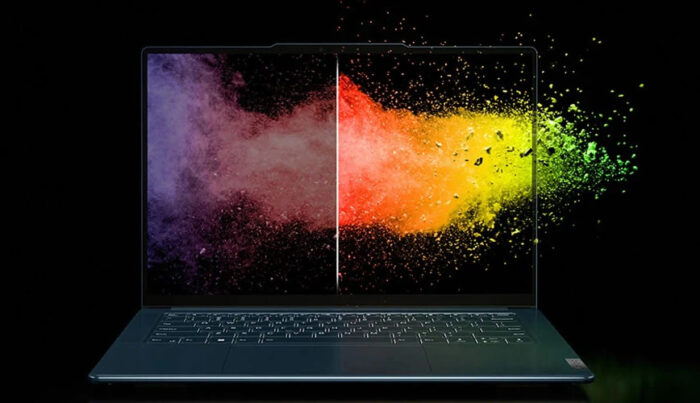 The dimensions of the Lenovo YOGA Slim 7 Gen8 measure 326*223*13.9mm (W x D x H), with a net weight of 1.28kg (2.82 lbs). The available body colours include Misty grey and Tidal teal, lending a sense of sophistication and style to the laptop's exterior. The body material features Aluminum CNC for the top and Aluminum stamping for the bottom, contributing to a durable yet elegant construction.
In brief, the Lenovo YOGA Slim 7 Gen8 blends a stylish design, a larger display, and the addition of a shiny side finish, all within a lightweight and easily portable form. This laptop aims to provide an attractive visual appeal and a comfortable user experience to meet diverse computing requirements.
Lenovo YOGA Slim 7 Gen 8 Review: Display
The Lenovo YOGA Slim 7 Gen8 is equipped with a compact 14.5-inch OLED screen. It supports a higher 3K resolution (2944x1840p) with an aspect ratio of 16:10 and can get bright at 400 nits, so you can see everything clearly, even in sunlight. Thanks to a 90Hz refresh rate, the screen feels super smooth while usage.
One of the most prominent things about this 14.5-inch display has several certifications. The display has the following certifications: Dolby Vision (for having great colours and contrast), Display HDR 500) for showing pictures in really great form), EyeSafe 2.0 (integrates hardware-level anti-blue light technology to ensures eye safety during long-term use) and TÜV Low Blue Light Certification. In terms of colour gamut, the officials claim it to have a 100% DCI-P3 Color gamut which would be confirmed in the display testing phase.
We tested the display using the Spyder X, on which we found the following results. The screen covers 100% of the sRGB Color Gamut, 93% of the Adobe RGB Color Gamut, 100% of the DCI-P3 Color Gamut, and 91% of the NTSC Color Gamut. It also reached a maximum brightness of 397 nits, and the contrast ratio was a remarkable 27266:1. When it comes to colour accuracy, the average Delta E value was just 0.61, with the highest being 1.58 and the lowest 0.08.
Lenovo YOGA Slim 7 Gen 8 Screen Test Results

sRGB
100%
Adobe RGB
93%
DCI-P3
100%
NTSC
91%
Maximum Brightness
397
Contrast Ratio
27266:1
Average Delta E
0.61
Minimum Delta E
0.08
Maximum Delta E
1.58
What's even better is that every screen on the YOGA Slim 7 Gen8 has been calibrated for colour accuracy right at the factory. They used technical standards based on Delta-E, and this screen's colour accuracy goes beyond what you'd typically find even in professional graphics monitors. It's all about making sure you see your pictures and videos most beautifully and accurately as possible.
On the top bezel of the display, the company has inserted an FHD (1080p) webcam that also supports IR, with an E-shutter and fixed focus.
Lenovo YOGA Slim 7 Gen 8 Review: Keyboard & Ports
The all-new Lenovo YOGA Slim 7 Gen8 is equipped with the YOGA 6-row keyboard. The keys on the keyboard are designed in a way that makes it able to offer unbeatable speed and accuracy in typing. The keys offer 1.5mm key travel and a nice bounce-back, making it comfy and efficient to use. And no need to worry about spills – it's designed to resist dirt and splashes, thanks to a special coating.
In addition, the keyboard also supports a backlight that adds a cool and rhythmic vibe to the keyboard. Not only that, it also features a smart lighting feature that turns on automatically in low light. As per the official claim, this keyboard is made with 50% recycled plastic making it eco-friendly as well.

Under the keyboard, you'll find a generously sized touchpad measuring 80*135mm (3.15*5.31 inches). This touchpad is designed with a button-less glass surface and supports multi-touch gestures. Its ample size allows for incredibly precise cursor movement across the entire screen with just a single swipe of your finger.
Located on the right side of the notebook, you'll find the power button, a switch for camera electronic control, and a USB 3.2 Gen 2 Type-C port. This versatile USB-C port supports data transfer, Power Delivery 3.0 and DisplayPort 1.4. On the left side of the notebook, there are two USB Gen 4.0 Type-C ports, which also support data transfer (at 40Gbps transmission rate), PD 3.0 charging and DP 1.4 video output. Additionally, there's a 3.5mm headphone jack.
It's worth noting that due to space constraints and a focus on slimness, Lenovo has made compromises in terms of the number and types of ports available on the Lenovo YOGA Slim 7 Gen8. Depending on their specific requirements, users may need to carry a USB dock to expand connectivity options.
Lenovo YOGA Slim 7 Gen 8 Review: RAM, SSD and Network
Beginning with the RAM, the Lenovo YOGA Slim 7 Gen8 comes with 32GB LPDDR5x memory, which is soldered onto the motherboard, making it non-upgradable. It's essential to note that this memory operates in Dual Channel mode and runs at a clock speed of 6400MHz. Additionally, Lenovo offers two RAM configurations for this laptop: one with 16GB of RAM, and the model we have features 32GB RAM.
We also conducted a RAM test using the AIDA64 Memory and Cache benchmark application in which we got the following results: 50,708MB/s Read Speed, 93,312MB/s Write Speed and 69,198MB/s Copy Speed. The latency rate was measured at 120.8ns. The Write Speed is impressive but worth noting that the Read Speed was relatively lower in comparison.
Moving on to the SSD, the Lenovo YOGA Slim 7 Gen8 is compatible with M.2 2280 PCIe 4.0 SSDs and has four slots for storage. The version we tested comes with a 1TB Samsung PM9A1 SSD (an OEM variant of the Samsung 980 Pro). Interestingly, upon disassembly, we discovered that the manufacturer applied the thermal paste to the SSD, allowing the laptop's metal bottom cover to act as a heat sink, reducing heat generated by this component.
It's important to note that this notebook is available in two storage options: 512GB and 1TB.
For the benchmark test, we used the CrystalDiskMark benchmark application. The results were as follows: 6651.72 MB/s Sequential Read Speed, 4943.01 MB/s Sequential Write Speed, 65.24 MB/s 4K Read Speed, and 105.89 MB/s 4K Write Speed. We also conducted a second test using the AS SSD Benchmark application, where the SSD achieved a total score of 4121. It exhibited an impressive sequential read speed of 4506MB/s and a write speed of 2111MB/s. Even the 4K read and write speeds surpassed 61MB/s and 125MB/s, respectively.
In short, the SSD performance of this laptop, especially in terms of sequential read and write speeds, is remarkable, ensuring speedy data access and transfer capabilities.
Lenovo YOGA Slim 7 Gen 8 Review: Battery and Charging
When it comes to battery life, the Lenovo YOGA Slim 7 Gen8 boasts a 70Wh battery, which is more than sufficient for a 14-inch notebook. Interestingly, even though it's a thin and lightweight laptop, the battery module takes up a significant amount of space inside.
This battery is a Li-ion type with a capacity of 4522mAh. According to the official claims, the laptop can run for approximately 9.6 hours (at 200 nits brightness) in the MobileMark 2018 benchmark software. When playing a regular Full-HD (1080p) video, you can expect an impressive 14 hours of playback time. This kind of battery life is excellent for a laptop designed for office use.
We also conducted a battery life test using PCMark 10 software. We enabled the energy-saving mode, closed all other programs, turned off Wi-Fi, and adjusted the screen brightness to 50%. Under these conditions, the laptop delivered an impressive battery backup of 14 hours and 08 minutes. This level of battery life should easily support 1 to 2 days of office usage without needing a recharge.
In addition to a large battery, the Lenovo YOGA Slim 7 Gen8 comes with a 65W USB-C slim (2-pin, wall-mount) AC adapter, which supports PD 3.0. The charger charges at following modes: 15W (5V/3A), 27W (9V/3A), 45W (15V/3A) and 65W (20V/3.25A). Another positive aspect of this charger is that you can also use it for charging your fast-charging supported phones. According to Lenovo, a quick 15-minute charge can give your laptop an extra 2 hours of battery life. But just remember, this fast charging is only effective when your laptop is either in hibernation mode or completely turned off.
Lenovo YOGA Slim 7 Gen 8 Review: CPU and its Benchmark
In terms of CPU, the Lenovo YOGA Slim 7 Gen8 is powered by the AMD Ryzen 7 7840S processor. The chipset is built using TSMC's advanced 4nm manufacturing process and powerful Zen4 CPU architecture consisting of 8 cores and 16 threads, which means it can handle multiple tasks at once. The CPU runs at a base speed of 3.3GHz and a max frequency of up to 5.1GHz (when required). It's equipped with 8MB of L2 cache and 16MB of L3 cache to help with speedy data processing. The CPU also comes with an integrated Radeon 780M GPU.
The Ryzen 7 7840S processor may not seem much different from the Ryzen 7 7840HS. However, Lenovo and AMD have worked together to improve power efficiency and voltage management. This optimization allows the 30W performance of the Ryzen 7 7840S to compete with the 45W Ryzen 7 7840HS.
Another standout feature of the Ryzen 7 7840S processor, shared with previous-gen processors, is the integration of the AMD Ryzen AI engine. This engine significantly speeds up tasks related to audio, video, and images, surpassing what a regular CPU core can do while consuming very little power. Following are the benchmark testing of the CPU:
Lenovo YOGA Slim 7 Gen 8 CPU Benchmark

Single-Core
Multi-Core
CineBench R15
269cb
2304cb
CineBench R20
662cb
5770cb
CineBench R23
1709pts
13882pts
POV-Ray
641pps
5198pps
Lenovo YOGA Slim 7 Gen 8 Review: Heat Dissipation and Stress Testing
On dismantling the notebook, the heat dissipation system of the Lenovo YOGA Slim 7 Gen8 can be judged properly. The body is quite thin but still, the manufacturers have managed to add dual fans and dual heat pipes in this Ryzen 7 7840S powered notebook which has a max performance release of 30W.
CPU Stress Testing: For doing the stress test on the CPU, we used the AIDA64 FPU. Before telling the test results, it is worth mentioning that this test was carried out in a room where the temperature was 28.2°C. After almost 15 minutes of testing, the power consumption of the CPU was stabilized at 30W and its temperature was around 74°C while the frequency was 3.2GHz.
Summary
In the end, we can say that the Lenovo YOGA Slim 7 Gen8 is a good option in the world of business laptops, thanks to its sleek design and powerful performance. It comes with the Ryzen 7 7840S processor, a speedy 32GB LPDDR5x RAM, and a lightning-fast 1TB Samsung SSD into a visually appealing and lightweight frame.
One of its standout features is the 14.5-inch OLED display with a sharp 3K resolution. This screen offers vibrant colours and impressive brightness, and it's certified for Dolby Vision, Display HDR 500, and EyeSafe 2.0, ensuring a fantastic visual experience. The display is perfectly calibrated for accuracy and includes a high-quality integrated FHD webcam.
The YOGA Slim 7 Gen8 doesn't disappoint in terms of battery life as well, and it supports fast charging. Its AMD Ryzen 7 7840S processor strikes a balance between power and efficiency, and the laptop's dual-fan cooling system keeps it running smoothly. Priced at $1100 (the variant we reviewed), it's an attractive option for both business professionals and tech enthusiasts.