A few days ago, Huawei officially teased it's upcoming MatePad Pro 2, and also announced that it would be launched on June 2 along with Harmony OS. Today, the first look of the tablet has been revealed.
Today, the Chinese blogger @PoisonTongueDigital has revealed the live image of MatePad Pro 2 in which the appearance of the device can be observed. From the picture point of view, it can be said that MatePad Pro 2 uses an ultra-narrow bezel design and has a very high screen-to-body ratio.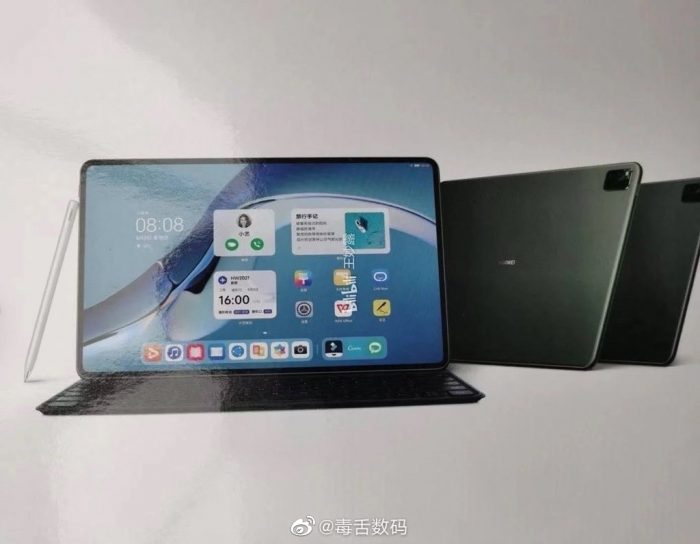 It is also observed that the camera design is changed and now has a square shape (unlike the previous version). The exact numbers of the camera cannot be observed as the image is not clear.
Moreover, the UI of Harmony OS for tablet devices can also be seen, which seems similar to iPad OS. Apple is already offering the same bottom app bar and widgets on its iPad devices.
As per previous reports, the MatePad Pro 2 will be available in two different versions and two different sizes. The two versions would include the Wi-Fi variant and 5G variant. The Wi-Fi version will be powered by Kirin 9000E processor, while the 5G version will use Kirin 9000 chipset.
In terms of size, the new MatePad Pro is expected to have two versions of 12.6 inches and 10.8 inches with high display refresh rates. It is also known that all the variants will run on the Harmony OS system.
Along with the new flagship tablet, the new HUAWEI M-Pencil will also be released. It can be seen from the previous Huawei preheating posters that Huawei's newly designed second-generation stylus has been fully upgraded in appearance.
It comes with a hexagonal integrated design and transparent nib, and its appearance has been dramatically upgraded. Not surprisingly, in addition to the new appearance, Huawei's second-generation stylus functions will also be more abundant.