As the Huawei Mate 10's launch date is approaching, more and more information on the Mate 10 series products has been exposed.
According to information on China CQC website, Huawei's two smartphones termed as the ALP-AL00 and the ALP-TL00 have got 3C certificates, and their charger is HW-050450C00 which is the same charger that the Huawei Mate 9 has. The two variants are made by Huawei Machine Co., Ltd, and Flextronixs Manufacturing (Zhuhai) Co., Ltd. This charger supports 5.0V/2A, 4.5V/2A, and 5V/4.5A output. The previous news suggests that the Huawei Mate 10's code name is "ALPS." So the ALP-AL00 and the ALP-TL00 are supposed to be the Huawei Mate 10's two variants.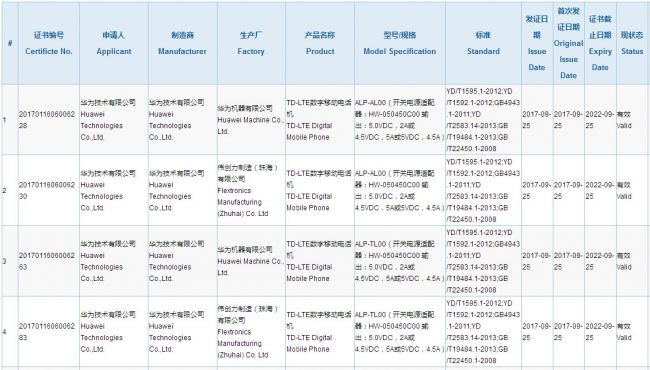 The Mate 10 is expected to feature a 5.99-inch QHD Entire View touchscreen and be the first phone to be powered by Kirin 970 processor coupled with 6GB of RAM. The phone will come with the 12MP and 20MP the third generation Leica dual-rear camera setup which supports LDAF and optical anti-shake. It will be sport a 4,000mAh large battery and keep the 3.5mm earphone port. It will run on EMUI 6.0 based on Android 8.0.