Recently on April 28, it is reported that Mediatek issued an invitation to many media sites. The invitation is about an online conference which they (mediatek) have named "5G All Inclusive". The invitation also showed that the meeting will be held at 14:30 on 7th of May. The main aim of this "5G All Inclusive" meeting is still unclear but media is reporting that this conference may be related to 5G chips.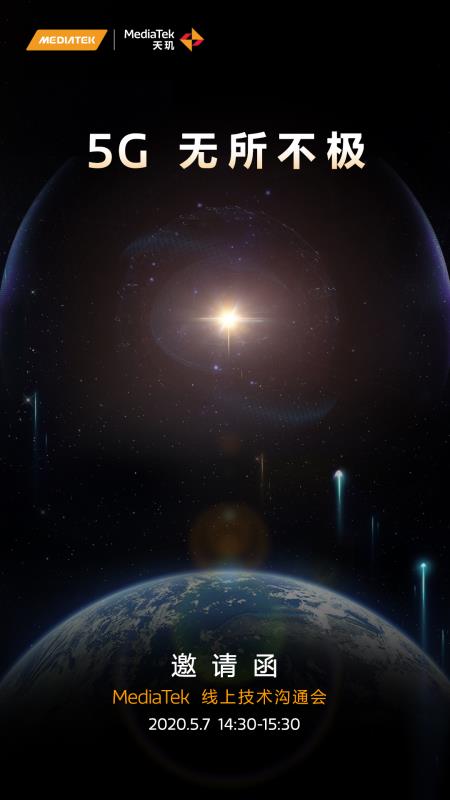 Also at the end of last year, Mediatek released the Density 1000 which is a 5G chipset but still there is no phone in the market which is equipped with this 5G chipset. At this 5G related communication meeting, might be Mediatek disclose all the news related to this chipset.
At the start of this year in January, Mediatek also released a chipset which was named Dimensity 800 ( a smaller version of Dimensity 1000) officially. This chipset is based on 7nm process while it has 8 cores in total. The first 4 cores are Cortex-A76 cores at 2 GHz and the other 4 cores are energy efficient Cortex-A55 cores which are also at 2 GHz. The Dimensity 800 chipset also supports 2CC carrier aggregation which lets you use two carriers data at the same time makes your internet speed much faster. Compared with other chipsets without those features, its coverage has expanded by more than 30%. This chipset also supports SA (Standalone) and NSA (Non-standalone) sub-6Ghz networks and other features like multi-mode support from 2G to 5G, dynamic spectrum sharing (DSS), and some services such as VoNR to send and receive voice and data through 5G.
Recently, MediaTek has also launched some 5G chipsets which are Dimensity 1000, Dimensity 1000L and Dimensity 800.