MSI, one of the world's leading gaming brands, has many lineups in its gaming laptop segment, and one of them is MSI Alpha. This lineup represents a cutting-edge series of gaming laptops that have earned their place at the forefront of the gaming industry. Renowned for their powerful hardware, sleek designs, and exceptional performance, these laptops cater to both casual gamers and eSports enthusiasts alike.
Equipped with high-end processors, top-tier graphics cards, and advanced cooling systems, MSI Alpha laptops deliver immersive gaming experiences with seamless graphics and lightning-fast response times. With features like customizable RGB lighting and high-refresh-rate displays, they offer a visually stunning and customizable gaming environment. Whether you're a pro gamer or enjoy gaming on the go, the MSI Alpha lineup is a testament to MSI's commitment to delivering state-of-the-art gaming technology.
The model we are going to review in this article is MSI's Alpha 17 C7VF, which comes with the all-new Ryzen 7945HX high-end flagship-level SoC. The CPU is paired with the RTX 4060 Mobile GPU. The dynamic duo of the RTX 4060 and Ryzen 9 7945HX forms a potent partnership, unleashing unparalleled gaming and computing prowess. With the RTX 4060's cutting-edge graphics and the Ryzen 9 7945HX's high-performance processing, you'll experience gaming at its finest and multitasking with ease.
Not only that, but we also got some other high-end specs like the Quad-HD 2.5K IPS Display, DDR5-5200MHz RAM and M.2 SSD (NVMe PCIe Gen4), 4-Cell large-sized 99.9Whr battery and 240W charging support. These high-end specs can efficiently deliver blistering performance for the ultimate computing and gaming experience.
Specifications
Screen
17.3″ QHD (2560×1440), 240Hz, IPS-Level
Processor
AMD Ryzen 9 7945HX
Wireless Connection
Gb LAN (Up to 2.5G), 802.11 be Wi-Fi 7 + Bluetooth v5.4
Graphics card
NVIDIA GeForce RTX 4060 Laptop GPU 8GB GDDR6 Up to 2370MHz Boost Clock 140W Maximum Graphics Power with Dynamic Boost.
Memory
32GB Dual Channel DDR5 Memory, 2 Slots, Max 64GB RAM Support
Storage
1x 1TB M.2 PCIe 4.0 NVMe SSD, 2x M.2 SSD slot (NVMe PCIe Gen4)
Ports
1x Type-C (USB3.2 Gen2 / DP) with PD charging
3x Type-A USB3.2 Gen1
1x HDMI 2.1 (8K @ 60Hz / 4K @ 120Hz)
1x Mini-DisplayPort
1x RJ45
Battery
4-Cell 99.9 Battery (Whr) with 240W AC Adapter
OS
Windows 11 Home (MSI recommends Windows 11 Pro for business.)
Windows 11 Pro
Weight
6.17 lbs. (2.8 kg)
MSI Alpha 17 Review: Design and Appearance
Starting from the measurements of the notebook, the MSI Alpha 17 C7VF has the following dimensions: 397*284*25.9(mm) and weighs around 2.8kg. It has been observed that the notebook comes with a slightly thicker profile to accommodate powerful components and advanced cooling systems. However, if compared with our previously reviewed notebook (ASUS ROG Flow X13), it seems that MSI could reduce some space.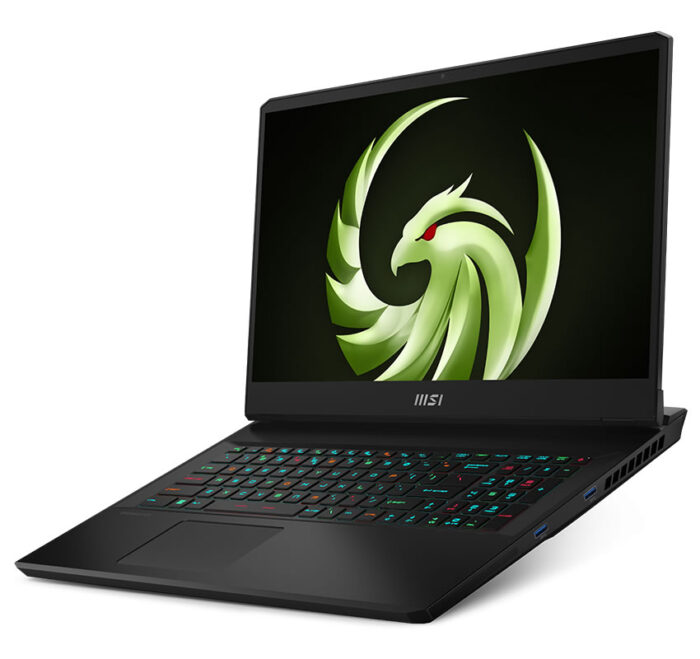 The MSI Alpha 17 C7VF maintains a rugged and sharp design aesthetic with a sleek black finish, featuring a metal sandblasted surface on the display shell that offers a comfortable touch but is prone to fingerprint smudges. Due to the 17-inch display, the MSI Alpha 17 C7VF doesn't provide a weight or thickness advantage.
At the centre of the display shell, there is a little Raikage logo, a good change from the bold dragon shield logo (as seen in other lineups). The backside also features unique raised "keel" shaped hinges on both sides, with the official statement highlighting the use of the new Axis Pro stainless steel hinge, ensuring a refined, smooth, and balanced one-handed opening and closing experience of the notebook.
On opening the notebook, we have a 17.3-inch display with a three-sided narrow-edge design. The bottom bezel is slightly wider and displays the illuminated MSI Logo at its centre. In the middle of the top bezel, there is an HD webcam (records 720p video@30fps) with autofocus capabilities and is also compatible with mainstream software such as Skype, WhatsApp Windows, and WeChat Video Call, also enhancing its suitability for online meetings, virtual classes, and various other scenarios.
MSI Alpha 17 C7VF Review: Display
When it comes to display, the MSI Alpha 17 C7VF is equipped with a 17.3-inch large-sized IPS LCD that supports 2.5K resolution (2560*1440p) and 240Hz refresh rate.
After testing the display through benchmark software, we found that the display supports 99.4% sRGB, 86.6% Adobe RGB and 96.5% DCI-P3 colour gamut. When using default settings, the colour accuracy falls within the average range. The average Delta E value is approximately 3.22, and the maximum Delta E value reaches 7.41. While this may not be a significant issue for gaming purposes, it may be somewhat lacking for tasks that demand precise colour representation, such as professional work.

In addition, MSI offers a screen colour management software called MSI True Color on its official website (current version 4.0). It allows the users to swiftly toggle between sRGB, Adobe RGB, and other display modes with a single click from the software's main UI. Moreover, each colour gamut, including P3, supports customized adjustments with an array of versatile options. Additionally, the software offers various display modes tailored to specific usage scenarios, granting comprehensive control for precise colour management on the display.
It is worth noting that after switching to other colour gamut modes, the corresponding colour gamut volume and colour gamut coverage will also change. It's pretty good to see that the laptop's colour accuracy has dramatically improved in both the sRGB and Display P3 colour modes, making it suitable for tasks like office work and basic design and editing.
MSI Alpha 17 C7VF Review: Keyboard and TouchPad
Under the display, we have the keyboard area. The MSI Alpha 17 C7VF features the Per-Key RGB Gaming (SinkZone sunken design) Keyboard designed by SteelSeries (as officials named it). Due to its large-sized body, the keyboard's layout feels very complete and prominent. In addition, it also features the Numeric Pad, which is quite helpful while gaming. It has been observed that the manufacturers have abandoned the Fn (function) key and increased the left Ctrl key's size, which seems a better step in gaming notebooks as the Ctrl key has a significant use in many games.
Regarding the build quality, the keycaps feature a fine frosted coating on their surface, enhancing grip and minimizing fingerprint smudges. Moreover, MSI partnered with SteelSeries for custom single-key RGB backlighting, allowing users to customize lighting effects and synchronization through Mystic Light. You can even set individual lighting effects for each key.
Under the keyboard, we have the TouchPad, which is relatively small in terms of size while positioned to the left. Its surface is exceptionally smooth but tends to attract fingerprint smudges. It adopts a full-range press design, where the left and right halves serve as the left and right mouse buttons, delivering a satisfying and balanced tactile response upon pressing.
MSI Alpha 17 C7VF: Ports
Regarding ports, the MSI Alpha 17 C7VF features a 3-sided surround layout. Starting from the left side, you'll find an anti-theft lock hole, a USB 3.2 Type-A Gen1 port, a USB 3.2 Type-C Gen2 port (with PD charging support), and a 3.5mm headphone jack. On the right side, there are 2x USB 3.2 Type-A Gen1 ports. Located at the back of the notebook, you have a Mini-DisplayPort, an RJ45 network port (LAN Port), an HDMI 2.1 port (supporting 8K @ 60Hz / 4K @ 120Hz), and the charging port. With a generous variety of ports, there's no need to worry about carrying extra USB docks.
MSI Alpha 17 C7VF: RAM, SSD and Network
As mentioned earlier, the MSI Alpha 17 C7VF supports DDR5 memory. The model we got was equipped with a single 16GB DDR5 RAM module; we added another 16GB module for benchmark testing. Consequently, the laptop boasts 32GB of DDR5 Dual-Channel RAM (2x 16GB DDR5 sticks) operating at a frequency of 5600Hz. It is worth mentioning that the RAM can be extended up to a max of 64 Gigs.
For RAM performance testing, we used the AIDA64 Cache and Memory Benchmark software, yielding the following results: 62,015 MB/s Read Speed, 61,859 MB/s Write Speed, and 87,471 MB/s Copy Speed, with a latency rate of 95.2ns.
Moving on to the M.2 SSD, the MSI Alpha 17 C7VF supports NVMe PCIe Gen4 SSDs and offers two slots for them. The model we got comes with a 1TB Samsung PM9A1 SSD, which is an OEM version of the Samsung 980 Pro SSD. For the SSD performance assessment, we used the CrystalDiskMark software, yielding the following results: 6,682 MB/s Sequential Read Speed, 4,932 MB/s Sequential Write Speed, 74.38 MB/s 4K Read Speed, and 212.55 MB/s 4K Write Speed. As per the official claim, the SSD can deliver up to 7.79 GB/s bandwidth.
The benchmark scores for both the SSD and RAM appear to be quite average, and when compared to our previously reviewed notebook (ASUS ROG Flow X13 and MSI Titan GT77), they don't meet the higher expectations we had in terms of performance.
Lastly, let's talk about the network card. It's noteworthy that this laptop stands out in the industry as the only one to support Qualcomm Wi-Fi 7. It comes equipped with the Qualcomm Fast Connect 7800 wireless network card, boasting an impressive peak speed of up to 5.8Gbps and an incredibly low latency rate of just 2ms. This ensures that users can enjoy smooth online gaming without any connectivity issues.
MSI Alpha 17 C7VF: Battery and Charging
Regarding its battery, the MSI Alpha 17 C7VF comes equipped with a 4-cell (15.2V) 99.99WHr Battery, identified by the model number BTY-M6M. This battery is a 6,578mAh Rechargeable Li-polymer Battery that MSI has used in several of its high-end notebooks. To charge this large-sized battery, MSI provides a 240W slim-sized fast charger, ensuring a quick battery recharge.
In our battery test using the PCMark 10 software, we activated the power-saving mode via MSI Center before conducting the test. The result yielded an impressive battery life of 5 hours and 38 minutes. This outcome is particularly commendable for a laptop featuring a 17.3-inch 2K resolution display and a flagship SoC like the 7945HX.
MSI Alpha 17 C7VF: CPU and its Benchmark
The MSI Alpha 17 C7VF is powered by AMD's latest Ryzen 9 7945HX processor, a formidable mobile flagship CPU boasting Zen4 architecture and is based on advanced TSMC 5nm FinFET manufacturing technology. With an impressive configuration of 16 cores and 32 threads, this processor offers unparalleled performance for mobile computing. It achieves a remarkable core frequency of up to 5.4GHz and maintains a design TDP range of 55 to 75W. Additionally, it features a substantial L2+L3 cache of 80MB. It is worth noting that this CPU is one of the primary competitors of Intel's Core i9-13980HX, the best CPU from Intel at the moment.
We also conducted a CPU Benchmark test under controlled conditions in a 24°C air-conditioned office. To obtain the best results, we maximized the performance by selecting the "violent mode" in the MSI Center. The benchmark results are the following:
Cinebench R20: 740 points on Single-Core and 12,365 points on Multi-core.
Cinebench R23: 1,952 points on Single-Core and 31,804 points on Multi-Core
V-Ray CPU: 23,951 (vsamples) points on Multi-Core
MSI Alpha 17 C7VF: GPU and its Benchmark
The Ryzen 9 7945HX CPU is paired with NVIDIA's latest RTX 4060 Mobile GPU that comes with 8GB of GDDR6 memory, capable of reaching up to a 2370MHz boost clock with a 140W maximum graphics power using Dynamic Boost technology. The RTX 4060 is equipped with 3072 CUDA cores and a 128-bit memory bus.
As per the official claim, the GPU features the highly efficient NVIDIA Ada Lovelace architecture, delivering a substantial performance boost through AI-powered DLSS 3 and enabling realistic virtual environments with full ray tracing capabilities. Furthermore, the Max-Q suite of technologies optimizes system performance, power consumption, battery life, and acoustic performance for peak efficiency. We also did the benchmark under the same conditions as in CPU benchmark testing. The results are the following:
3DMark Time Spy: The overall score is 10,451, while the GPU score is 10,672.
3DMark Fire Strike Extreme: The overall score is 12,411, while the GPU score is 13,306.
V-Ray GPU CUDA: The GPU has scored 1,202 vpaths.
V-Ray GPU RTX: The GPU has scored 1,842 vrays.
The performance of both CPU and GPU is entirely satisfactory when compared with competitor models (powered by Intel Core i9-13980HX).
MSI Alpha 17 C7VF: Gaming Test
After the CPU and GPU testing, we moved on to actual gaming tests. We selected six well-known games, including CS: GO and some other popular games, some of which work particularly well with AMD hardware. To assess this laptop's performance with its 2.5K screen and powerful specs, we ran tests at both 1080P and 2K resolutions in two rounds.
CS:GO: 716 fps at 1080p resolution and 560 fps at 2K resolution, running at 240Hz high refresh rate.
Tomb Raider Shadow: 115 fps at 1080p resolution and 78 fps at 2K resolution
Forza Horizon 5: 162 fps at 1080p resolution and 125 fps at 2K resolution
Cyberpunk 2077: 95 fps at 1080p resolution and 58 fps at 2K resolution
MSI Alpha 17 C7VF: Cooling System and Pressure Test
The MSI Alpha 17 C7VF comes with a Reforged Cooling Solution with a Shared-Pipe design (as named by the officials); this innovation employs heat pipes connected to both the CPU and GPU to enhance thermal performance, especially during demanding tasks. When combined with MSI Cooler Boost 5, it ensures optimal cooling for extended gaming sessions.
The laptop's bottom side design is quite impressive, featuring symmetrically arranged air intake holes on the left and right. On the left side, you'll find the left heat dissipation hole, while on the right, it's the right heat dissipation hole. Additionally, there are two sets of heat dissipation openings at the back. Upon disassembly, it can be seen that the MSI Alpha 17 C7VF uses a dual-fan, six-heat pipe MSI Cool cooling system that fully covers both the CPU and GPU. The fans are equipped with high-flow fan blades and incorporate an enhanced wind pressure-bearing noise reduction design for increased stability and durability.
CPU Stress Testing: We conducted a durability test on both the CPU and GPU under challenging conditions with a constant room temperature of 24°C. Initially, we subjected the CPU to a pressure test using the AIDA64 stress test. After running the test, the CPU's power consumption stabilized at 86W, resulting in a temperature increase to 86.2°C, while the CPU core frequency held at 3.71GHz. It's worth noting that the CPU's performance prioritizes temperature control, aligning with MSI's objective of ensuring stable and long-lasting operation under high loads.
GPU Stress Testing: In the next test, we focused on the GPU, employing the FurMark application. During this test, the GPU exhibited an average power consumption of 140W, maintaining a temperature of around 81.6°C, with the core frequency hovering at approximately 2365MHz.
Summarize:
One of the most striking aspects of the MSI Alpha 17 C7VF is its price tag of $1,849, which pairs impressively with its solid hardware configuration. During our testing, the actual performance and user experience of the MSI Alpha 17 C7VF lived up to expectations. The combination of the Ryzen 9 7945HX and the RTX 4060, along with ample storage expansion options, delivered impressive gaming performance and efficient heat dissipation. In summary, this gaming laptop offers excellent value in its price range.
As we move forward, we eagerly anticipate feedback from the market about the MSI Alpha 17 C7VF. It's important to remember that quality products need time to prove themselves. MSI's Alpha 17 C7VF represents a new endeavour, and we hope that MSI will continue to strive for even more cost-effective offerings in the future, benefitting consumers with their innovative products.