A few days before, Pete Lau (Chief Product Officer of OPPO) announced that the all-new Find X6 (one of OPPO's most awaited flagship) series would be released soon. However, the latest information from the leaks industry also denotes the fact that OPPO is almost near to launch of its new flagship series.
This morning, two new devices from OPPO have been listed on 3C Certification with the following model numbers: PGFM110 and  PGEM110. As per sources, both devices belong to the OPPO Find X6 series.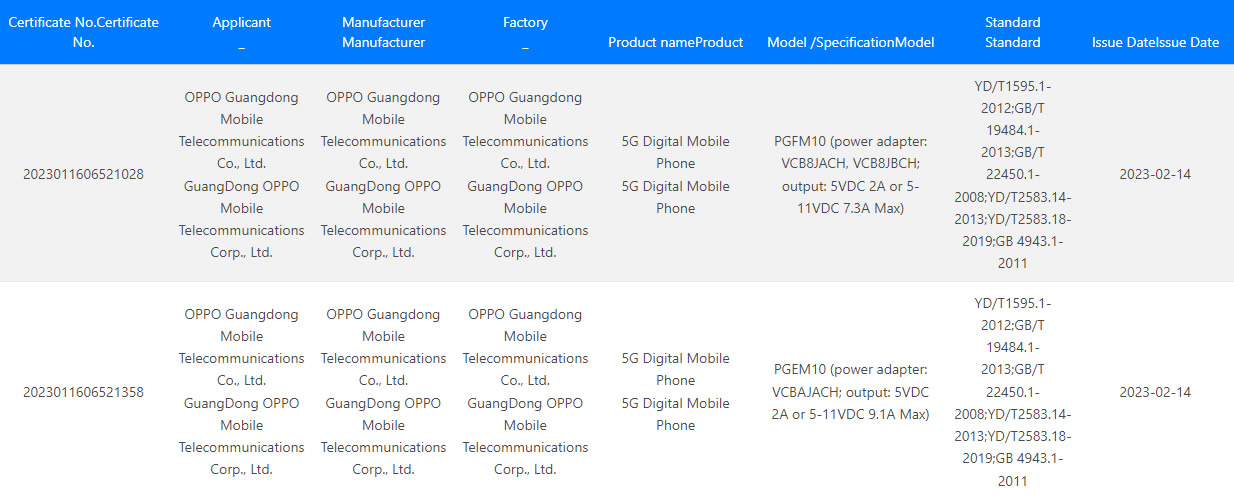 At first, we have PGFM110, which is reported to be the standard version of the Find X6 series. This device got certified with the OPPO's SuperVOOC 80W Charger (model number: VCB8JACH/VCB8JBCH) which supports charging at following modes: 10W (5V/2A) and 37W-80W (5V-11V/7.3A).
Then we have the second device PGEM110, the OPPO Find X6's Pro model. This model would be equipped with OPPO's 100W SuperVOOC power adaptor. It is worth noting that the same technology-based adaptor with the OnePlus branding is already being provided with OnePlus 11 series.
This 100W charger carries the following model number: VCBAJACH and supports charging at the modes: 10W (5V/2A) and 46-100W (5-11V/9.1A). Except this, there is no more information mentioned in the 3C Certification, but this also indicates that the all-new Find X6 series has almost completed its development stage.
As per previous news, it was reported that the all-new Find X6 standard version would be powered by the Snapdragon 8 Gen1 chipset. The Pro version would be available in two different chipset models: one with Snapdragon 8 Gen2 from Qualcomm and the second with Dimensity 9200 from Mediatek.
The Dimenisty 9200 powered model might be a little bit cheaper as it is expected to use LPDDR5 RAM and UFS 3.1 storage. At the same time, the Snapdragon 8 Gen2 might be expensive as it would use LPDDR5X Memory and the latest UFS 4.0 Storage technology.
Check out our previous articles for more information regarding the OPPO Find X6 series. Currently, the information regarding the OPPO Find X6 series launch is minimal but expected to happen in March 2023.