It was rumored that Realme GT2 Pro was most likely to launch in mid-December, but the time passed, and there was no news from the company. The company has recently revealed the confirmed launch date and new developments in the new Realme GT2 series.
This morning, Realme China has officially announced that he revealed that the new GT2 Flagship series would be launched on January 4, 2022 (at 19:30 Chinese Timing).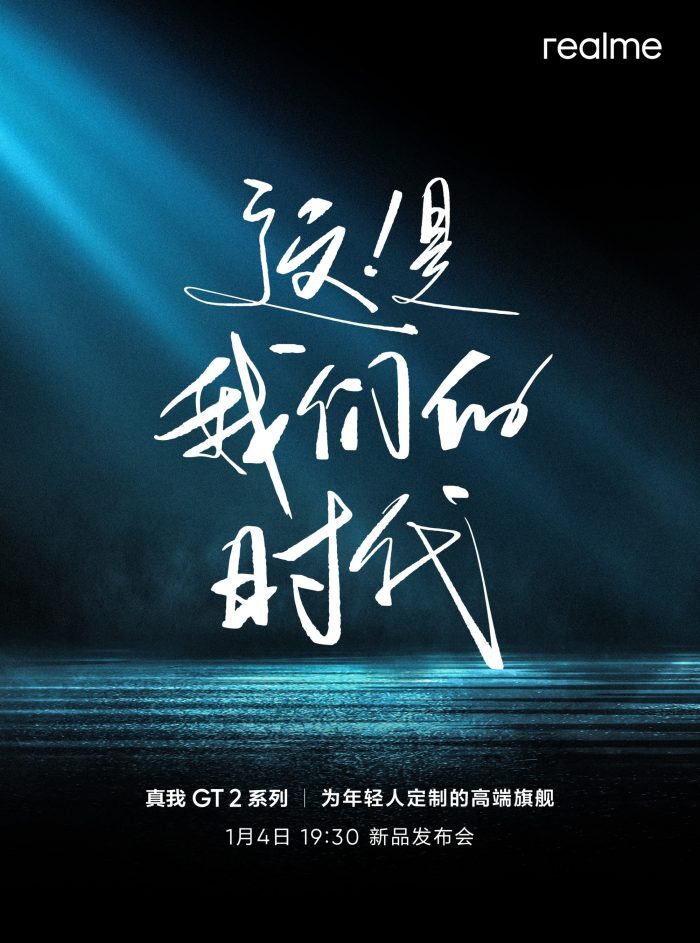 Further, the VP (Xu Qi Chase) also mentioned the word "series" (while announcing), which denotes that the new Realme GT2 Pro wouldn't be an alone model; there might be a standard version as well. Moreover, for this announcement, the VP has used the Pro version of the Realme GT2 series, as mentioned.
Further, the VP also mentioned, "Realme GT2 series, high-end flagship customized for young people. The flagship masterpiece for the beginning of 2022," which points that the new unique design of Realme GT2 series is specially designed for targeting the young consumers market.
Previously, through the AnTuTu benchmark, it was revealed that the Pro version is powered by the latest Snapdragon 8 Gen1 chipset and has scored more than 1 million points (while testing). It is worth noting that the new Snapdragon 8 Gen1 chipset features the new Cortex-X2 Super Core, which took the performance to another level.
In other aspects, it is expected that the upcoming Realme GT2 Pro will use a 6.51 inches AMOLED Display featuring a higher Full-HD+ resolution and 120Hz higher refresh rate for a smooth experience. The charging power is also expected to be upgraded up to 125W, while the battery's capacity is unknown.
In terms of camera, the GT2 Pro will feature a primary 50MP lens (also supporting OIS) in combination with an ultra-wide lens and a depth lens. For clicking selfies, the device would sport a 32MP lens on the front. The pricing of the Realme GT2 Pro version is expected to be around 4000 yuan (roughly $625).