It is known that Redmi (the sub-brand of Xiaomi) is all set to launch its new flagship Redmi K40 series. As the launch time is coming near, the officials are revealing the highlights of the phone. Today, another highlight has been revealed.
Recently, the General Manager of Redmi (Lu Weibing) has officially confirmed that the upcoming Redmi K40 series will be the world's first smartphone series to feature E4 Material OLED Screen (manufactured by Samsung).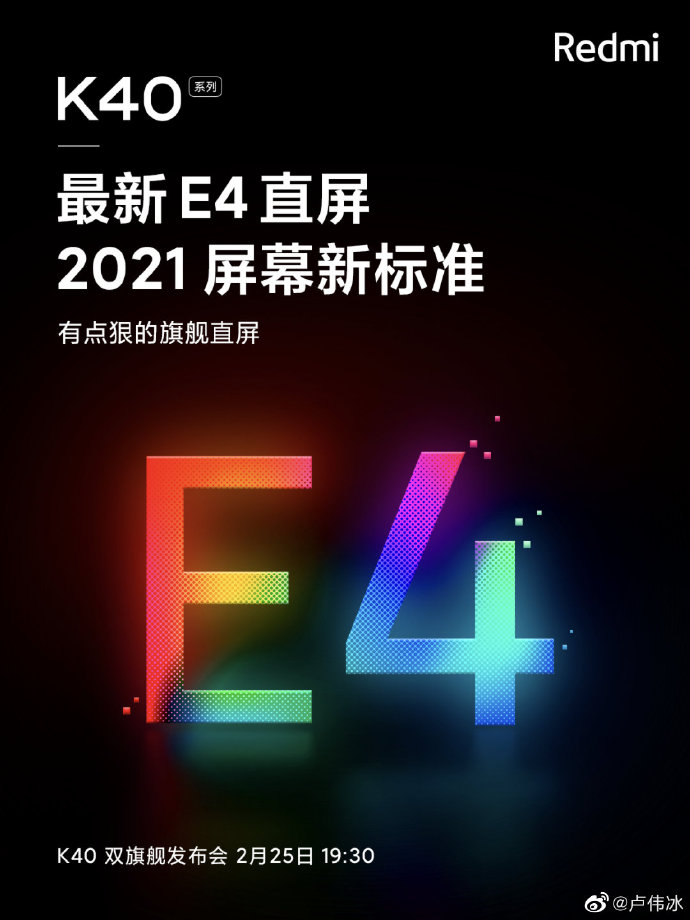 Many reports have previously suggested that the new E4 material OLED Displays will be introduced with the Redmi K40 series, but now it got officially confirmed.
It is reported that E4 Luminescent material is Samsung's latest generation of screen technology, which can bring higher brightness while achieving ultra-low power consumption. It also has many advantages, such as high contrast and high color accuracy.
The first generation of technology has all-around upgrades. It has been used on Xiaomi Mi 11, and the screen of this device also got the DisplayMate A+ rating.
As per previous info, the Redmi K40 series is equipped with Snapdragon 870 (in standard version) & Snapdragon 888 (for Pro version) chipsets, LPDDR5 memory, UFS 3.1 memory chip. It further supports Wi-Fi 6 enhanced version.
In terms of battery life, a 4500mAh is expected to be equipped with fast charging support up to 33W. A 33W charger is also reported to be released on 25th Feb.
Last Month, Lu Weibing (General Manager) said that the Redmi K40 series starts at 2,999 yuan, which is expected to be the Snapdragon 888 version's price, while the Snapdragon 870 version may have a lower starting price.