According to AnTuTu Weibo, on October 12, a brand new SoC score appeared in the AnTuTu database. Judging by the architecture, this is the Exynos 1080 that Samsung previously announced.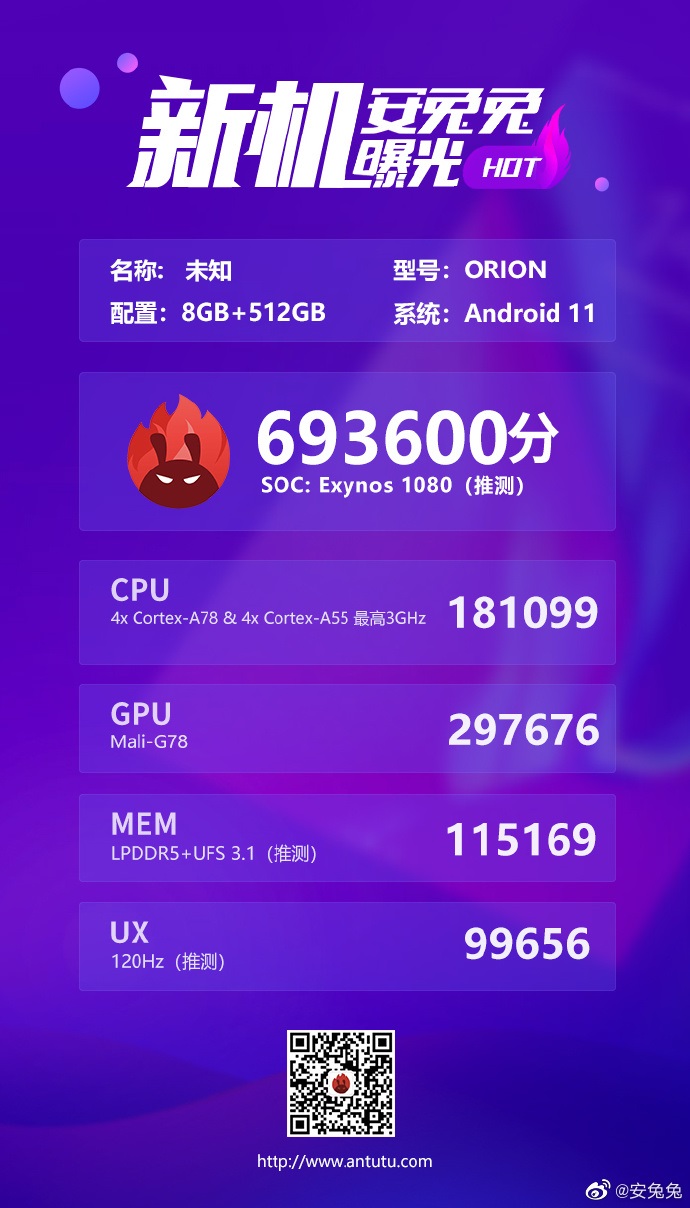 It is reported that Exynos 1080 uses four Cortex-A78 and four Cortex-A55. The GPU is Mali-G78, but the number of cores has not been identified. According to information previously announced by Samsung, it is built using a 5nm process.
The mysterious new phone with a model ORION, which uses a 2376×1080 resolution screen, built-in 8GB of memory and 512GB of storage, and runs the Android 11 system.
In terms of running points, it got 693600 points on AnTuTu. And CPU score is 181099, GPU score is 297676, MEM score is 115169, and UX score is 99656.
This total score has surpassed the current strongest Snapdragon 865 Plus, and even has a clear advantage over the Snapdragon 865 after GPU overclocking.
Antutu said that comparing the performance of the sub-items, the CPU part is basically the same as the Snapdragon 865, and the GPU has obvious advantages. This means that the Exynos 1080 GPU is very powerful and has reached the flagship level.
In addition, it is speculated from the MEM score that this new machine is equipped with LPDDR5 memory and UFS 3.1 storage, which has obvious advantages in reading and writing speed. The UX performance also means that the new machine is equipped with at least a 120Hz refresh rate screen.
According to previous news, Samsung Exynos 1080 will use Samsung's own most advanced 5nm LPE process. At the same time, Exynos 1080 will also use ARM's latest Cortex-A78 and Cortex-A55, and the integrated GPU will also be upgraded to ARM's latest Mali-G78. It is reported that the CPU can be increased by 20%, and the GPU can be increased by 25%.