It is expected that the all-new OnePlus 9 series will be launched at the end of 1Q21. As the expected time is coming near, more information (of the smartphone) is also being revealed.
Today, the famous blogger @DigitalChatStation has revealed another leak regarding the upcoming flagship series from OnePlus. There would be two versions in the OnePlus 9 series as per blogger: the standard version & the pro version.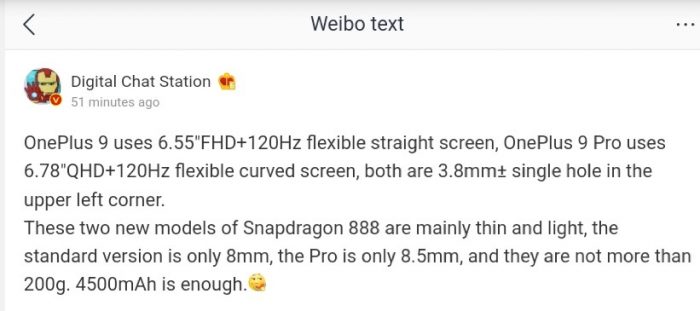 The standard version will feature a 6.55 inches flat panel display, which supports maximum resolution up to Full-HD+. The support for the 120Hz refresh rate is also there as well. The pro version is equipped with a 6.78 inches curved edges display that supports QHD+ resolution and the same 120Hz refresh rate as in the standard version.
It is also revealed that both displays consist of Single Punch-Hole (at top-left), sizes around 3.8mm±. The blogger also confirmed the thickness of both models, i.e., 8mm for the standard version & 8.5mm for the Pro version. The weight is not more than 200g.
The blogger has mentioned that the Snapdragon 888 chipset could be the main highlight of the OnePlus 9 series. The battery inside both models is not expected to be more than 4500mAh with 65W Fast Charging.
For now, there is no information regarding the launch date of the new flagship series from OnePlus.