Today, Samsung has finally released its all-new mid-range chipset, Exynos 1080. The new Exynos 1080 chipset is a significant upgrade over its predecessor, as the company mentioned.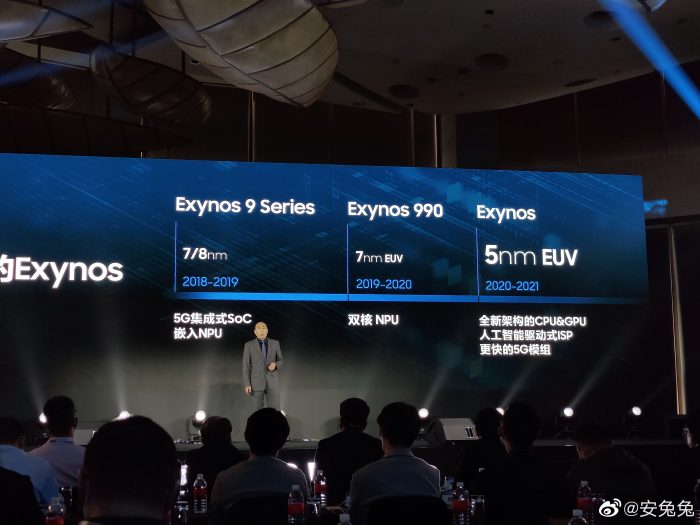 The all-new Exynos 1080 is an octa-core chipset based on 5nm EUV process. The EUV stands for Extreme Ultra-violet Lithography, which means that the chipset has been built using ultra-violet rays. The chipset consists of four Cortex-A78 performance cores and four Cortex-A55 energy-saving cores.


Some key specs of the chipset are following:
Cores: 1x Cortex-A78 Core (@2.8GHz) + 3x Cortex-A78 Cores (@2.6GHz) + 4x Cortex-A55 (@2.0GHz)
GPU: Mali-G78 MP10 (2.3 times more powerful than predecessor)
Modem: 5G NR Sub-6GHz 5.1Gbps (DL) / 1.28Gbps (UL)
Connectivity: Bluetooth 5.2, Wi-Fi (802.11ax), FM Radio
GNSS: GPS, GLONASS, BeiDou, Galileo
Camera: Single-camera Up to 200MP, Dual-camera 32MP+32MP
Video: 4K 60fps encoding and decoding with HEVC(H.265)/H.264/VP8/VP9
Display: WQHD+ @90Hz Refresh Rate, FHD+ @144Hz Refresh Rate
Storage: UFS 3.1
RAM/Memory: LPDDR5 & LPDDR4x
According to the chipset specifications, it seems like it may beat other company flagship chipsets like Qualcomm's Snapdragon 865+ and Mediatek's Dimensity 1000+. The chipset has already beat Snapdragon 865+ on the AnTuTu Benchmark.

As the company claims, the single-core performance increases by 50% while the multi-core performance is doubled. Moreover, the Vivo will be the first brand to use this chipset in its smartphone. The chipset may get featured in the upcoming Vivo's X60 series.
The previous chipset Exynos 980 was built on 7nm, but this time, Samsung jumped to the 5nm process. Currently, we cannot say anything about how the chipset will perform after being featured on the phone.