Although dual camera setup has been a new smartphone's common specification in the past few years, Sony hasn't launched dual-camera phones yet. But recently Sony's new smartphone which hasn't been launched yet has appeared on GFXBench, and the dual-front camera setup is the new phone's one feature.
From the information on GFXBench, Sony's new phone is H3213 Avenger (model number), it features a 6-inch touchscreen with the resolution of 2,160 pixels by 1,080 pixels. The smartphone is expected to be powered by octa-core Qualcomm Snapdragon processor.
It will feature the 7MP + 15MP dual camera setup on the front and the 21MP rear camera. The phone will come with 4GB of RAM and 32GB of ROM. It will run on Android 8.0.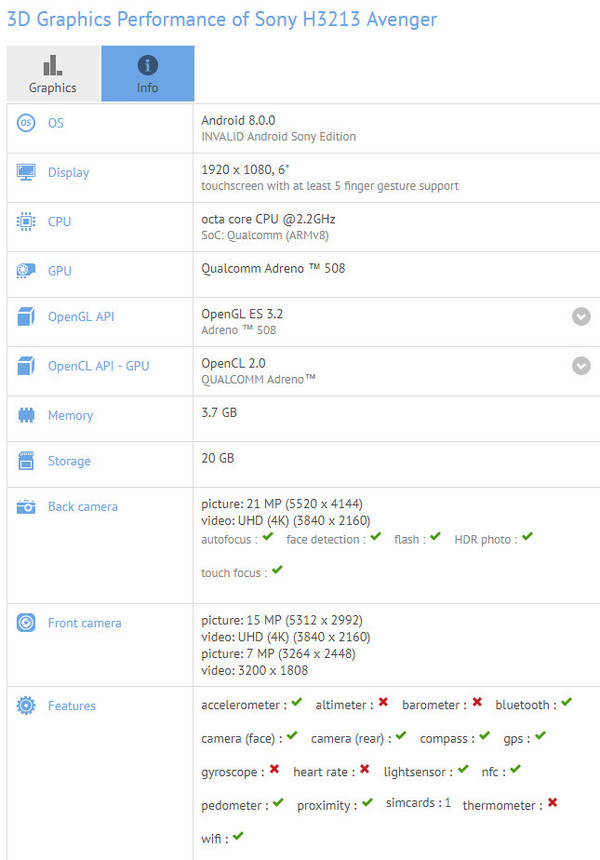 The Soy H3213 Avenger hasn't adopted current popular 18:9 full-screen design but common 16:9 screen with regard to information on GFXBench, it is supposed to be the mid-range smartphone with regard to its specification. If the information on GFXBench is true, the phone will be Sony's first dual-camera phone, and it is estimated to be launched on MWC next year.