Recently on May 15, this morning. Vivo officially announced its new "Vivo X50" on weibo.com. In the introduction, Vivo called this phone "Vivo X50 professional video flagship". It seems that the phone has a professional video capturing skills. Not only that, but the officials also revealed that the new upcoming Vivo X50 is equipped with a super-sensitive micro gimbal, which was introduced in the X series for the first time.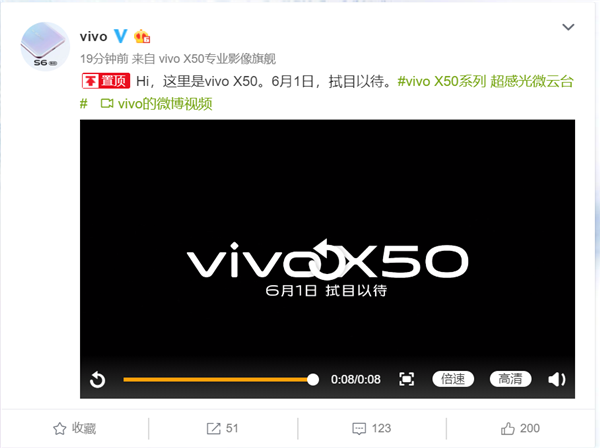 In March 2020, Vivo took the lead through the APEX 2020 concept phone by using the super stable micro PTZ primary camera, which is more reliable than OIS (optical image stabilization). It is also reported that the common OIS optical anti-shake is more for anti-shake compensation when the phone is tilted left-right or up-down direction. However, the new Vivo micro platform structure can maintain the primary camera stable shooting when the body is tilted back and forth or left and right.
It is reported that the Vivo might also launch a pro version of  Vivo X50, as Vivo does in the past. The information about this phone is currently limited. It is also not confirmed which processor would Vivo use in the Vivo X50. The rumors claiming that it might equip Snapdragon 765G or the Exynos 980(as Vivo had used the Samsung processors in the past too).
Moreover, the Vivo X50 is expected to use a punch-hole display. The phone is set to be launched on June 1. Currently, there is no info about the price and storage of this phone. If any more news comes regarding the Vivo X50, you will be updated on our website, so stay tuned!