We all know that ZTE has already confirmed the existence of its upcoming smartphone, "ZTE Axon 30 Pro", a few days ago. It was also revealed that the phone would come with the industry's most powerful imaging system.
The famous blogger @WHYLAB (on Weibo) has recently suggested that the ZTE Axon 30 Pro may feature Samsung's latest 200MP S5KGND Sensor. As per the head of ZTE's Consumer Experience Department (Lu Qianhao), the Snapdragon 888 is equipped with Spectra 580 ISP, which further supports image capturing up to 200 Million Pixels.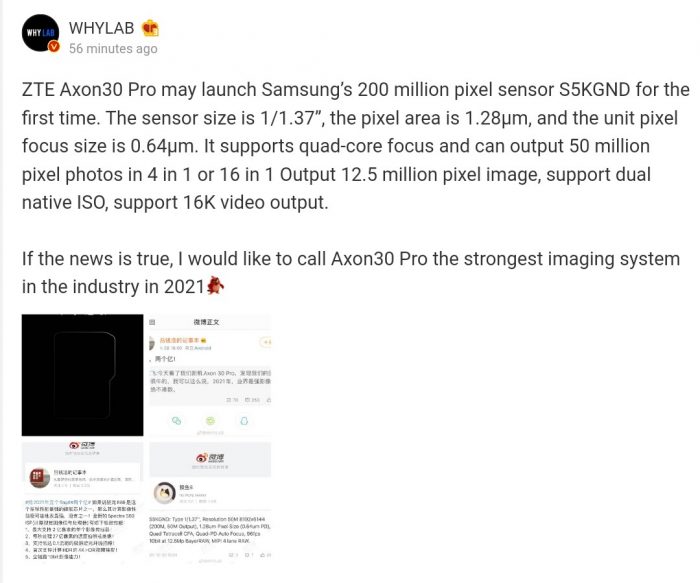 Judging from Lu Qianhao's multiple mentions of "two billion", ZTE's AXON 30 Pro will most likely be equipped with a 200 million pixel main camera sensor, which can bring even better photo effects with the support of the powerful ISP of Snapdragon 888.
Maybe, the reason behind posting is that the upcoming ZTE Axon Pro 30 will feature the 200MP Sensor. The only 200MP Sensor in the market is Samsung's S5KGND Sensor. As the officials have mentioned, the device is equipped with the most powerful imaging system in the smartphone industry. So we can conclude that the device may feature this 200MP Sensor.

As we know, the Samsung's 200MP S5KGND Sensor is the world's highest pixels camera. The sensor size is 1/1.37 inches, the pixel area is 1.28μm, and the unit pixel focus size is 0.64μm. It supports quad-core focus and can output 50 million pixel photos in 4 in 1 or 16 in 1 with an output of 12.5 million pixel images. It further supports dual native ISO and also supports 16K video output.
As Lu Qianho has also mentioned the Snapdragon 888, we can also expect this chipset to be equipped in the upcoming phone.
For now, there is no official information regarding the launch date of the device. But it is expected in the mid of February.