A few months before, BYD officially revealed its upcoming SUV's body dimensions and images: BYD Yangwang U8. Even at the Shanghai Auto Show, the car was already pre-sold, and the pre-sale price was $159,000. Recently, the upcoming EV was listed on a certification site, revealing more information regarding it.
It is reported that the upcoming BYD Yangwang U8 has been listed on the MIIT (China Ministry of Industry and Information Technology). In the certification, the EV is positioned as a large-sized SUV.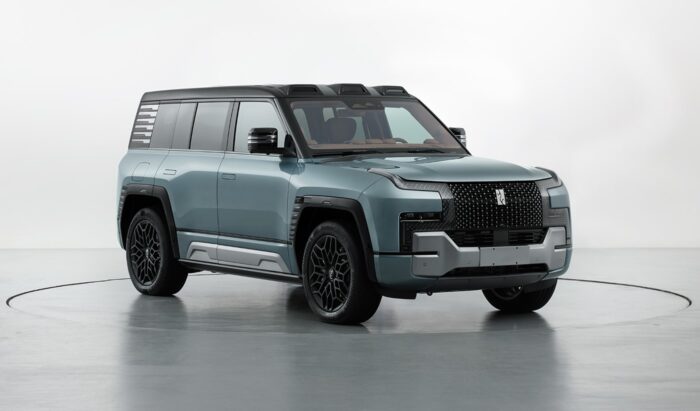 The all-new Yangwang U8 will feature a four-wheel four-motor independent drive, initially provide a plug-in hybrid version, and use a non-load-bearing body.


As judged through the images (in MIIT Certification), the overall Yangwang U8's design provides a rigid and majestic appearance. It is worth mentioning that this vehicle adopts the "gate of time and space" design language. It is also observed that the large-scale air intake grille's interior features a dot matrix design. After the lighting effect, the recognition can reach 300 meters away.
Regarding LiDAR, this EV is equipped with a LiDAR, a camera, and side marker lights in the wheel arches. At the same time, the roof is also integrated with LiDAR, ensuring that the technology and intelligent style are well-maintained in this EV.
As mentioned in the certification, the car has the following dimensions: 5319*2050*1930mm (length, width, and height), while the wheelbase is 3050mm, also denoting that the Yangwang U8 lies in the large SUV category.
In terms of interior, the Yangwang U8 features an integrated central control large screen, and the co-pilot screen is also there, forming a three-screen linkage in the car. The car's interior adopts a 2+2+3 seat layout, and all the seats are relatively spacious.
If we look at the engine of Yangwang U8, it will be equipped with four wheels, four motors, and a Yisifang blade battery. The maximum power of a single motor is around 220-240kW with a maximum torque of 320-420Nm. The car takes only 3.9 seconds in the 0-100km/hr acceleration test.
The hybrid version is equipped with a BYD 2.0T Engine, which can produce a maximum power of 200kW (equivalent to 271 HP). It is worth noting that this can be called the strongest 2.0T Engine in BYD's history.