The famous blogger @Ice Universe has revealed another leak regarding the upcoming Galaxy S21 series. This time the leak belongs to the display of the upcoming flagship series. The blogger has revealed the live images of all models' screen protective films in the Galaxy S21 series.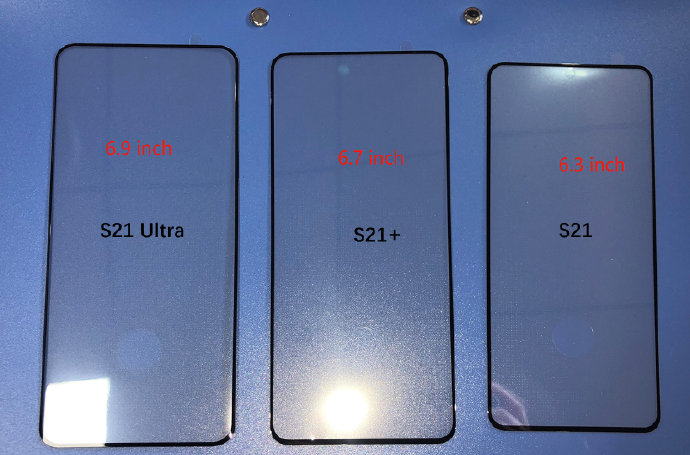 From these images, many things can be observed regarding the upcoming smartphones of Samsung. The blogger has also mentioned the screen sizes of all three models. It can be seen that the standard Galaxy S21 and S21+ would feature 6.3 inches and 6.7 inches display, respectively, while the high-end (S21 Ultra) version would feature a 6.9 inches screen.
As per the blogger, the display of Galaxy S21 and S21+ seems to be flat, while the Ultra version has a slightly curved display. In the images, it is also observed that the bezels & chin size of all displays are significantly reduced.
Surprisingly, all the protective films didn't feature any punch-hole at all. Maybe, the new Galaxy S21 series features an under-display or any different solution, but this seems impossible for now.
As per previous reports, the new Galaxy S21 series is expected to feature Samsung's new Exynos 2100 chipset, which would be available in all regions except the US and China. In those regions, the Galaxy S21 series would be powered by Snapdragon 888 chipset.
The battery capacities of all models are already revealed. You can check our previous article for that. The charging power would be the same for all models: 25W (EP-TA800 25W Charger).
It is expected that Samsung may reveal the all-new Galaxy S21 series in the mid of the first month (January) of 2021.