Today, the famous blogger @sakitech (on Twitter) has revealed a significant leak regarding Samsung's upcoming 2021 flagship S series. The blogger has revealed the live images of the Galaxy S21+ & Galaxy S21 Ultra models.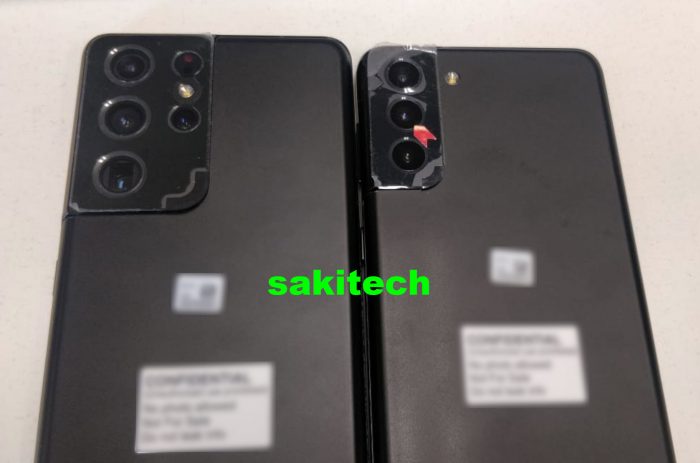 In the live images, it can be seen that the camera setup of both devices would be different from its predecessor devices in terms of appearance. The camera bump is attached to the left side of the phone. The blogger also revealed the specifications of the camera too.
It can be seen that the Galaxy S21 Ultra uses a Quad-Camera setup while the Plus version got three cameras. In terms of specifications, the Galaxy S21 Ultra uses a 108MP primary camera sensor (maybe Samsung HM3 sensor). It also features two telephoto lenses: one with 10x optical zoom and the other with 3x zoom.
There is another 12MP ultra-wide sensor. The camera also got a LaserAF sensor. The LED flash is placed under the laser sensor.
Come to the Galaxy S21+, it uses a Triple camera setup with a primary 12MP sensor, a 64MP telephoto lens & a 12MP ultra-wide lens. The camera specifications are almost similar to previous generation Galaxy S series smartphones.
It is also observed that both phones' back uses a Matte Black design, but it is also possible that this may not be a matte design. It may be just a simple protective film.
For other specifications of the Galaxy S21 series, check our previous articles.
The launch of Samsung's all-new Galaxy S21 series is expected on or around 14th January (as per blogger).