Back in Q1 2021, the famous Chinese IT equipment manufacturer "Huawei" sold its famous sub-brand Honor, purchased by "Zhixin New Information Technology Company Limited." Huawei developed this sub-brand to give tough competition to other smartphone brands in the online market.
After separating, the company is now moving to make itself a proper smartphone manufacturing company like other Chinese companies (for example, Xiaomi, Realme, and Vivo). Today, it is reported that the company is now planning to launch its own devices with the latest mindset.
Recently, we found that Honor has applied for the following trademarks in China :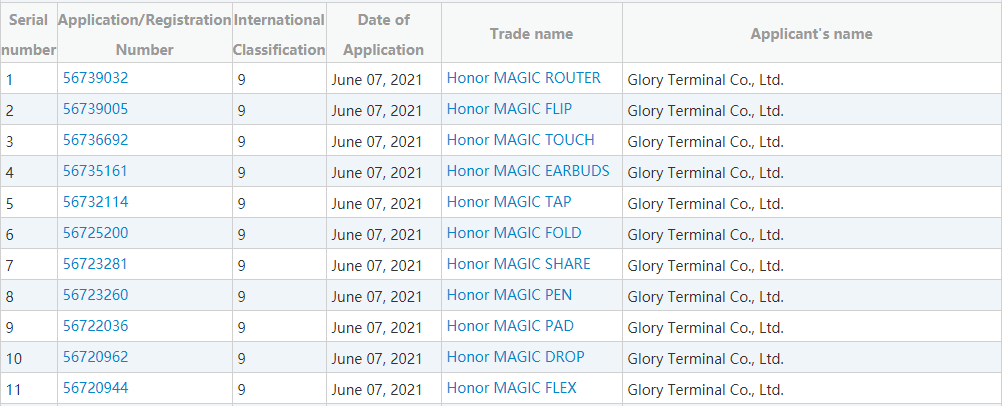 Honor Magic Router
Honor Magic Flip
Honor Magic Touch
Honor Magic Earbuds
Honor Magic Tap
Honor Magic Fold
Honor Magic Share
Honor Magic Pen
Honor Magic Pad
Honor Magic Drop
Honor Magic Flex
In the list, the major thing we got is the Magic Flip, Magic Fold, and Magic Flex which confirms that its future Honor will launch its foldable and rollable devices. Currently, in the smartphone industry, we have few brands that are selling foldable phones. But now, we can expect Honor's foldable phones in the market soon.
It is worth mentioning that previously the Honor Insiders revealed that "Honor basically imitates the previous practices of Huawei mobile phones, so there will also be folding screen products in the Magic series."
In addition, an announcement was previously issued by the famous display manufacturer Visionox. They signed the Purchase Agreement with Shenzhen Zhixin New Information Technology Company and Honor Terminal, on December 15, 2020, to supply flexible displays and touch screens to Honor.
As per sources, the launch of Honor's first foldable phone was tentatively scheduled to be released in the middle of the year (June 2021). But it seems that it has been delayed a little longer, considering affected by supply, the industry has been delayed in recent times, which is reasonable.
Come back to the other trademarks, some gadgets like Magic Earbuds, Magic Pad, Magic Router, and Magic Pen will also be exclusive from Honor. Honor is already selling its tablet devices, but Magic Pad's tag points us that this would be the flagship tablet series. Like this, other old things, including Router and Earbuds, might also be launched with flagship quality.
We also got some different names like Magic Tap, Magic Share, Magic Drop, and Magic Touch, which seems the upcoming software from Honor and is expected to be used for different purposes. We can conclude that the Magic Share and Drop will be used for sharing of files.
For now, we have minimal information regarding these devices. All of these devices will belong to Honor's Magic lineup, already well-known for its flagship smartphones.