It was reported that the new Huawei Mate 40 might be delayed due to the Pandemic situation. But recently, it is said (from Cailian News Agency) that the new flagship series will be launched according to every year schedule.
Today at China Informatization Conference 2020, (reported from SINA Technology) the CEO of the Consumer BG at Huawei "Yu Chengdong" has said that Huawei's consumer business sales revenue was 255.8 billion yuan in the first half of the year, and the global shipment of mobile phones was 105 million units. According to his predictions, the sales may be less than 2019 (which is 240M units) because of difficulty in chip supply.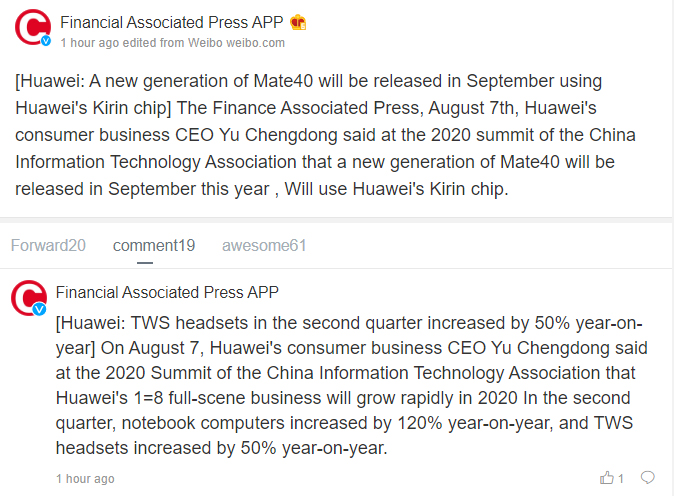 Moreover, it is also reported that Huawei is also planning to launch a new version of Huawei's previous flagship "Huawei P40" in the same month of Mate 40's launch. The upcoming version of Huawei P40 will use the company's chipset (Kirin). It is still not confirmed that this new version of Huawei P40 is a new color scheme or an upgraded version of Huawei's P40.
Previously, it was also reported from Yu Chengdong (in today's conference) that Huawei's notebook computers in the second quarter increased by 120% year-on-year, and true wireless headsets increased by 50% year-on-year.