iPhone X total cost leaked for $412.75
The iPhone X will be on sale in the early of November because of capacity limitations. The phone will be on sale in the early of November because of inventory limit. Now, some research organization has got the iPhone X's material specifications from the industrial chain and gave the phone's cost estimation. The total cost of iPhone X is close to 3000 yuan.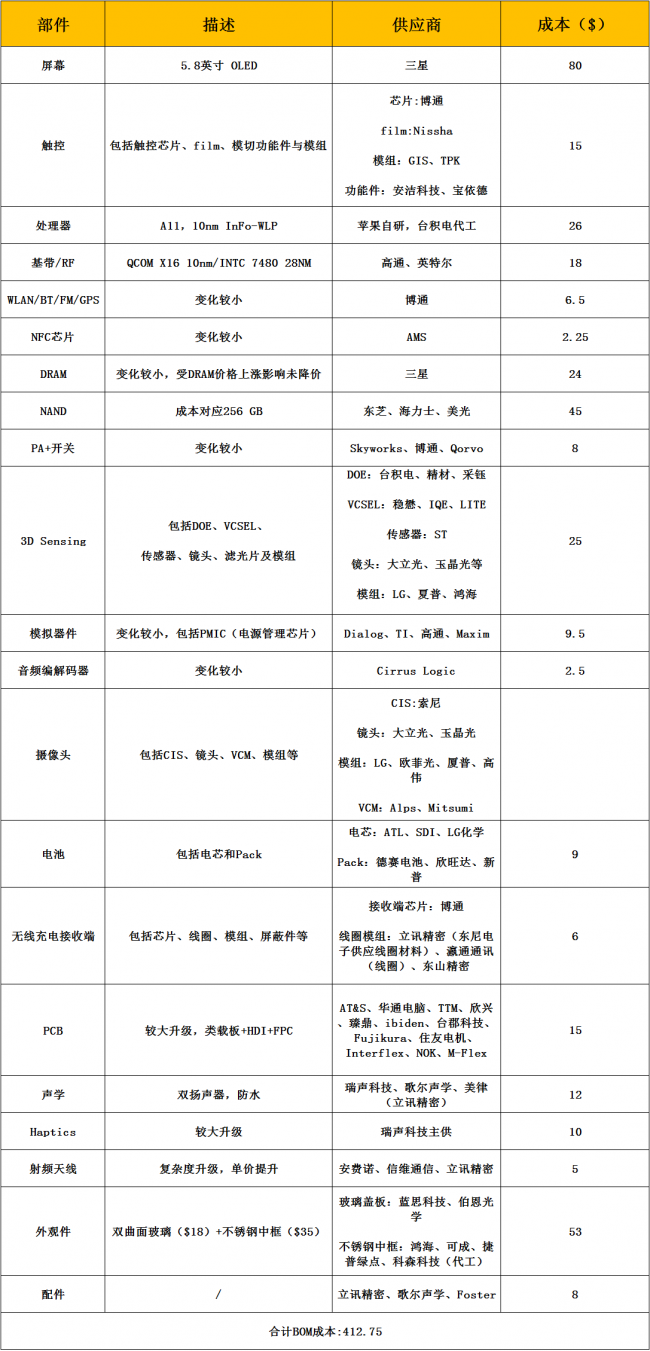 From the detailed material list of the iPhone X, its BOM cost is 412.75 dollars (approximately CNY 2700). The most expensive material is 5.8-inch OLED touchscreen from Samsung, which costs 80 dollars. The cost of the dual surface glass and middle frame is 53 dollars. In the meantime, the cost of its all-new A11 processor from TSMC is 26 dollars. The cost of baseband and radio frequency (RF) is18 dollars and the suppliers are still Qualcomm and Intel. The cost of RF antenna is 5 dollars. The cost of 3D camera is 25 dollars and on camera is 33 dollars. It battery costs 9 dollars and PCB costs 15 dollars. Haptics costs 10 dollars. There also other material costs. One of the largest cost of the iPhone X's material is DRAM and NAND 256GB variants provided by Toshiba, Hynix and Micron three suppliers. The cost of 256GB DRAM is 24 dollars and on 256GB NAND is 45 dollars.
The iPhone X is expected to popularize wireless charging, dual cameras, front 3D camera, facial recognition and other technologies.