Meizu Technology brought a head-mounted noise reduction headset to everyone at the Meizu 17 conference last year, but because the head-mounted headset is not convenient to carry, many users have been looking forward to the Meizu ANC true wireless headset.
On January 8th, the official Weibo account of Meizu Accessories announced that the Meizu POP Pro active noise-canceling headphones will be released on January 11th.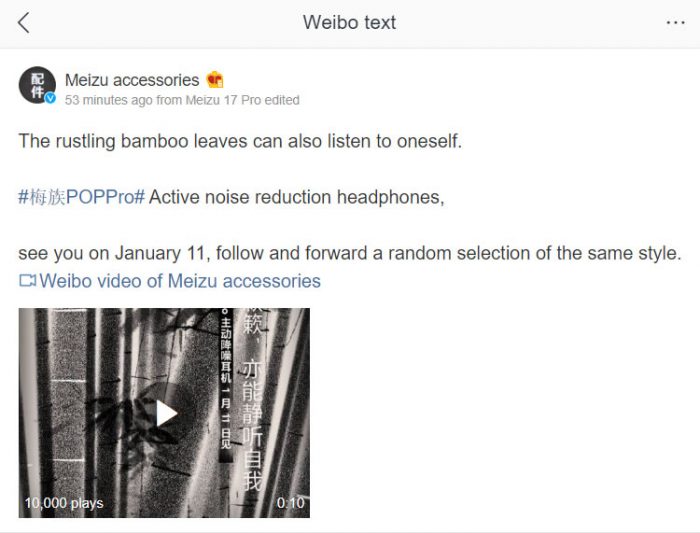 From the naming point of view, this headset of Meizu will inherit the name of the Meizu POP true wireless headset and be upgraded to the Meizu POP Pro version, and it supports active noise reduction.
Meizu POP Pro has been exposed as early as a month ago. Meizu announced the appearance patent of a headphone charging box (TWS ANC) on November 3rd. From the published design drawings, the appearance of Meizu POP Pro headset is very similar to AirPods Pro.
It also uses a rectangular design, with a power indicator on the front and a connection button on the back. The bottom has a Type-C charging port.
In addition, it is reported that Meizu POP Pro will also add a function similar to AirPods Pro transparent mode, which can provide three modes: normal mode, ambient sound mode, and noise reduction mode. Users can adjust the noise reduction mode suitable for the current environment through the APP. No matter what environment you are in, you can find the noise reduction effect that suits you.