As the time of launch of the new flagship (from Xiaomi) is coming near, things regarding the new Xiaomi Mi 10 Ultra is getting revealed.
Recently, we got another leak regarding the phone. It can be seen in the photo (mentioned below) that the new Xiaomi's flagship will feature a quad-camera setup. Moreover, it can also be understood that the phone supports 120x zoom. The camera setup can zoom in between 12-120mm with aperture from f/1.85 to f/4.1. The camera setup is arranged vertically in a rectangle-shaped box, while under the 2nd camera, there is a LED flash.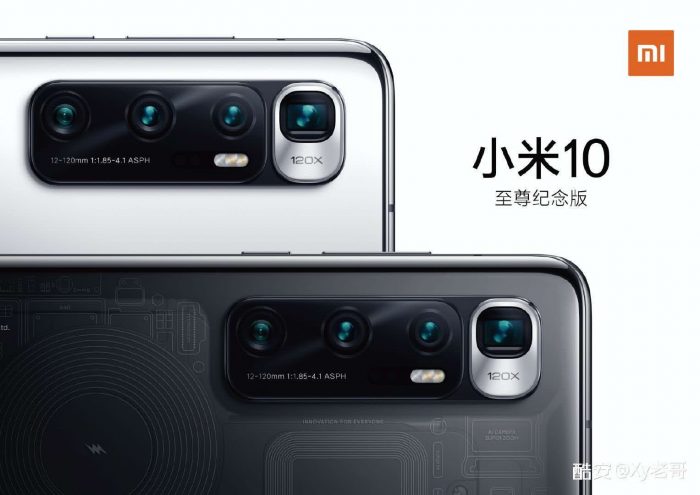 Moreover, in those renders, it can be seen that the new phone also consists of NFC. Xiaomi may launch a transparent version too, as the word "transparent" is also mentioned in those renders. It is confirmed that the phone will feature wireless charging, as the wireless charging coil is also can be seen in renders.
Previously, it was reported that the phone would be powered by the Snapdragon 865 (maybe SD 865+) with UFS 3.1 storage, LPDDR5 memory, and WiFi6 support. Moreover, there is a new VC liquid cooling system with a copper sheet, and 3D heat dissipation is confirmed to be featured on the phone. A new generation of in-display fingerprint scanner with dual super linear stereo speakers is also expected.
The phone will be available in two versions "Ceramic Version" and "Transparent Version." The transparent version will be available in 12/256GB and 16/512GB variants, while the ceramic version will be available in 8/256GB and 12/256GB variants.
Moreover, a 120Hz AMOLED display and 55W fast charging are only in rumors to be featured on the phone.
The phone will be launched on the upcoming Tuesday (11th August).