Today, the famous Chinese digital blogger @Digital Chat Station has revealed a new chipset from Mediatek. It can be seen that a new chipset with a codename, "MT6893", has been revealed on the Geekbench site.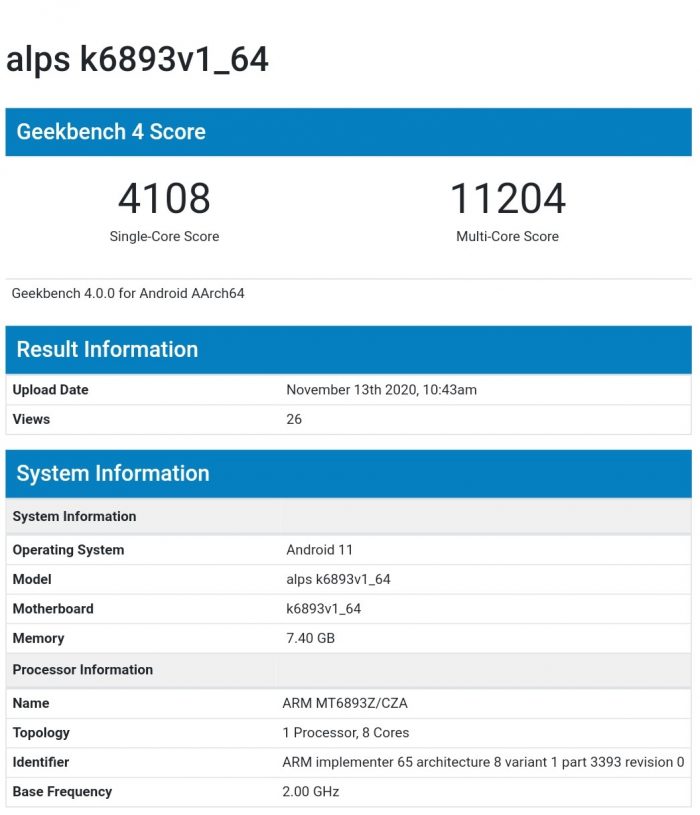 If compared with Dimensity 1000+, the chipset has scored more on the single-core, while on multi-core, its score is lower than Dimensity 1000+.
According to Digital Chat Station, this is an all-new chipset from Mediatek, which was already teased by the company a few days ago. The company also mentioned that the chipset would have a codename, "MT689X," in the chipset's teasing post. They did not reveal the last digit.
The chipset would feature the ARM Cortex-A78 core design, the highest frequency of the central core is 3.0GHz, and TSMC will manufacture it at 6nm process.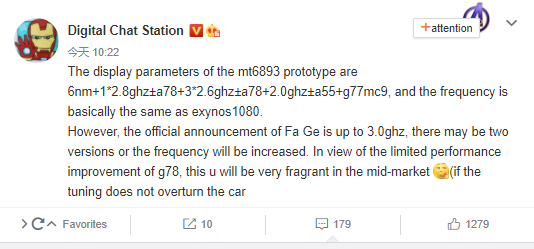 The digital blogger also then exposed the specifications of the chipset too. As per blogger, the new MT6893 chipset would feature a total of eight cores, which includes: 1x Cortex-A78 (clocked @2.8GHz) + 3x Cortex-A78 cores (clocked @2.6GHz) and 4x Cortex-A55 cores (clocked @2.0GHz). The GPU used inside the chipset is "Mali-G77 MC9".
The chipset's frequency is the same as in Exynos 1080 chipset, which Samsung revealed a few days ago. The digital blogger also mentioned that this chipset might have an overclocked version with up to 3.0GHz frequency (the same frequency mentioned by Mediatek's new chipset post).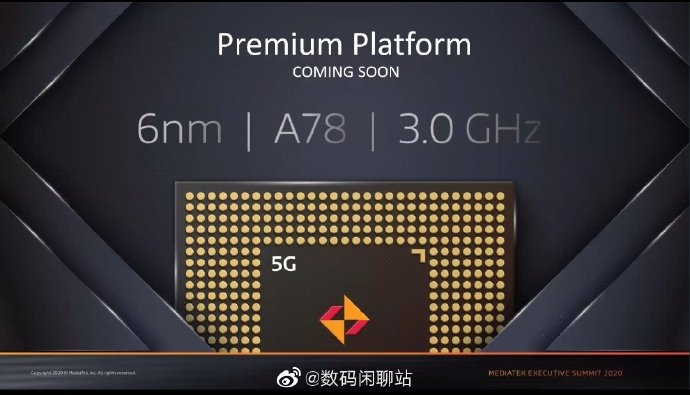 It is reported that the MT689X should be released before the end of this year, and it is likely to be carried on a mobile phone of a Chinese company, and the retail price of a mobile phone equipped with the MT689X chip may be up to 2K Chinese Yuan.
As per our reports, Xiaomi or its sub-brand (Redmi) may be the first to feature this chipset in their phones. It is worth mentioning that the blogger previously stated that MediaTek is preparing two new chipsets with the following codenames: MT6893 and MT6891, so the above-mentioned running chipset and MediaTek's official announcement chipset may not be the same chip.