Almost half of the bottom cover of MSI GS66 Stealth is covered with densely packed small holes, which serve to ensure heat dissipation. The bottom cover of MSI GS66 Stealth is made of metal, which can minimize the thickness while ensuring the stability of the fuselage structure.
In order to remove the bottom cover, we need to remove all the screws that fix the bottom cover. It is worth noting that there is a screw covered with MSI's fragile label. If the fragile label is damaged, it means you will lose the warranty. So during the laptop warranty period, it is not recommended that you upgrade the memory and SSD yourself.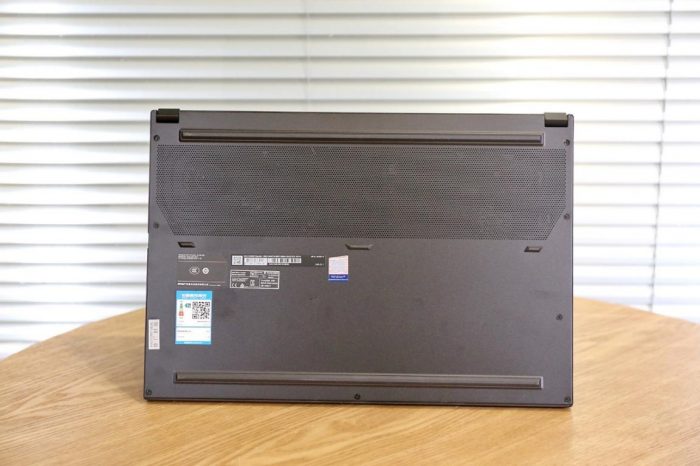 After removing the bottom cover, let's take a look at the inside of MSI GS66. Its cooling system has three fans and seven copper pipes, which can ensure the stable operation of MSI GS66 at high power, and the thinner body is not prone to overheating. All the memory, solid state drives, etc. are covered with black thermal pads, which play a role in heat dissipation.


It has two memory slots with two 8GB 3200mhz DDR4 memory modules. If necessary, you can replace them with two 16GB 3200mhz DDR4 memory modules.


This laptop comes with a 1TB Samsung PM981a OEM SSD, which supports the NVMe protocol.


This is the AX201NGW wireless network card, which supports Wi-Fi 6 networks and can reach a maximum wireless speed of 2400Mbps under a bandwidth of 1200MHz. In addition, there is an M.2 port on the right, which supports the PCIe standard and can be used to install an M.2 SSD.


It comes with a BTY-M6M 15.2V 6578mAh 4-cell lithium battery pack. It has almost the largest 99.9Wh battery capacity in thin and light notebooks, which is nearly 1.5 times that of ordinary thin and light gaming notebooks.