In order to upgrade the memory and SSD for the MSI Raider GE67 HX, we need to first remove the bottom cover to access the internal components. On the bottom cover, we found 10 visible screws, and another screw is under the white label on the right side. It is worth noting that this white label is the MSI tamper-proof label. If you damage this label, you will lose your warranty, so we recommend asking the seller to upgrade your hardware when you buy this notebook.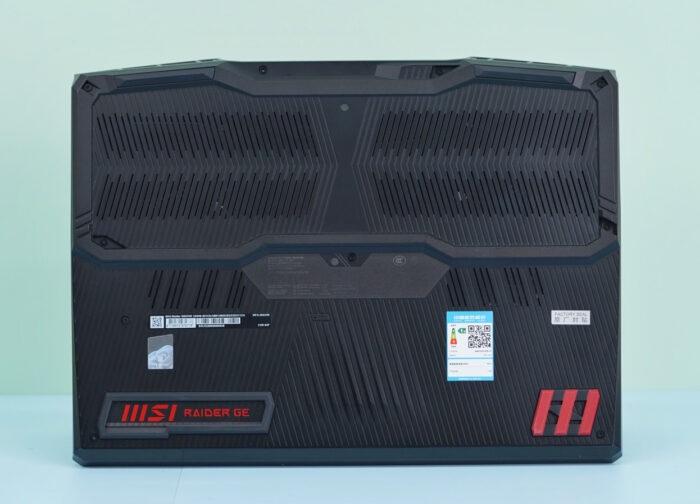 The MSI Raider GE67 HX has a large cooling grill on the bottom cover along with heightened feet. It not only makes for better cooling but also has some anti-slip effect. Remove the 11 screws, then insert the plastic tool between the bottom cover and the chassis, and slowly move the tool to release the bottom cover from the chassis until the bottom cover is completely separated from the chassis.
The MSI Raider GE67 HX has shields for the memory, SSD, and Wi-Fi card. We removed these shields for taking pictures. The upper part of the fuselage is the Cooler Pro cooling system called Cooler Boost 5, which consists of 2 cooling fans, 7 copper pipes, and 258 cooling fins.

MSI Raider GE67 HX has two PCIe 4.0 M.2 SSD ports, one of which is plugged into a Samsung PM9A1 2TB PCIe 4.0 SSD. The model of this SSD in the retail market is Samsung 980 Pro, and the other M.2 slot is empty. You can install a new PCIe 4.0 SSD if necessary.
This notebook has two SO-DIMM memory slots, which are occupied by two 16GB Samsung DDR5 4800MHz memory that make up a dual-channel memory; the total capacity is 32GB.
Also Read: MSI Titan GT77 Review (12-UHS, i9-12900H, RTX 3080Ti)
On the right side of the memory is the Killer AX1675i Wi-Fi 6E wireless network card, which integrates a Bluetooth 5.3 module. Under the hood is a lithium polymer battery with a capacity of 99.9Wh, 15.2V, 6578mAh, battery model is BTY-M6M.