In May 2021, MSI brought its new gaming notebooks, equipped with Intel's 11 Generation Core processors. These new gaming notebook models were launched in different series (from MSI). And today, we have decided to review one of them.
The laptop model we are going to review in this article is MSI Pulse GL76. Moreover, the variant we have selected is the one that comes with the combination of Core i7-11800H and RTX 3060 GPU, a powerful duo for gaming. Further, it is worth mentioning that this is the top-end variant in the Pulse GL76 model. The laptop comes with many breakthroughs, discussed in this article.
MSI Pulse GL76 Specifications
Screen
17.3-inch Full-HD (1920×1080) 16:9 IPS Display; 98% sRGB Color Gamut; 144Hz
 Processor
Intel® Core™ i7-11800H Processor 2.3 GHz (24M Cache, up to 4.6 GHz, 8 Cores)
Wireless Connection
 Wi-Fi 6 (802.11ax) + Bluetooth 5.2
Graphics card
NVIDIA® GeForce RTX™ 3060 (6GB GDDR6), Max Frequency: 1425MHz
Memory
16GB Dual Channel (2x8GB) DDR4-3200 MHz
Storage
1TB M.2 Samsung (PM981A) NVMe SSD
Camera
720p HD camera
Ports
1x 3.5mm Headphone Audio Jack
1x Type-C USB3.2 Gen1
2x Type-A USB3.2 Gen1
1x Type-A USB2.0
1x RJ45 LAN Port
1x (4K@60Hz) HDMI Port
Battery
53W/Hrs, 3-cell Li-ion Battery
OS
Windows 10 Home
Weight
2.6 kg
MSI Pulse GL76: Appearance, Design, and Portability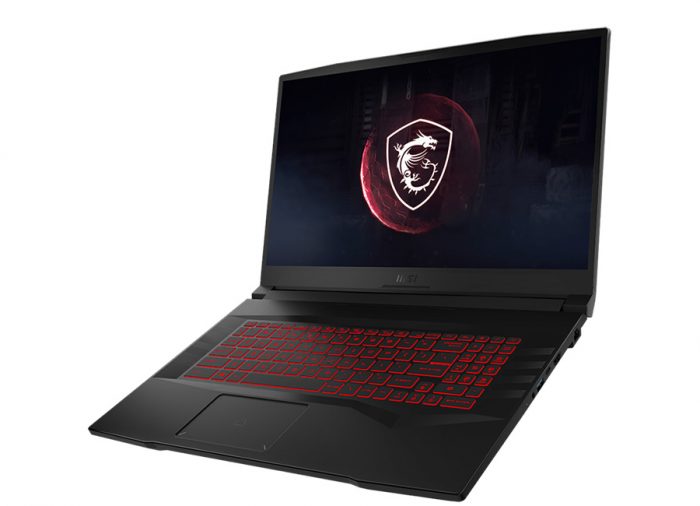 Starting from appearance, we can say that MSI Pulse GL76 comes with a unique design. In terms of build material, the shell of Pulse GL76 is made up of metal, while the entire body has a titanium gold finish. The outline is designed with metal-like armor, significantly increasing the notebook's durability. The design of the entire machine has a flavor of e-sports which we can call a blessing for gamers.
In addition to appearance and design, portability is also one of the most important factors. If a laptop lacks portability, many gamers will avoid buying that specific laptop. If we talk about the portability of MSI Pulse GL76, this gaming notebook is still acceptable as it comes with a weight of 2.6kg and a thickness of 24.2mm. Furthermore, the Pulse GL76 comes in only one color option: Titanium Gray.
MSI Pulse GL76: Display
The new MSI Pulse GL76 features a 17.3 inches bigger IPS display with a 16:9 aspect ratio, comes with a pair of Full-HD (1920*1080) Resolutions and a 144Hz refresh rate. For higher resolution (i.e., QHD+165Hz), the buyer needs to pay a bit more. The display also got narrow bezels on both sides, which helps in providing a broader vision and grabs the gamers' attention.

The higher refresh rate of 144Hz in Pulse GL76 brings a smooth gaming experience in addition to almost zero lag. Not only that, but the display also brings a relatively good color gamut performance. On testing, we found that the NTSC color gamut in the display is 69%, while the sRGB color gamut is 98%, AdobeRGB color gamut is 75%, and lastly, the DCI-P3 color gamut is 74%.
In addition to gaming, the display can also provide an excellent visual experience while watching the movies.
MSI Pulse GL76: Keyboard
The MSI Pulse GL76 comes with a full-size backlit keyboard (anti-ghost 84 keys) with monochrome and vivid colors across the keyboard area. If we talk about its appearance, the keyboard has a compact design, specially created for specific gamers.

It is worth mentioning that the MSI Pulse GL76 comes with a built-in application named MSI Center. This application lets the user customize the backlight's color on the keyboard and adjust various lighting styles as the user want. Overall, the keyboard would be a significant breakthrough for gamers who love RGB setup.
MSI Pulse GL76: Ports
If we talk about the term "ports" (or expansibility) in MSI Pulse GL76, we can say that the laptop is decent. The Pulse GL76 comes with seven ports, in which five of them are placed on the right side, while the other three are on the left side.
The five ports on the right side are following:
1x Type-C USB3.2 Gen1
1x Type-A USB3.2 Gen1
1x RJ45 (Ethernet/LAN Cable port)
1x (4K @ 60Hz) HDMI
1x 3.5mm Headphone Jack
In addition to five ports, we also got a CPU Status indication LED. Come to the right side; we have the following ports:
1x Type-A USB 3.2 Gen1
1x Type-A USB 2.0
Charging Port
This gaming notebook missed the Thunderbolt 4.0 port, which comes with many unique features like high-speed data transmission, external GPU support, external high-resolution display support, and many other things.
MSI Pulse GL76: Battery Life, SSD, RAM, and Wi-Fi:
Regarding the battery, we can say that MSI Pulse GL76 has performed decent, but that doesn't matter a lot as almost every gamer prefers gaming while charging. The new Pulse GL76 gaming notebook features a 3-cell, 53 Wh Li-ion Polymer (11.4V) battery having a capacity of 4700mAh. As officials claimed, the battery timing is up to 6 hours, but on testing, we found that it can give us an average of 4 hours on both web surfing and video playback.
The Pulse GL76 comes with a 180W (100-240V) AC Adaptor, which seems a perfect combination with this battery capacity.
Another exciting thing we found in this notebook is that we can charge it in four different modes with the help of MSI Center. The four different modes are AI Charge, Best for Mobility, Balanced, and Best for the battery. It depends on the user which charging modes suit him most.
The MSI Pulse GL76 comes with a 1TB M.2 NVMe SSD (Samsung PM981A) that eliminates the problem of running out of space due to too many games. In total, the Pulse GL76 has two M.2 SSD slots (NVMe PCIe Gen3).
The notebook also comes with a 16GB DDR4 3200MHz Dual Channel (Pre-installed 8GB x2) RAM that solves a common problem of excessive memory consumption while doing heavy gaming. The Pulse GL76 features 2x SO-DIMM Memory slots which can support a maximum of 64GB Memory. These days, this combination of SSD and RAM is a common choice for gamers.
We have also done SSD's test through the CrystalDiskMark application in which we found that it has a read speed of 3,408.16MB/s and a write speed of 3026.42MB/s, which meets the standards of high-end PCIe 3.0 SSD. It is worth mentioning that the user can monitor the status of SSD and RAM through MSI Center.
For testing RAM, we used a Dual channel performance test by AIDA64 in which we found that the 3200MHz DDR4 memory on Pulse GL76 has a 10% and 35% fast performance on read and write operations, respectively (compared with 2666MHz DDR4 memory).
The Pulse GL76 is equipped with Intel's Wi-Fi 6 Gig+ (IEEE 802.11ax standards for WLANs) combined with Bluetooth v5.2. We can say that the Pulse GL76 comes with today's standards in terms of networking. It has a 75% lower latency rate (compared to standard 802.11ac), which helps to get faster and smoother gameplay, better quality streaming, and an immersive communication experience.
It is worth mentioning that the Pulse GL76 also comes with the support of MU-MIMO, which allows a Wi-Fi router to communicate with multiple devices simultaneously.
MSI Pulse GL76: Cooling System
When it comes to Cooling System, the MSI GL76 uses the well-known Cooler Boost 5 cooling system with dual internal fans and six heat pipes, which can better suppress the heat generated by both the CPU and GPU (i7-11800H + RTX3060).

It further allows the entire machine to achieve near-perfect heat dissipation performance and allows Pulse GL76's performance to be fully released, resulting in an extraordinary gaming experience for players.
Moreover, the internal diameter of the thermal pipe has also been enlarged, and the company has also used its own special thermal grease. All these factors ensure that the heat dissipation system would be excellent during heavy gaming.
MSI Pulse GL76: CPU and GPU
The MSI Pulse GL76 is powered by Intel's latest 11th Generation Core i7-11800H SoC, which is common in gaming notebooks these days. The processor features a total of eight cores and sixteen threads with 24MB L3 Cache memory. The single-core frequency can be maximized, up to 4.6GHz.
It is worth mentioning that this 11th Generation SoC is based on Tiger Lake-H fully upgraded and brand new micro-architecture design and built with a 10nm SuperFin process. We can say that this SoC has achieved a perfect balance between performance and power consumption.
In addition to Core i7-11800H CPU, the MSI Pulse GL76 also features RTX 3060 GPU. The GPUs from RTX 3000 series are also viral in gaming notebooks these days. In terms of specifications, it comes with a 6GB DDR6 video memory and has a maximum frequency of 1425MHz.
Furthermore, the RTX 3060 also comes with some of the following highlights: built on the 8nm manufacturing process, 192 bits bus width, and based on GA106 cores. This GPU can smoothly run almost every mainstream game (currently available) in the market at 1080p resolution.
CPU Stress Testing, Performance and Rendering Test:
For doing this test, we used two software AIDA64 FPU (for CPU) + Furmark (for GPU), together to perform a 25-minutes double copy test on the MSI Pulse GL76. It is found that the power consumption of the CPU (Core i7-11800H) can be maintained at around 40 watts, while the GPU power consumption can be managed at around 80 watts, with no significant frequency drop. Overall, the phenomenon has proven to be highly reliable.
We have also done the performance test of Core i7-11800H through some testing applications. The name of those applications are following along with their results:
CPU-Z: In this application, we did the classic V17 test in which the single-core score was 605.5, while the multi-core score was 5435.

Cinebench R20: In this test, the single-core score was 576 points, while the multi-core score was 4345 points.
Cinebench R23: In this test, the single-core score was 1511 points, while the multi-core score was 11529 points.

GPU Performance Test:
After the CPU Test, we have also done a short GPU Performance test. For GPU Testing, we used the 3DMark application. The results are following:
Time Spy: the overall score was 7689, while the Graphics card score 7481.
Fire Strike: the overall score was 18213, while the Graphics Card score was 19921.
Fire Strike Extreme: the overall score was 9063, while the Graphics card score was 9351.

Gaming Test:
As the MSI Pulse GL76 is a gaming notebook, the gaming test on this notebook is necessary. As we mentioned above, this gaming notebook can efficiently run the games currently available in the market at Full-HD Resolution (1080p).
For the gaming test, we have selected the four most popular games currently in the market.
Assassin's Creed: Odyssey: In this game, we set the resolution at 1080p (Full-HD) with special effects turned on; the average frame rate on Pulse GL76 was 63 FPS.
Far Cry 5: In the Far Cry 5 gaming test, we again set the resolution at 1080p and turned on the special effects. It is found that the Pulse GL76 can give us an average frame rate of 119 FPS.
Tomb Raider: Shadow: While testing this game, we enabled the special effects option, and it was found that this gaming notebook can give us an average frame rate of 108 FPS, which is quite a lot smoother. But we did another test, in which the special effects were still on, but this time we also turned on ray tracing and set the quality to high, and then we got an average frame rate of 66 FPS which is still more than reasonable.
Cyberpunk 2077: While testing Cyberpunk 2077, we turned on the high image quality, turned off the ray tracing and DLSS mode. It was observed that the game could be maintained at about 60 FPS, ensuring a smooth gaming experience. Then we did another test in which the ray tracing was turned on with medium image quality settings while the DLSS was turned on and set at performance mode; now, the average frame rates were 70FPS, which further guarantees the player's visual experience addition to higher FPS smoother gameplay.
Summary:
MSI Pulse GL76, as a gaming notebook for mainstream players, meets the rigid performance requirements of mainstream players. When it comes to the visual experience, the higher refresh rate and wide color gamut can bring players an excellent gaming experience. Some prominent highlights like 16GB DDR4 Dual Channel Memory, 1TB NVMe SSD, and special Keyboard lighting effects allow the Pulse GL76 to meet the players' needs in various ways. Moreover, the overall experience is pretty decent. The notebook is already available in the market with extreme competition. In final, we can say that it's a good option for gamers who prefer large screens.