According to the official poster released by Redmi, Redmi will release its K40 series mobile phones after the Chinese New Year, which means that the release conference will be held in February. The K40 series includes at least two models, the model with Snapdragon 888 will be starting from 2999 yuan.
The industry believed that the Redmi K40 series will include two models in accordance with the usual practice, but the latest news from the Digital Chat Station shows that this series may include three models, models may be K40, K40S, and K40 Pro.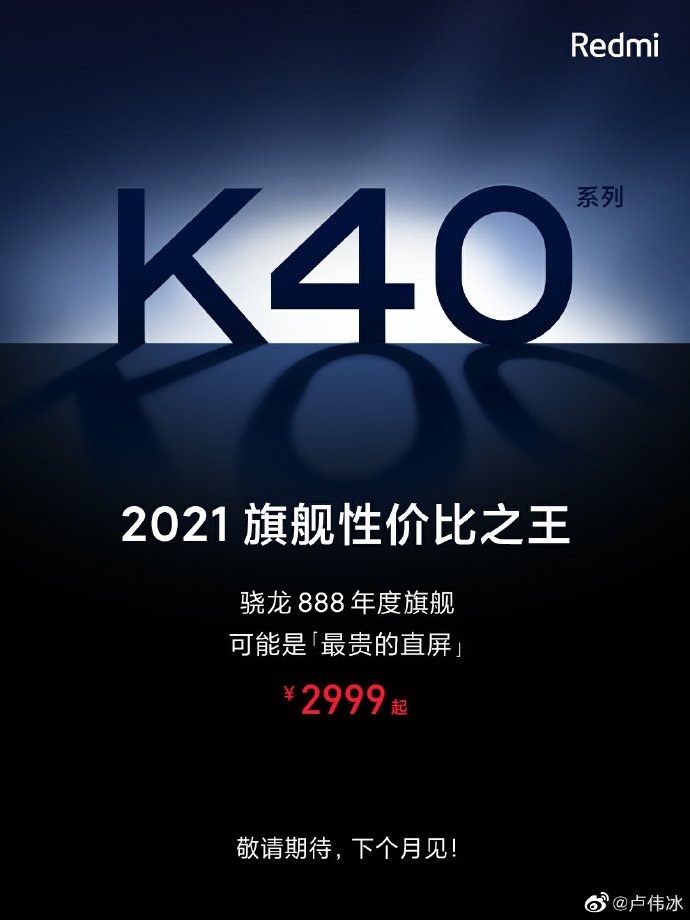 Digital Chat Station also pointed out that the Redmi K40 Pro will use a 108MP main camera, so it can be speculated that other versions should use a 64MP main camera.
Combined with official hints and previous news, the Redmi K40 series uses Samsung E4 OLED screens, which increases the amount of light while reducing power consumption. Officials say it may be the most expensive straight screen.
In terms of the core configuration, it can be basically determined that the K40 Pro is equipped with the Snapdragon 888 processor, and the basic model may be equipped with the Snapdragon 870 or Dimensity 1200, which is not yet confirmed.
The charging speed is not too radical. According to the news, the phone uses a single-cell fast charge, and the internal stacking structure of the battery has been adjusted, and the size and weight of the phone have been optimized.
The information leaked from Zhihu shows that the Redmi K40 series will be launched on February 25. Of course, the details will be subject to the official announcement.