Recently, on April 24. Apple launched its new iPhone SE (2nd Generation) with a price tag of 3299 Yuan (equals to 465 USD). It is the cheapest phone of Apple available in the market right now, but still, it is not as cheap as it should be.
Recently, a local cybersurfer uploaded a simple teardown video of the iPhone SE 2020. In that teardown video, the iPhone SE 2020 was compared with the iPhone 8. Overall, Apple didn't let everyone down, because the new phone is a derivative version of the iPhone 8.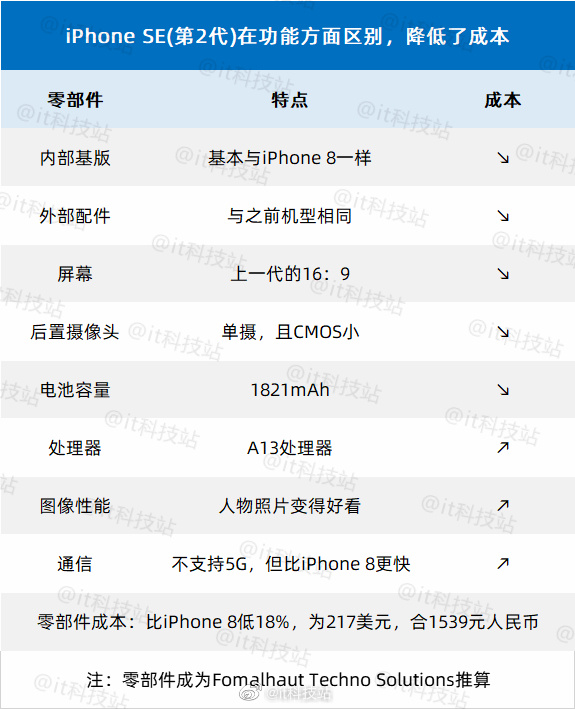 After the teardown, it was observed that the majority components of iPhone SE 2020 are identical to the iPhone 8 components. However, some things like the modem, WiFi chip, battery interface, and flashlight settings are still different from iPhone 8. Moreover, the camera module and processor (Apple A13 Bionic) are the same as in the iPhone 11, iPhone 11 Pro, which are the latest flagships of Apple.
From the overall configuration, it seems like the new iPhone SE beats iPhone 8 in almost everything. However, according to the news on Weibo, iPhone SE 2020 cost is 18% lower than the iPhone 8 roundabout 217 US dollars (equals 1539 Yuan), which is the reason why the pricing is budget-friendly.
It can be seen that the new iPhone SE 2020 (64GB Variant) costs only $217, including parts, which is still 18% lower than the iPhone 8. If compared with the iPhone 8 (value 38%) and new iPhone 11 (cost 48%), buying a new iPhone SE 2020 is quite cost-effective for consumers.