Today, Xiaomi Auto debuted at the Ministry of Industry and Information Technology, and Xiaomi's first car may be named SU7. According to the declaration information, Xiaomi's first model will have three versions: SU7, SU7 Pro, and SU7 Max. Lei Jun, founder, chairman and CEO of Xiaomi, previously said that the first model of Xiaomi Auto will be officially launched in the first half of 2024. According to the declaration information, the manufacturer is Beijing Automotive Group Off-road Vehicle Co., Ltd.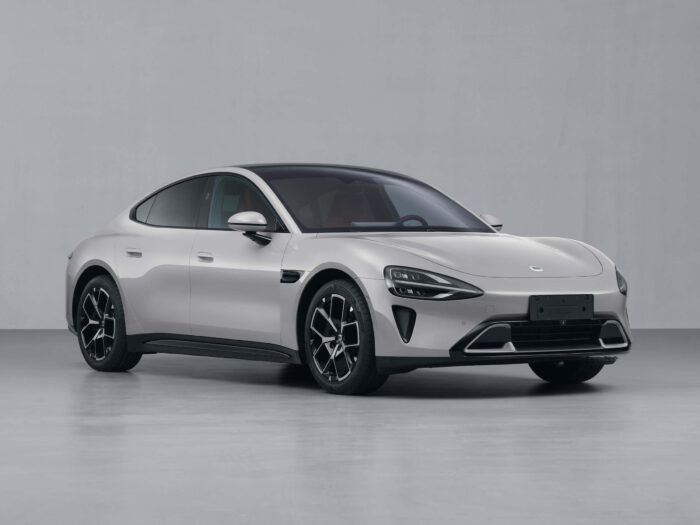 The front end of the new car is relatively low-slung in design, with bulging lines on both sides of the hood to further emphasize the sense of power. The shape of the lights is very interesting, there are four LED main light sources, while there are two longitudinal LED light sources inside, which may be used as an indicator for the driver assistance function, at the same time, the new car will also be equipped with LiDAR and have a high-level assisted driving ability.
The sides of the car have a more streamlined shape throughout, creating a wide-body effect on the rear fenders. The new car also incorporates the popular recessed door handle design, which also makes the car's drag coefficient further reduced. In terms of body size, the length/width/height of the new car is 4997/1963/1455mm, and the wheelbase is 3000mm. The new car is available with 19-inch and 20-inch wheels. As you can see from the declaration picture, the new car is equipped with Brembo high-performance brake calipers.

The Xiaomi SU7 adopts an upturned design style, with through-type taillights and a recessed shape, which is highly recognizable. We also see that the rear of the new car is marked "北京小米", which also indicates that the car is manufactured at Xiaomi Automobile's Beijing Yizhuang factory. At the same time, the new car comes standard with an active rear wing.


Xiaomi SU7 is equipped with lithium iron phosphate batteries from Xiangyang Fodi Battery Co., Ltd., which are divided into two versions: single motor and dual motor, with a peak power of 220 kW for a single motor and 220 kW and 275 kW for dual motors, respectively.
The first model of Xiaomi Auto will also be equipped with Xiaomi HyperOS system. The battery pack of this car has a rated voltage of 726.7V, a rated capacity of 139Ah, a battery pack capacity of 101kWh, and a weight of 642kg.