ZTE has attracted a lot of attention because it released the world's first mass-produced under-screen camera phone – ZTE Axon 20 5G. On November 19th, at the "China Mobile Global Partner Conference", ZTE showed its unreleased new mobile phone – ZTE Blade 20 Pro 5G. We only know that it will be equipped with a Qualcomm Snapdragon 765G processor and a rear quad-camera system. As for other specifications, ZTE did not disclose.
On November 23rd, ZTE announced on its official Weibo that the Blade 20 Pro 5G will be released on November 30th. At the same time, ZTE also released a poster including a rendering of this phone. From the poster, it seems that the appearance of the Blade 20 5G does not seem to be much different. The poster also revealed that the phone will be equipped with a curved screen, but did not disclose the specific specifications of the screen. In addition, this phone is also very slim, with a body thickness of only 7.9mm, which should feel good in the hand. In other configurations, ZTE officially revealed that the rear camera module of this phone will consist of a 64-megapixel main camera and 3 auxiliary cameras.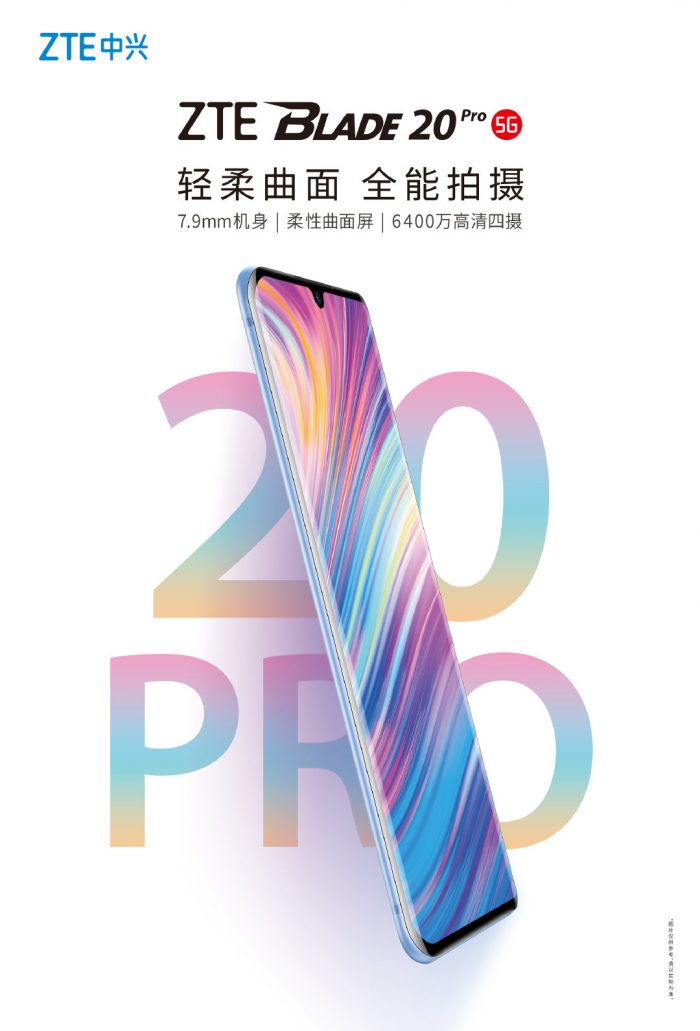 Earlier this month, ZTE released the blade 205g with a 6.52 inch IPS LCD waterdrop screen with 720 * 1600 pixels. This mobile phone is equipped with a dimension 720 chip based on ARM architecture, with two cortex-a76 cores, the frequency is 2.0GHz, and the clock frequency of six energy-saving cores is 2.0GHz.