ASUS ROG GL553VE features an Intel's seventh-generation Core Duo processor (i5-7300HQ or i7-7700HQ), an 8GB DDR4-2400MHz RAM, maximum support 32GB DDR4-2400MHz memory, 128GB SSD and 1TB mechanical hard drive, and an NVIDIA GTX1050 Ti Discrete graphics card. We dismantled the laptop specific model of ROG GL553-VE7700.
The laptop body thickness of 30mm, ASUS through the optimization of material and structure, the weight of this product will be controlled to 2.5kg. This weight is acceptable for a 15.6-inch gaming laptop.
Thanks to the relatively thick body, so it got more excellent scalability. The left side of the fuselage has RJ45, HDMI, USB3.0 and USB Type-C port. The right side of the fuselage to provide a DVD burner (yes, that is, the drive is not a bracket) and a USB2.0 port.
In this guide, you will learn how to disassemble the ASUS ROG GL553VE and upgrade the SSD, RAM and HDD.
Teardown is what we do! Follow us on Facebook for the latest repair news.
1. Removing the bottom case
Remove all visible screws from the bottom case.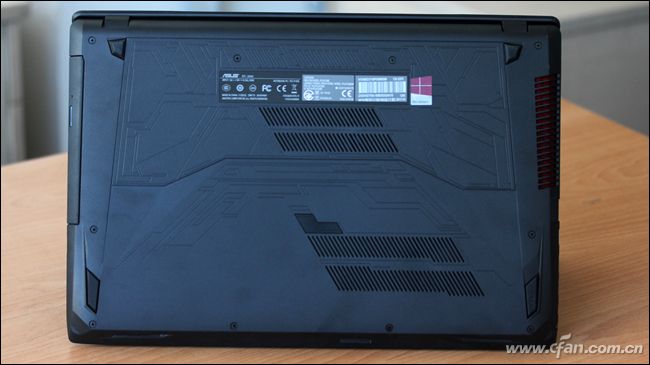 There is a screw under the rubber foot. If you forget to screw it down, violent demolition will cause irreversible damage.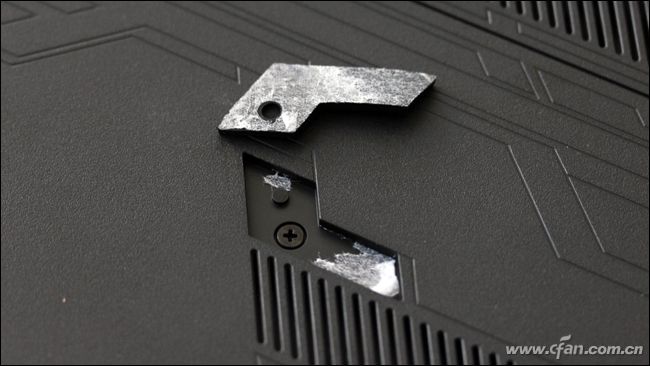 With the bottom case removed, you can get access to the battery, hard drive, SSD, RAM, speaker modules, heat sink, cooling fan, wireless card and motherboard.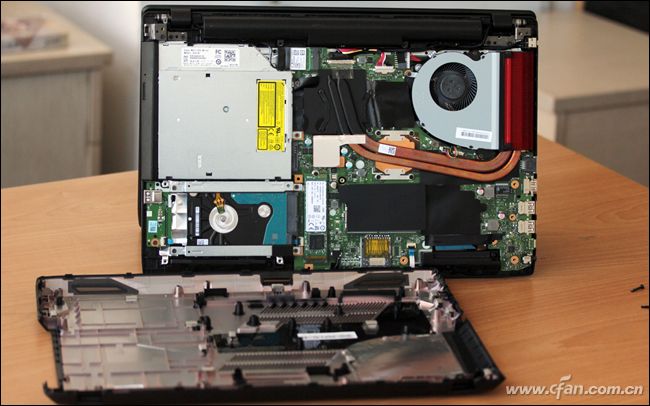 The laptop uses a battery consisting of 3 cells 18650, the capacity of 48Wh.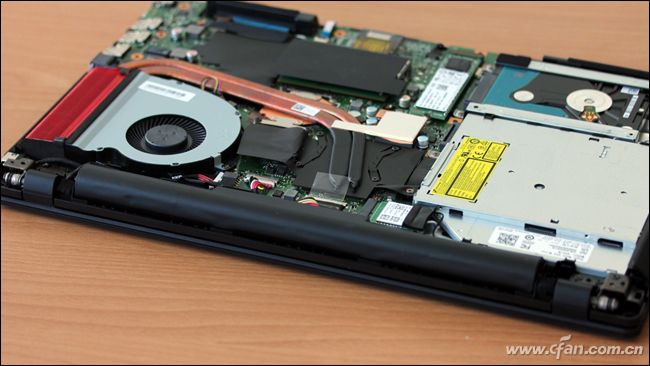 2. Removing the optical drive
Here's optical drive, you can buy an optical drive caddy to install a 2.5″ hard drive or SSD.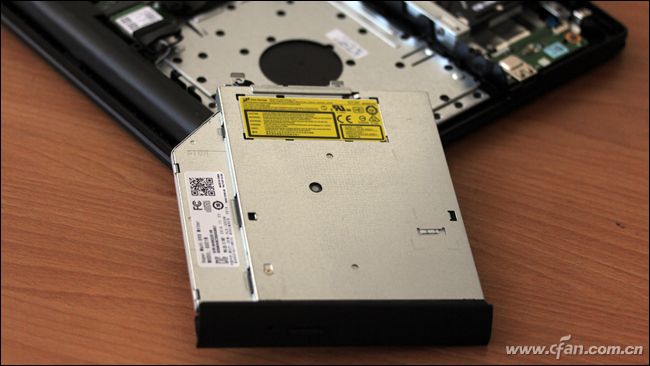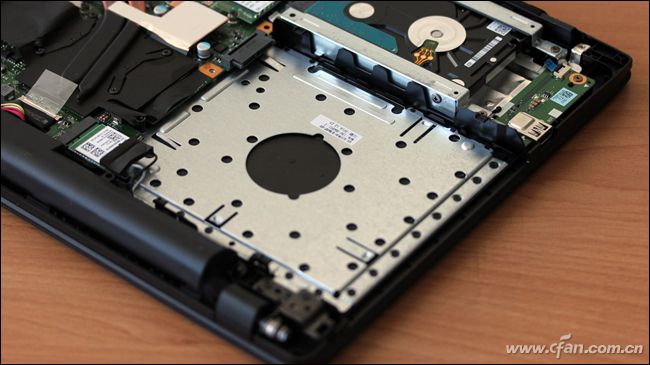 3. Wi-Fi card upgrade option
Here's ROG GL553VE wireless, it supports 802.11 AC and Bluetooth.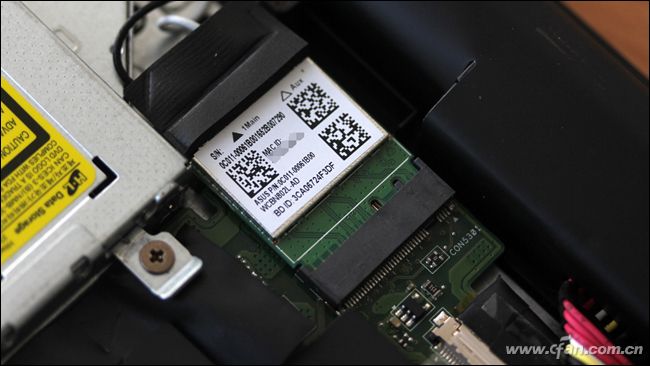 4. ASUS ROG GL553VE HDD upgrade & Removal
Here's HDD hard drive. It is fixed on the metal bracket, with good shock resistance.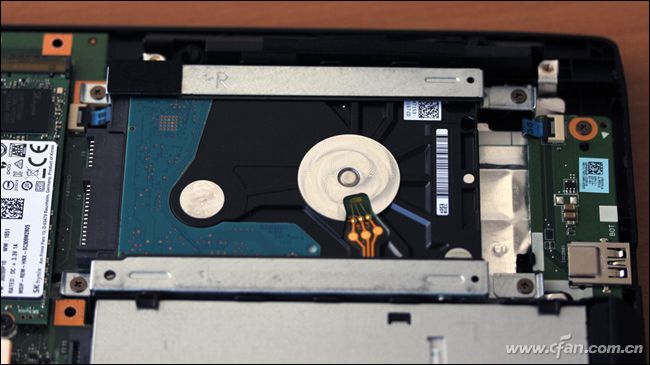 5. ASUS ROG GL553VE M.2 SSD upgrade & Removal
SK Hynix 128GB SSD, unfortunately, it is with SATA channel. The good news is that the M.2 slot should be supported NVMe SSD.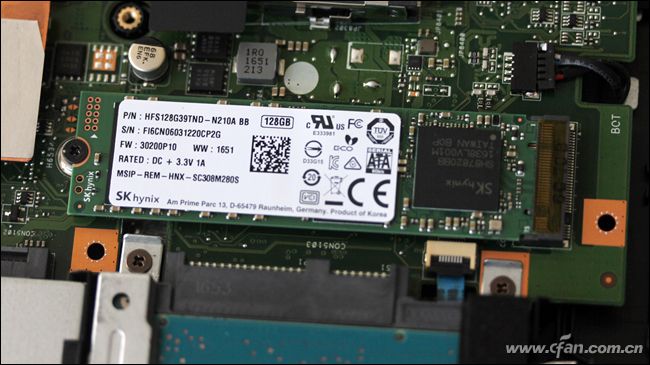 6. ASUS ROG GL553VE RAM memory upgrade & Removal
It comes with an 8GB DDR4-2400MHz memory, but also has a spare memory slot. If necessary, you can install two 16GB memory to form a 32GB dual channel mode.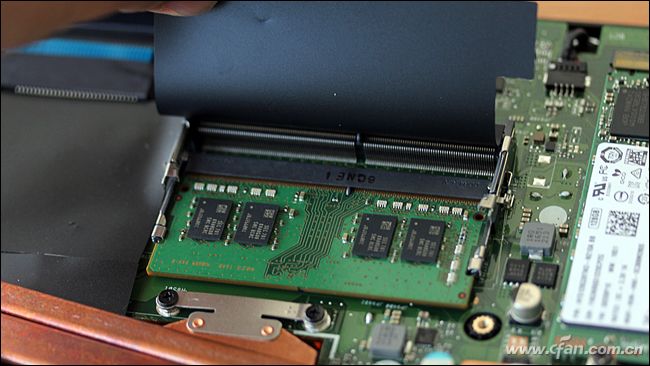 Two speakers embedded in the fuselage on both sides of the front, let the sound closer to the player from the location of the transfer out, the sound quality is still very good.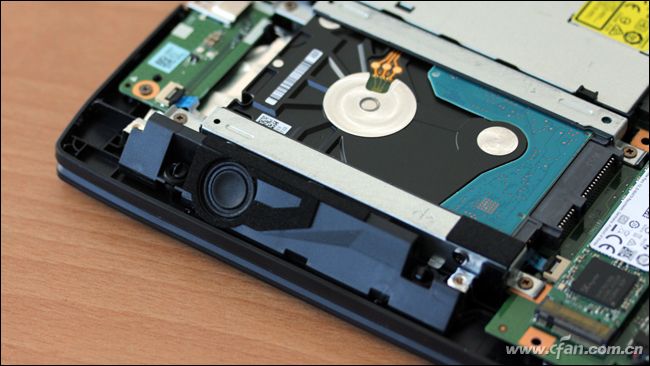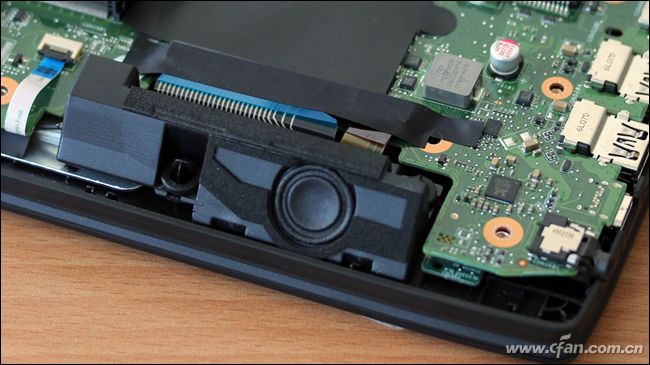 Asus ROG GL553VE heat sink and cooling fan module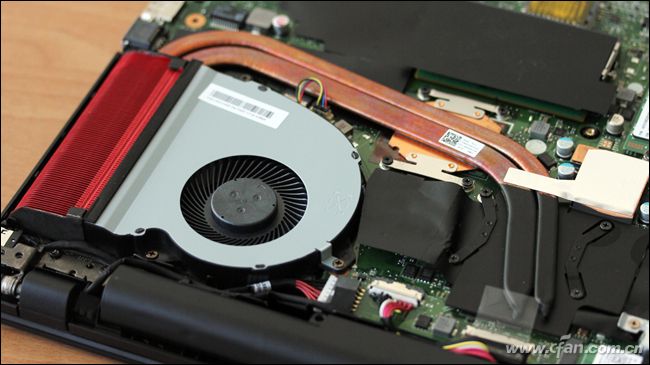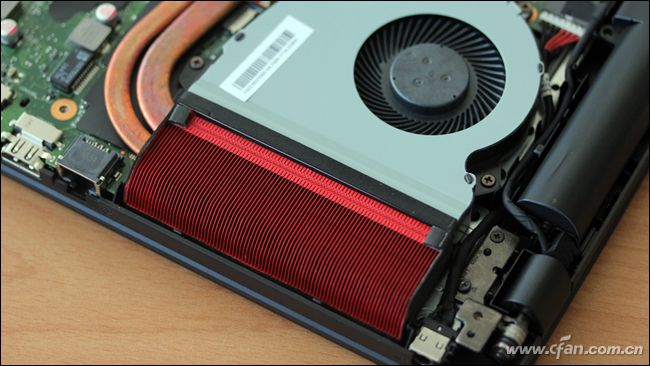 The ROG GL553VE keyboard, screen, cooling fan and adapter are available in our parts store.
Source: cfan.com.cn