HP's laptop range encompasses a diverse selection, meeting the requirements of a broad audience. On the one hand, they offer high-performance models with cutting-edge features and sleek designs, catering to professionals and tech-savvy individuals. Simultaneously, HP provides more budget-friendly options, ensuring that affordability doesn't mean sacrificing quality. These laptops, designed for everyday tasks, maintain HP's commitment to innovation and reliability, making them a dependable choice for consumers with various preferences and needs.
The laptop we're about to review belongs to the ProBook lineup, a series meticulously designed with professionals in mind. These laptops are purpose-built for the business world, offering a harmonious blend of top-notch performance, exceptional durability, and stringent security measures. Their robust construction ensures they're well-suited for the most demanding work settings. One standout feature of the ProBook series is its flexibility, offering a range of configurations to cater to a wide variety of professional needs. Moreover, these laptops come equipped with advanced security features like fingerprint recognition and a Trusted Platform Module (TPM) for data protection. HP's ProBook series reflects the company's steadfast commitment to delivering professionals a reliable tool to meet their business demands, making it a tried-and-true choice in corporate circles.
Today, we delve into the HP ProBook 450 G10, a laptop exquisitely equipped with the Intel Core i5-1340P CPU, accompanied by integrated Intel Iris Xe graphics. This latest addition to Intel's business segment CPUs stands out for its commendable balance of high performance and shallow power consumption, making it an exemplar of efficiency. Further, this notebook boasts a 2.5K IPS screen that elevates visual clarity, complemented by a generous 16GB DDR4 RAM and a lightning-fast 1TB PCIe Gen 4 SSD. As we explore its array of features in detail, it becomes evident that this notebook stands as a compelling choice for discerning users.
In terms of pricing, the HP ProBook 450 G10 enters the market with a base offering at $600, featuring the Core i3-1315U CPU. The model under our scrutiny today, priced between $1100 and $1200, positions itself as a mid-range contender. However, its expansive feature set reflects qualities typically associated with flagship devices, rendering it a standout choice within its class.
HP ProBook 450 G10 Specifications
Screen
39.6 cm (15.6 inches) diagonal, QHD (2.5K), UWVA, eDP, IPS antiglare, narrow bezel, bent, 300 nits, 100% NTSC, BOE0B6A
Processor
Intel Core i5-1340P (1.4 GHz Efficient-core base frequency, up to Efficient-core 3.4 GHz frequency with Intel Turbo Boost Technology), 12 MB cache and 12 cores
Wireless Connection
Realtek RTL8852CE 802.11ax (2×2) Wi-Fi 6E and Bluetooth 5.3 Wireless Card
Graphics card
Intel Iris Xe
Memory
16 GB DDR4-3200 MHz SDRAM (1 x 16 GB), manufactured by SK Hynix
Storage
1TB NVMe PCIe Gen4 SSD (manufactured by Samsung), Supports Dual Channel Memory
Camera
5MP IR Camera and Webcam
Ports

2x Thunderbolt 4 with USB4 Type-C ports; 40 Gbps signaling rate (USB Power Delivery and DisplayPort 1.4)
2x USB 3.2 Gen 1.0 Type-A ports; 5 Gbps signaling rate (one charging port)
1x RJ-45 Ethernet port
1x HDMI 2.1 port (cable sold separately)
1x Headphone/microphone combo jack
1x Power input port
1x Nano SIM card slot (optional)

Battery
HP Long Life 3-cell, 51Wh Polymer Battery with 65W AC adapter
OS
Windows 11 Pro
Windows 11 Home
Windows 11 Pro Education
Windows 11 Enterprise
Weight
1.78kg (3.96lb)
HP ProBook 450 G10: Body Design and Appearance
Commencing with the display shell, it boasts a construction of metal sheathed in a premium-grade aluminum alloy, reflecting meticulous attention to detail. The surface texture exhibits a pleasingly smooth finish, inviting tactile exploration. Positioned at the center, the ever-recognizable HP logo retains its captivating aesthetics, ensuring both visual appeal and enduring brand recognition.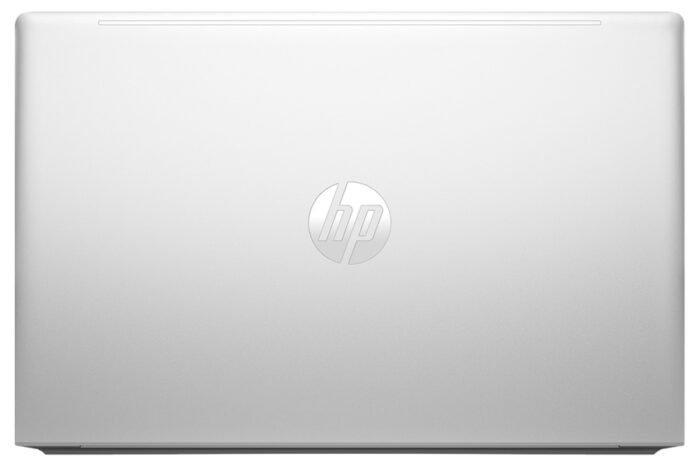 Upon opening the laptop, our attention is drawn to a 15.6-inch display with impressively slim bezels encased within a plastic frame. The display's versatility shines through with its 180° hinge design, facilitating various usage angles in different scenarios while ensuring robust resilience against external pressure. Notably, the horizontal bar situated above the display shell serves a dual purpose as an antenna, proficiently receiving signals. It's interesting to observe that while laptop antennas are traditionally placed at the bottom of the keyboard or along the inner edge of the screen, this innovative placement underscores an intriguing departure from convention.

In technical terms, this notebook stands out with its compact size, measuring 359.1 x 233.6 x 19.2mm (width, depth, and height), and it's impressively lightweight at around 1.78kg. With its sleek 19.2mm profile and super-light 1.78kg build, it offers outstanding portability, making it a breeze to carry over extended periods without any discomfort.
HP ProBook 450 G10: Display
The HP ProBook 450 G10 brings a range of display choices, and the one we have here is quite the standout. It's a 15.6-inch screen that's a real visual treat, featuring a sharp 2.5K resolution and a super-smooth 120Hz high refresh rate. It's important to note that this particular display option is available in selected regions. What truly distinguishes this display from the more common 1080p screens is its level of visual finesse. It keeps the standard 16:9 aspect ratio but goes the extra mile to minimize annoying glare with its anti-glare properties. What's incredibly cool is the hardware-level blue light filtering, which is fantastic for office work or gaming. It's easier on the eyes, reducing the chances of feeling tired after extended use. Altogether, this display offers a superior visual experience and keeps your eyes comfortable.

One aspect where this display does have a minor downside is its lack of support for 1W ultra-low power consumption. This particular feature omission can lead to a relatively shorter battery life when compared to other display variants.
In our display testing using Spyder X, we obtained the following results: the display covers 98% of the sRGB color gamut, 78% of Adobe RGB, and 77% of the DCI-P3 color gamut. The peak brightness of the screen measured at an impressive 330 nits with a commendable contrast ratio of 950:1. Interestingly, it's worth noting that the official advertising claims a brightness of 300 nits, indicating that this display surpasses expectations in this aspect. It's also important to mention that some of the 1080p display variants in this category offer even higher brightness levels at 400 nits. In our color accuracy test, the average Delta E value was a respectable 2.1, with the maximum value being 4.38 and the minimum at 0.65. For users involved in tasks like picture design and color correction, it's advisable to calibrate the screen color for precise results. However, for everyday office tasks and entertainment purposes, the display performs well without the need for calibration.
 HP ProBook 450 G10 Screen Test Results

sRGB
98%
Adobe RGB
78%
DCI-P3
77%
Maximum Brightness
330nits
Contrast Ratio
950:1
Average Delta E
2.1
Minimum Delta E
0.65
Maximum Delta E
4.38
At the top of the display frame, you'll find a notable addition – a 5MP webcam with an 88° recording angle. This is a significant upgrade over traditional 720p cameras, with a pixel count five times higher. As a result, video quality is substantially crisper, and the field of view is impressively wider. What's even more impressive is its physical privacy mode feature. When not in use, the camera can be physically blocked, providing an adequate safeguard against privacy breaches. Beyond this, the camera supports infrared face recognition unlocking, which automatically recognizes faces when the notebook is turned on, freeing your hands and letting you log in to Windows directly.
HP ProBook 450 G10: Keyboard & Ports
The HP ProBook 450 G10 boasts a top-tier spill-resistant full-sized keyboard that includes a  numeric pad and supports two-level backlit illumination. Given its 15.6-inch display, the inclusion of a Numeric Pad is indispensable. The keyboard's surface is elegantly crafted from metal, exuding a premium feel. With a key travel of 1.5mm, typing on it provides a satisfying rebound, ensuring that prolonged use won't quickly fatigue your hands. The rubber dome keycaps contribute to a quieter typing experience, minimizing disturbances to those around you.
However, there are a couple of key arrangement issues to note. The up and down arrow keys are notably smaller in size, which may lead to accidental presses. Additionally, the positioning of the power button adjacent to the delete key within the keyboard area raises the potential for inadvertent touches. Furthermore, the lower right side of the keyboard surface houses a convenient fingerprint sensor for added security. Below the keyboard, there's a standard touchpad that supports multi-touch gestures for smooth navigation.
HP deserves commendation for its judicious approach to port placement in this slim and lightweight HP ProBook 450 G10. The notebook is thoughtfully equipped with a comprehensive array of ports, catering to the everyday needs of office users.

Starting from the left side, we find the RJ45 LAN Port, a USB 3.2 Gen1 Type-A port, and a security lock hole. On the right side, there's the AC charging port followed by 2x USB 4 Type-C Ports (supporting Thunderbolt 4, USB Power Delivery, and DisplayPort 1.4), a USB 3.2 Gen1 Type-A port, an HDMI 2.1 Port, a 3.5mm headphone jack, and a SIM card slot.
This extensive port selection eliminates the need for users to carry additional USB docks or adapters. In comparison to previous notebook reviews (including the Acer Swift Edge 16 SFE16-43), HP has undoubtedly excelled in ensuring that the ProBook 450 G10 is well-appointed with an assortment of ports to meet the diverse connectivity demands of its users.
HP ProBook 450 G10: Battery
Regarding the battery, the HP ProBook 450 G10 comes equipped with a 3-cell 51WHr built-in battery. According to the manufacturer's specifications, this battery is expected to deliver up to 13 hours of usage, although the specific usage scenario for this duration remains undisclosed.
To facilitate swift recharging, the company provides a 65W AC Adapter, ensuring that the battery can be replenished efficiently.
In our battery evaluation using PCMark10 in a modern office mode, we adopted specific settings for a fair assessment. The laptop was set to a balanced power mode, maintaining a Wi-Fi connection while disabling Bluetooth, with the screen brightness adjusted to 30%. Commencing the test at 98% battery charge, it concluded at 6%, resulting in a total backup duration of 6 hours and 25 minutes.
It's noteworthy that the battery performance exhibited a slight improvement when compared to its predecessor models, a welcome evolution in this regard.
HP ProBook 450 G10: RAM and SSD
In terms of memory, the HP ProBook 450 G10 features 16GB DDR4 RAM operating at a frequency of 3200MHz. While DDR4 might appear somewhat older, it still possesses ample capacity to cater to your daily office requirements efficiently. It's worth noting that, given its budget-oriented nature, HP has opted for slightly older generation RAM as a cost-saving measure. Upon disassembling the notebook, we discovered a single RAM module manufactured by SK Hynix. Additionally, the motherboard offers an additional RAM slot, permitting users to expand their memory capacity. Notably, the maximum supported RAM capacity for this system stands at 32GB, providing flexibility for future upgrades.
For RAM testing, we used the AIDA64 Cache and Memory benchmark test, yielding the following results: 47,538 MB/s Read Speed, 47,281 MB/s Write Speed, and 44,392 MB/s Copy Speed, with a latency of 73ns. These scores appear to be well-suited for typical daily office tasks and closely align with the performance of other DDR4 RAM-equipped notebooks.
Turning our attention to the SSD, the model under review is equipped with a capacious 1TB PCIe 4.0 SSD, providing ample storage that should alleviate any concerns about running out of space. However, for users with particularly demanding storage needs, HP has thoughtfully included an additional M.2 SSD slot, supporting a maximum storage capacity of 256GB. The 1TB SSD included in this notebook hails from the reputable manufacturer Samsung, bearing the model number PM9B1, ensuring both reliability and robust storage performance.
In assessing the SSD's performance, we conducted two comprehensive tests to gauge its capabilities. Firstly, using the AS SSD benchmark testing software, we obtained the following results: 3016.2 MB/s in Sequential Read Speed, 2024.3 MB/s in Sequential Write Speed, along with 76.5 MB/s in 4K Random Read Speed, and 221.6 MB/s in 4K Random Write Speed. Subsequently, utilizing CrystalDiskMark, we recorded the following outcomes: 3629.3 MB/s in Sequential Read Speed, 3018.1 MB/s in Sequential Write Speed, 77.2 MB/s in 4K Random Read Speed, and 170.5 MB/s in 4K Random Write Speed. These results unequivocally demonstrate that the SSD's speed is more than sufficient for a wide range of daily office tasks, including handling large files, copying, pasting, and more.
HP ProBook 450 G10: CPU and its Benchmark
The HP ProBook 450 G10 is powered by the Intel Core i5-1340P CPU, which belongs to the Intel Core 13th-generation lineup. This processor stands out with its innovative architecture that combines 4 P-cores and 8 E-Cores, creating a total of 12 cores and 16 threads, enabling high-performance multitasking. The P-cores operate at around 2.6GHz, while the E-cores have a frequency of approximately 2.1GHz. This combination of cores and clock speeds results in a capable and versatile processor, ideal for a wide range of computing needs. The CPU also boasts a generous 12MB of third-level cache to enhance data access and a remarkable maximum turbo frequency of 4.6GHz, ensuring efficient processing of demanding tasks. It's important to note that the notebook is offered with a range of CPU variants, spanning from 13th Gen i3 to i7. In our evaluation, we selected the i5-1340P model as it stood out as the most suitable choice for this review.
We also did a benchmark test of the CPU, which is mentioned below:
Cinebench R15: 1831cb on Multi-Core and 99.05fps in OpenGL
Cinebench R20: 679cb on Single-Core and 4,007cb on Multi-Core
Cinebench R23: 1,759pts on Single-Core and 10,436pts on Multi-Core
HP ProBook 450 G10 CPU Benchmark

Single-Core
Multi-Core
CineBench R15
null
1831cb
CineBench R20
679cb
4007cb
CineBench R23
1759pts
10436pts
HP ProBook 450 G10: GPU and its Benchmark
The Core i5-1340P is complemented by integrated Intel Iris Xe graphics, offering a competent graphics solution. It's noteworthy that the notebook is also available with an RTX 2050 Mobile GPU variant, but we refrained from recommending it due to its underwhelming performance. The Intel Iris Xe 80EU GPU in this configuration is consistent with the previous generation. In terms of gaming capabilities, it's well-suited for online games like Counter-Strike: Global Offensive and DOTA 2. Furthermore, it can handle basic tasks such as medium-level photo editing and short video editing. The Intel Core integrated graphics also provide support for codec acceleration, resulting in enhanced video editing speeds compared to some AMD-powered alternatives.
We also did a GPU benchmark test, which is mentioned below:
3DMark TimeSpy: 1,419 GPU Score and total score was 1,628.
The benchmark scores closely resemble those of other notebooks powered by the Intel Core i5-1340P processor. This consistency underscores the reliability and predictable performance associated with this CPU across different laptop models.
HP ProBook 450 G10: Heat Dissipation and Stress Testing
The bottom of the HP ProBook 450 G10 is adorned with a sleek metal cover, showcasing a clean and minimalist design. Right at the center, you'll notice an intelligently placed opening, serving a dual purpose as both an air intake and a crucial spot for heat dissipation. This well-considered design is pivotal for maintaining the laptop's optimal temperature balance. Inside the notebook, the thermal management system is equally well-engineered, featuring a lone cooling fan and a pair of heat pipes. This setup is more than capable of efficiently handling the heat generated by the Core i5-1340P CPU, ensuring that the laptop runs smoothly and remains comfortably cool during operation.
CPU Stress Testing: In our stress testing of the notebook using the AIDA64 FPU application, we observed a steady power consumption of 30W by the CPU. The CPU's core temperature reached 86°C, while the overall CPU temperature stabilized at 89°C after more than 30 minutes of testing. Interestingly, under these high-load conditions, the CPU's performance improved, and the core temperature was effectively controlled.
Summary
The HP ProBook 450 G10 strikes a balance between performance and style. With its Intel Core i5-1340P processor, it delivers a smooth computing experience. The 15.6-inch 2.5K display is a visual treat, and the 120Hz refresh rate keeps things extra smooth. The keyboard is excellent for typing, but the layout might take a bit of getting used to. This laptop is packed with ports, making it super versatile, and it keeps it cool even during intense tasks. It's a great buy in the $1100 to $1200 price range, offering power and portability for everyday office tasks.