A few days ago, it was reported that Samsung is now working on the Lite version of Galaxy Tab S7, launched in August 2021. Many leaks of the expected tablet series are already surfing on the internet.
The upcoming Galaxy Tab S7 Lite has recently been listed on the Chinese 3C Certification, which is famous for revealing the charging and battery specifications of the smartphone. The same thing happened again, and the charging specifications of the Galaxy Tab S7 Lite have been revealed.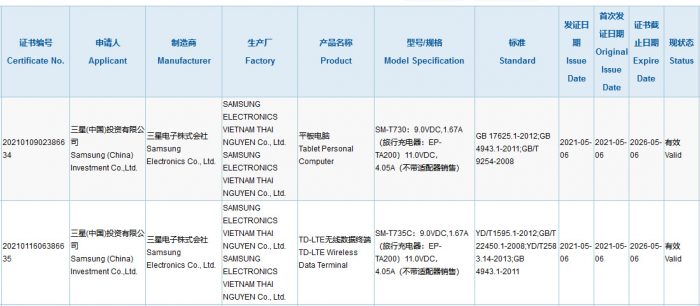 As can be seen, the Galaxy Tab S7 Lite would support a maximum 44W (11V, 4.05A) charging speed. Further, it is also mentioned that the charger wouldn't be shipped along with the tablet. The famous and old 15W charger EP-TA200 is also mentioned, which would be available for buying separately.
The charger EP-TA200 supports a maximum of 15W (9V, 1.67A) charging and 10W (5V, 2A) charging. The buyers will need to buy a non-Samsung charger to avail of 44W charging as there is no 44W charger from Samsung. The company has manufactured a maximum of only 25W chargers until now.
The 3C Certification has also revealed that the model number SM-T730 would belong to the Wi-Fi version, while the model number SM-T735 would be the LTE (SIM Supported) version of the Galaxy Tab S7 Lite.
As mentioned, the applicant for this certification is Samsung (China) Investment Company Limited, while the manufacturer is Samsung Electronics Company Limited. The issuing date of the 3C Certification is May 6, 2021 (yesterday).
Previously, the Galaxy Tab S7 lite renders were also revealed, which confirmed that the device would feature a display with slimmer bezels and chin. Like the standard version, the Galaxy Tab S7 Lite would also feature a dual-camera setup.
Moreover, the support of S Pen will also be there, along with the AKG branded stereo speakers in the tablet. Overall, the design would be a lot similar to the standard version.
Currently, there is no information about the launch of the all-new Galaxy Tab S7 Lite.