Dell, as one of the pioneering entities in the computer industry, has sustained an unwavering legacy, emerging as one of the most enduring and esteemed computer brands in existence. Right from its inception, the company has consistently preserved a sterling reputation within the market, underpinned by its unwavering dedication to quality and a relentless pursuit of innovation. Presently, Dell continues to lead the charge in the technology sector, retaining its position as the preeminent choice for a substantial and devoted consumer base. Its sustained popularity serves as a testament to its remarkable capacity to adapt to the perpetually evolving technological landscape while remaining steadfast to the core principles that have engendered its enduring appeal among successive generations of users.
Dell, a prominent technology conglomerate, strategically caters to a diverse range of consumers with its well-defined product lineups. The Inspiron series, positioned at the budget-conscious end, offers affordable laptops without compromising essential features, ensuring practicality and reliability. Moving up the spectrum, the Vostro and Latitude series introduce mid-range options that strike a balance between performance and cost-effectiveness, appealing to both home and business users. At the pinnacle of their product portfolio stands the XPS series, characterized by cutting-edge technology, premium materials, and top-tier performance, catering to professionals and tech enthusiasts seeking the utmost in computing power and innovation. Dell's adept segmentation guarantees a suitable solution for everyone, regardless of budget or computing needs.
The notebook under review today is the Dell Latitude 5440, which is part of Dell's Latitude series. This series is typically positioned in the mid-range category and is renowned for its focus on catering to the business laptop segment. The Latitude 5440, in line with its series, embodies the qualities essential for professionals, offering a balance between performance, durability, and features tailored to meet the demands of a business-oriented audience. Its reputation for reliability and business-friendly specifications makes it a notable choice for those seeking a capable and dependable computing companion in the corporate world.
In terms of specifications, we have opted for the base version of Dell Latitude 5440, which is powered by Intel's 13th Generation Core i5-1335U CPU that is integrated with Intel Iris Xe GPU. The notebook is priced at $1600. In other aspects, it comes with a non-touch IPS Display that supports a Full-HD+ resolution for pleasing visuals. Furthermore, it boasts a robust 16GB of Single Channel DDR4 RAM, a speedy 512GB PCIe 4.0 SSD for efficient storage and data access, and a reliable 3-cell 42WHr battery. All the aspects are discussed below in detail.
Dell Latitude 5440: Specifications
Screen
14.0″ FHD (1920×1080) Non-Touch, AG, IPS, 400 nits, FHD Cam, SLP, ComfView+, WLAN/WWAN(5G)
Processor
13th Gen Intel Core i5-1335U (12 MB cache, 10 cores, 12 threads, up to 4.60 GHz Turbo)
Wireless Connection
4G CAT16 – Intel XMM 7560R (DW5823e)
Graphics card
Intel Iris Xe (Integrated GPU)
Memory
16 GB, 2 x 8 GB, DDR4, 3200 MT/s, Non-ECC, dual-channel
Storage
512 GB, M.2 2230, PCIe NVMe, SSD, Class 35 (manufactured by Dell)
Camera
Full-HD (1080p) + IR Webcam
Ports

1x Universal Audio Jack
2x USB 3.2 Type-A Gen1 ports (PowerShare supported)
1x HDMI 2.0
1x RJ45
2x USB Type C Thunderbolt 4.0 (with Power Delivery & DisplayPort)
1x Nano-SIM Card Slot (optional)
1x Contacted SmartCard Reader (optional)

Battery
3-cell, 42WHr Polymer Battery with 65W AC adapter (100W Adaptor also available)
OS
Windows 11 Pro
Weight
3.06lbs (1.39 kg)
Dell Latitude 5440: Body Design and Appearance
Commencing with the topmost structure of the Dell Latitude 5440, the notebook's display cover and keyboard surface exude a premium ambiance, crafted from aluminum, delivering a tactile sense of refinement. Nevertheless, it is essential to note that the remainder of the notebook, including the bottom cover and display frame, is fashioned from plastic materials. A noteworthy aspect is that 18% of the plastic used in the construction of this notebook is derived from recycled sources, aligning with eco-conscious practices. In comparison, other components incorporate 100% recycled and renewable materials. It's imperative to underscore that the device includes innovative elements, featuring ocean-based and post-consumer recycled plastics throughout its design. Additionally, the Dell Latitude 5440 boasts EPEAT Gold certification, signifying its adherence to the highest global electronics environmental standards. It is worth noting that this notebook only comes in Silver-Gray.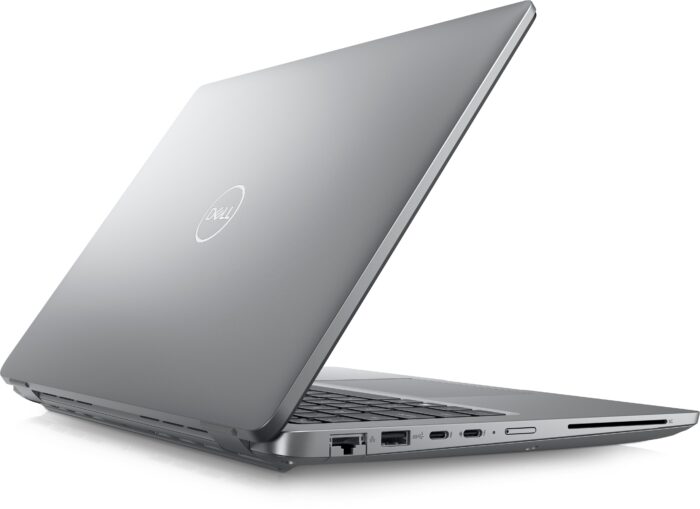 As we delve into the technical specifications, the notebook boasts compact dimensions, measuring 321.4 x 212 x 19.1mm and tipping the scales at a mere 1.39kg. Notably, this represents a slight reduction in thickness from the previous model, culminating in an exceptional level of portability. Users will find the notebook's extended use over time to be comfortable and devoid of discomfort, even during prolonged carrying periods.
Finally, it's worth noting that the rotating shaft within the notebook facilitates a full 180° flipping capability, providing users with versatile usability scenarios. This feature not only enhances user experience but also optimizes heat dissipation efficiency by creating additional space for the cooling system's hot air dispersion.
Dell Latitude 5440: Display
Regarding its display, the Dell Latitude 5440 boasts a 14-inch IPS LCD Anti-Glare Display featuring a 16:9 aspect ratio and offering a Full-HD resolution of 1920 x 1080p, with an impressive brightness rating of 400 nits. This combination of resolution and luminosity ensures that the display remains consistently clear, irrespective of ambient lighting conditions, be it in brightly lit surroundings or dimly lit spaces. Notably, the display carries the ComfView+ certification, which signifies its integration of low blue light technology, enhancing user comfort during extended periods of utilization and mitigating the risk of visual fatigue.

In regard to the display's physical attributes, it features remarkably slim borders on both the left and right sides, contributing to an aesthetically pleasing and immersive viewing experience. The top bezel, however, is slightly more substantial, primarily due to the inclusion of a high-quality full-HD infrared camera. This enhanced camera not only offers superior imaging capabilities but also seamlessly supports Windows Hello, enabling secure and efficient login procedures. By simply opening the cover, users can access the system swiftly, ensuring data security and streamlining the process without the risk of missing crucial information.
In our display evaluation, we used the Spyder X software as our testing tool. The results revealed that the display covers the entire sRGB color gamut, encompassing 100%, which is particularly noteworthy for professional photo retouchers who require an extensive monitor color gamut. Furthermore, it achieves 78% of the Adobe RGB and 79% of the DCI-P3 color gamut. Our color gamut testing also yielded valuable insights, with the display showcasing an average Delta E value of 0.55. The highest recorded value stood at 3.82, while the lowest was a mere 0.08, underscoring the display's commendable color accuracy and calibration.
 Dell Latitude 5440 Screen Test Results

sRGB
98%
Adobe RGB
78%
DCI-P3
79%
Maximum Brightness
400nits
Average Delta E
0.55
Minimum Delta E
0.08
Maximum Delta E
3.82
It's pertinent to highlight that the Dell Latitude 5440 offers various display options to cater to diverse user preferences. The primary distinction among these display variants lies in the choice between touch and non-touch panels, in addition to variations in brightness levels. The particular model we evaluated does not feature a touch panel, emphasizing its focus on a non-touch user experience.
Dell Latitude 5440: Keyboard and TouchPad
Regarding the keyboard, the Dell Latitude 5440 is equipped with an English US backlit keyboard comprising 79 keys. It follows the island-type design, and upon prolonged use, it becomes evident that the keys offer moderate feedback and a distinctive sinking sensation, which effectively reduces typing fatigue during extended usage. The power button, uniquely positioned at the upper right corner of the keyboard, stands out due to its slightly shorter length compared to conventional buttons. It presents a tactile challenge with a firm press, ensuring easy identification, even in low-light conditions. It's worth noting that the model under review does not feature a fingerprint sensor; however, this functionality is available if the buyer wants.

Beneath the keyboard, a moderately sized touchpad measuring 11.5 x 6.7cm comes into focus. While it may not be expansive, it certainly fulfills the needs of everyday usage. The touchpad boasts a sleek and glassy surface, offering a pleasantly smooth tactile experience. Cursor control and the recognition of multi-touch gestures are notably efficient, ensuring precise and lag-free positioning. For the average office user, there's little need to carry around an external mouse, as this touchpad capably serves their navigation and interaction requirements.
Dell Latitude 5440: Ports
In the realm of connectivity, the Dell Latitude 5440 impressively offers a comprehensive array of ports, effectively catering to various office needs while maintaining its slim and lightweight profile. Commencing from the right side of the notebook, we find a 3.5mm headphone jack, a USB 3.2 Gen1 port with PowerShare support, an HDMI 2.0 port, and a wedge-shaped lock slot, ensuring secure device management. On the left side, the notebook features an RJ45 LAN port, a USB 3.2 Gen1 Type-A port, and, notably, two USB Thunderbolt 4.0 Type-C ports, equipped with Power Delivery and DisplayPort support, adding versatility to its connectivity options.
It's important to note that the model we are reviewing supports 4G network connectivity, accommodating the modern demands of connectivity. This feature is complemented by the presence of a nano-SIM card slot, providing an optional connectivity avenue for buyers. However, it's worth mentioning that this model does not include a SmartCard reader, although this is available as an optional feature. Given the diverse range of ports and connectivity options provided, it's safe to say that users of the Dell Latitude 5440 need not rely on an external USB dock, as their connectivity requirements are well-covered.
Dell Latitude 5440: Battery and Charging
Delving into the realm of battery performance, the Dell Latitude 5440 in our evaluation arrives equipped with a 3-cell 42WHr battery. While the battery capacity may appear modest relative to the laptop's size, considering its 14-inch form factor, it can still yield a commendable battery backup. It's worth mentioning that an alternative variant of the notebook is available, featuring a 3-cell 54WHr battery, albeit at a higher cost. Notably, this laptop embraces fast charging technology, accompanied by a 65W Type-C charger. This feature ensures expedited recharging, a boon for those who may find themselves in need of a quick charge while on the move during their workday.
For those desiring even more rapid charging capabilities, Dell offers an enticing 100W fast charging option, which can be selected for an additional $20 when purchasing the notebook directly from Dell's website. This upgrade not only underscores Dell's commitment to user convenience but also ensures that the laptop is well-prepared to meet the dynamic and demanding requirements of modern professionals.
In our battery assessment, we conducted the PCMark 10 battery life test, simulating modern office scenarios. The Dell Latitude 5440 yielded a commendable battery backup of 7 hours and 25 minutes. This performance is not only impressive but also entirely suitable for typical daily office tasks when fully charged at the beginning of the day. Additionally, it's worth noting that in case one forgets their laptop charger, the laptop can be charged using a mobile phone charger, adding a layer of convenience.
Furthermore, the notebook boasts a PowerShare Function, allowing it to function as a power bank, facilitating the charging of mobile phones and various other digital devices. This versatility further enhances the notebook's utility, underscoring its adaptability to the dynamic needs of the modern user.
Dell Latitude 5440: RAM, SSD, and Network
Regarding its RAM configuration, the Dell Latitude 5440 impressively features 16GB of DDR4 RAM (3200 MT/s). While the DDR4 RAM configuration may be perceived as slightly older, Dell offers a forward-looking alternative. For the Latitude 5440 powered by the Intel Core i7-1370P CPU, Dell presents the option of DDR5 RAM, albeit at an additional cost of $275. This provides users with the opportunity to embrace the latest in RAM technology.
It's noteworthy that the model we assessed boasts a dual-channel RAM setup featuring two 8GB memory modules, although this specific configuration may not be listed on Dell's official website. Importantly, it's valuable to acknowledge that this dual-channel configuration, while incurring no additional cost, promises a slight yet tangible boost in performance, enhancing the overall computing experience. It's noteworthy that the notebook's RAM capacity is impressively expandable, allowing for a maximum upgrade to 64GB, which significantly enhances its versatility and potential for more demanding computing tasks.
In our RAM performance evaluation, we used the AIDA64 Cache and Memory benchmark, which yielded the following results: a read speed of 38,258 MB/s and a write speed of 42,511 MB/s. While these speeds may appear relatively slower when compared to other notebooks we've previously reviewed, including the HP ProBook 450 G10, it's essential to note that the Dell Latitude 5440 still delivers a sufficiently smooth and responsive computing experience, meeting the expectations of everyday users.
Shifting our focus to the SSD's performance, the Dell Latitude 5440 is equipped with a 512GB SSD, tailor-made by Dell. This industrial-grade SSD, originating from Lite Storage and underpinned by 3D TLC NAND Flash technology, operates on a 4-channel PCIe NVMe Gen 4 interface, delivering commendable data throughput speeds for efficient data access and storage.
It's worth noting that the notebook is also available in a variant featuring a capacious 1TB SSD, catering to users who require expanded storage capacity and data-hungry applications. This alternative provides enhanced flexibility and convenience for those with more extensive storage needs.
In our SSD benchmark testing, we used the CrystalDiskMark application, which returned results of 3,516.7 MB/s for read speed and 1,270.1 MB/s for write speed. We also utilized the AS SSD benchmark application, revealing read speeds of 2,840.2 MB/s and write speeds of 1,877.5 MB/s. These test scores, while satisfactory for daily office usage, may not attain the same level of performance as notebooks previously reviewed in a similar tier.
The Dell Latitude 5440 comes equipped with a notable feature – a 4G WWAN card, providing users with the option to acquire the corresponding network card. This feature enables seamless access to internet services anytime and anywhere, ensuring that network constraints no longer impede efficient work. This attribute sets the Dell Latitude 5440 apart, as it offers a level of connectivity and mobility not commonly found in many other laptops.
For those who want a faster internet connection, the option to include a 5G network card is available during the purchase of the Dell Latitude 5440. This upgrade further enhances the notebook's connectivity capabilities, ensuring that users can access high-speed internet with ease at work.
Dell Latitude 5440: CPU and GPU
As previously mentioned, the Dell Latitude 5440 is equipped with the Intel Core i5-1335U CPU, part of Intel's 13th-generation processor lineup. This CPU, built on Intel's 7nm architecture, features a total of 10 cores, comprising 2 performance cores and 8 energy-efficient cores, offering a total of 12 threads for multitasking. The performance cores can achieve a turbo frequency of up to 4.6GHz, while the energy-efficient cores reach a maximum frequency of 3.4GHz. In terms of power consumption, the CPU operates at a base consumption of 15W, with a top power draw of 55W under full load. Additionally, the CPU is equipped with a level three cache of 16MB, enhancing data processing capabilities.
The CPU is also paired with Intel Iris Xe integrated graphics, which plays a crucial role in efficiently managing the graphics needs of various applications. It ensures that tasks relying on graphical processing run smoothly and without hiccups, enhancing the overall performance and visual experience of the laptop. We also did a benchmark testing of the CPU, which is mentioned below:
Cinebench R15: 228cb on Single-Core and 1,271cb on Multi-Core
Cinebench R20: 615 pts on Single-Core and 3,181 pts on Multi-Core
Cinebench R23: 1,682 pts on Single-Core and 7,223 pts on Multi-Core
Geekbench 5: 2,212 on Single Core and 7,134 on Multi-Core
V-Ray 5: 5,389 vsamples
Dell Latitude 5440 CPU Benchmark

Single-Core
Multi-Core
CineBench R15
228cb
1,271cb
CineBench R20
615 pts
3,181 pts
CineBench R23
1,682 pts
7,223 pts
Geekbench 5 
2,212
7,134
 V-Ray 5
null
5,389
We also did a GPU benchmark testing, which is mentioned below:
3DMark Wild Life: 9,051 GPU Score
3DMark Wild Life Extreme: 2,521 GPU Score
3DMark Night Raid: 14,764 GPU Score
3DMark TimeSpy: 1,165 GPU Score
Dell Latitude 5440 GPU Benchmark

GPU Score
3DMark Wild Life
9,053
3DMark Wild Life Extreme
2,532
3DMark Night Raid
14,628
3DMark TimeSpy
1,151
Based on these benchmark scores, it's evident that the performance of the Dell Latitude 5440, driven by the Intel Core i5-1335U processor, is more than adequate and fully capable of meeting the demands of daily office tasks and usage scenarios.
Dell Latitude 5440: Heat Dissipation and Stress Testing
Upon disassembling the notebook, it becomes evident that a single cooling fan is responsible for dissipating the heat generated by the CPU. This fan efficiently manages the thermal dynamics of the laptop, playing a critical role in maintaining optimal performance and preventing overheating.
CPU and GPU Stress Testing: In our comprehensive stress test of the Dell Latitude 5440, spanning a duration of 30 minutes under maximum CPU and GPU loads, we observed that the P-core of the Intel Core i5-1335U processor was consistently operating at 1.58GHz, while the E-core was at a stable 1.37GHz. The CPU package power consumption remained consistent at 17.9W. The GPU exhibited stability at around 1GHz. The chip temperature was effectively maintained at approximately 65°C, with a corresponding power consumption of 8.1W. Notably, the total system power consumption maintained an average of 27W. This data underscores the notebook's impressive ability to manage and sustain high-performance levels even under significant stress and demanding workloads.
Regarding external temperature management, the warmest area of the entire laptop tends to concentrate in the upper center of the keyboard, reaching a peak temperature of 49°C. During prolonged high-load operation, this elevated temperature in the keyboard area might have a marginal impact on the typing experience. However, for everyday office tasks and typical usage scenarios, there's no need to be concerned about overheating.
Furthermore, the temperature at the heat dissipation outlet, which typically experiences the highest thermal load, reached approximately 60°C, demonstrating the laptop's robust heat dissipation capabilities. This feature ensures that the laptop can effectively manage and disperse heat, contributing to its overall performance and longevity.
Summary:
The Dell Latitude 5440 is a well-rounded mid-range business laptop that embodies Dell's commitment to sustainability, incorporating recycled materials and earning EPEAT Gold certification. Its slim and lightweight design, coupled with the 180° flipping capability, ensures excellent portability and heat dissipation efficiency. The laptop's 14-inch Full-HD IPS Anti-Glare display impresses with its brightness and low blue light technology. Powered by the Intel Core i5-1335U CPU and Intel Iris Xe graphics, it handles daily office tasks with ease, while the robust heat dissipation system ensures consistent performance under stress. With comprehensive connectivity options, expandable RAM, and a 512GB SSD, the Dell Latitude 5440 offers a compelling package at a competitive price of $1600, making it a practical choice for professionals and business users.