For a long time, the upcoming Realme GT Neo5 was in leaks and rumors. Even the device was also got listed on various certification sites. But until now, there has been no confirmation from the official site. However, this problem is also as Realme has announced the launch date for its new device.
This morning, Realme officially revealed that the all-new Realme GT Neo5 would be launched on February 9 at 2 PM (as per Chinese Timing). The announcement of Realme GT Neo5 also mentions one of the significant highlights regarding the 240W super fast charging.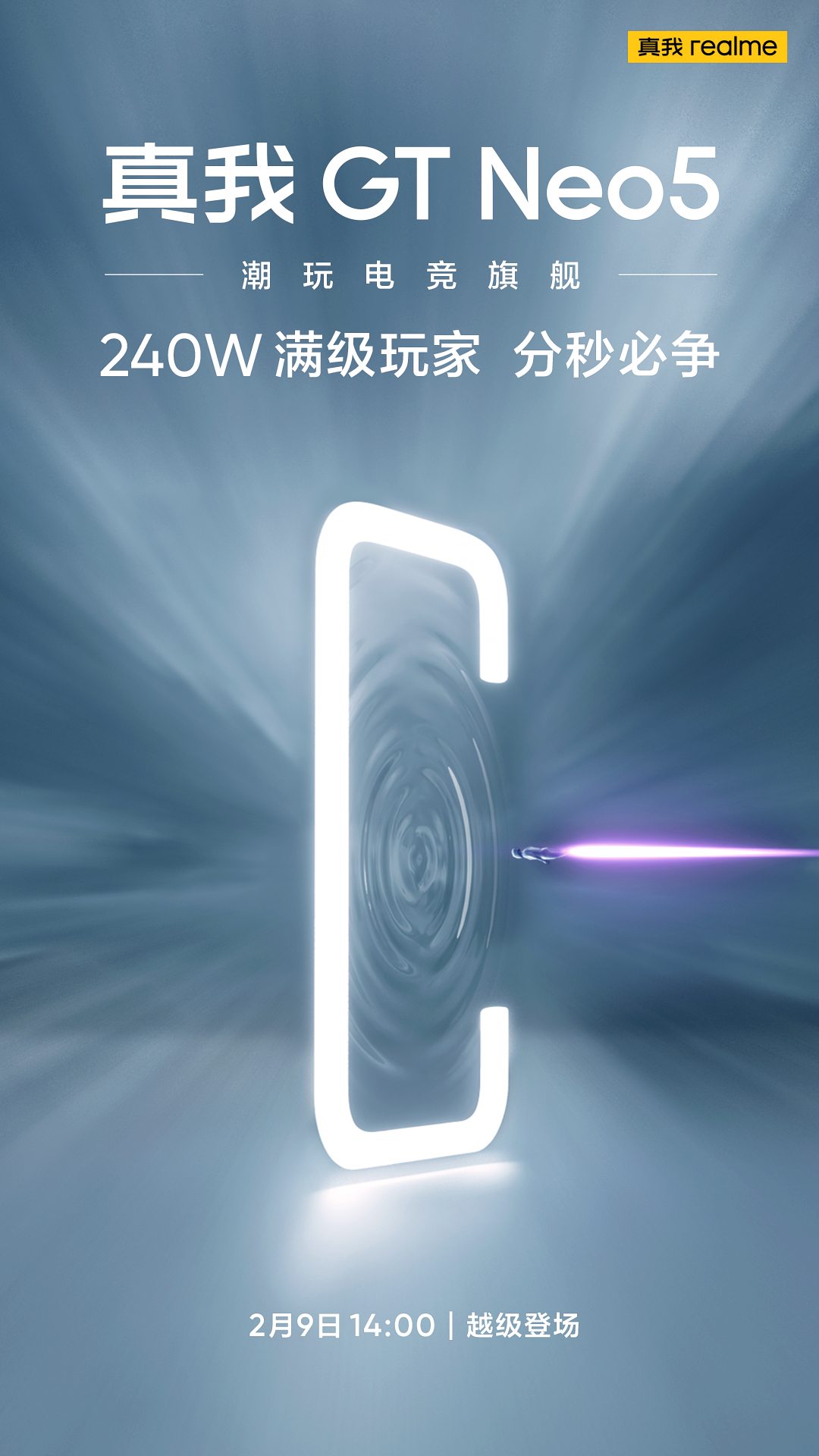 If you want a complete specification of the Realme GT Neo5, check out our previous articles. However, it is worth mentioning that the new Realme GT Neo5 will be available in two versions: one with 150W charging (having a 5000mAh battery) and the other with 240W charging (consist a 4600mAh battery).
Both models will be powered by the same chipset, i.e., the underclocked version of Snapdragon 8+ Gen1. It would use the latest 4nm TSMC manufacturing process for lower energy consumption, but the highest frequency (on Cortex-X2 core) is 3.0GHz, the same as in the standard Snapdragon 8 Gen1.
Previously, Realme announced it would start the mass production of its 240W chargers. Further, it was also announced that the new Realme GT Neo5 would also use the same charging technology.
It is worth noting that Realme adopted a three-way 100W charge pump parallel design which has 240W (20V/12A) input and 240W (10V/24A) output, through which the charging conversion efficiency rate is increased to 98.5%.
A 12A charging cable is also used, which has increased the current carrying capacity by 20% (when compared with the previous generation). This charging solution also uses a 240W Dual GaN mini charging head with a single USB-C port interface, 5% bigger than the previous 150W charging port.
The new 240W charging port supports the 240W SuperVOOC protocol and is also compatible with 65W PD Protocol, QC Protocol, and VOOC Protocol.
It is expected that in the coming days, Realme will start revealing the significant highlights of its Realme GT Neo5.